The Dallas Cowboys have been one of the most popular NFL teams for decades. Fans from around the country flock to the excitement that this team offers on a consistent basis. And it is easier now to watch them without cable than ever before.
In a hurry? If you want to cut past the details and pick a service that will allow you to catch all the action this season, these are our favorite choices:
Fubo: The best streaming service for international sports also provides 150+ well-selected channels. Fubo allows you to try out its service with a free trial.
DIRECTV STREAM: Get a great channel lineup with the best selection of RSNs in the industry. A 5-day free trial is now available for DIRECTV STREAM.
Hulu + Live TV: This total entertainment streaming service provides a great on-demand selection and all the essential live TV channels.
If you can't watch your favorite sports because of your location, get ExpressVPN to access the content you deserve.
Unfortunately, we don't know a streaming service in that covers this sport. But if you've already paid for the right service, and just can't watch because of your location, there is an easy way to get the content you deserve. You need a VPN, like one of the following.
| | | |
| --- | --- | --- |
| | ExpressVPN: Known as "The VPN that just works," it combines remarkable ease of use with with state-of-the-art power, speed, security, and privacy. Get three extra free months when you sign up for a year. Unleash your streaming with this top-rated VPN. | Sign Up Now |
| | Hotspot Shield: Connect to servers in 80+ different countries and 25+ US cities. HotSpot Shield features extremely fast servers and connections and is specially tuned for use with streaming services. And you can try it risk-free with a 7-day free trial and a 45-day money-back guarantee! | Sign Up Now |
| | CyberGhost: Great low-cost service with ultra-fast servers in 90+ countries for smooth live sports streaming. It also provides great security and privacy. See if it's right for you with a free 24-hour trial and test it out with a 45-day money-back guarantee. | Sign Up Now |
If you're overwhelmed and not sure where to begin, you'll find all the answers in our full VPN guide.
Bottom line: 16 of the 17 regular season Cowboys games will air on live TV with one only streaming (on Amazon Prime Video). The services above have you covered for the regular and postseason. See the Cowboys schedule below.
The Cowboys are known for giving their fans an exciting show. It's hard to miss a minute because anything can happen when this team hits the field. It's no wonder why they have been to the Super Bowl so many times! Home games are played at AT&T Stadium, Texas.
If you're worried about missing the Cowboys when they play because you don't have cable, you can stop worrying. In fact, you can watch the Dallas Cowboys game online without cable. This will ensure you don't miss a minute of the action.
This guide should have all the details you need to watch the Dallas Cowboys live stream without cable. You should be setup in minutes. All you need to do is choose the tv provider for you such as Fubo, signup, and connect to your favorite streaming device. Keep reading to learn how easy the process can be!
Are you a fan outside your team's broadcast area? Learn to get complete access with our NFL Out-of-Market Game Guide.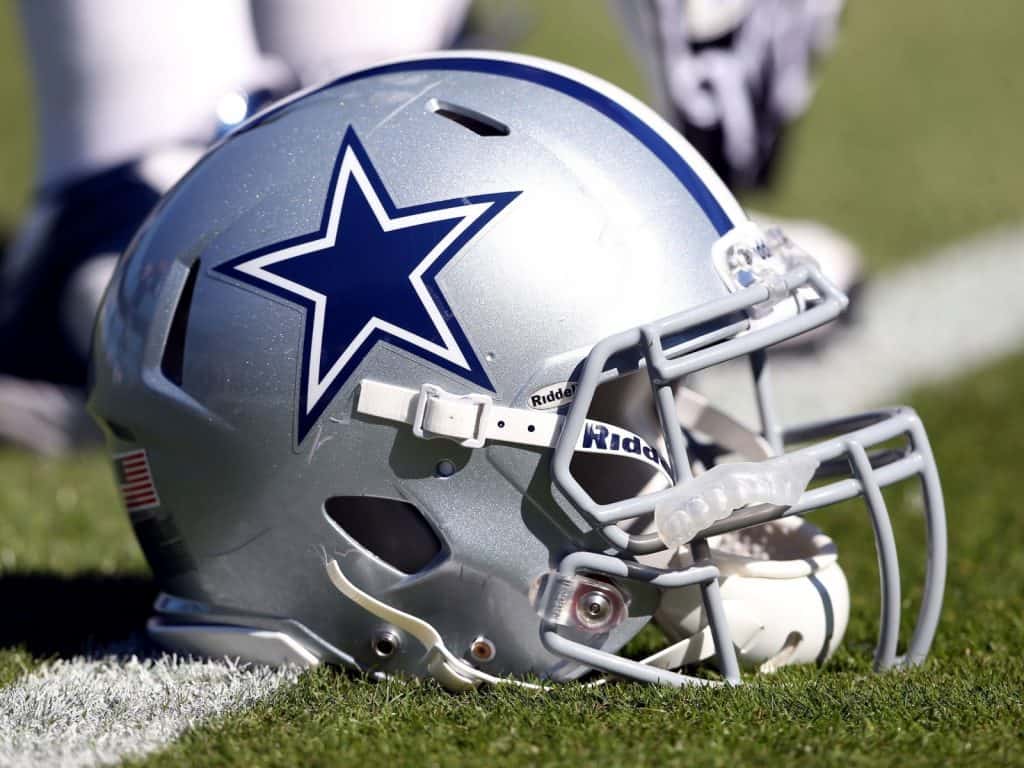 Dallas Cowboys Week 14
As Week 14 begins, the Dallas Cowboys stand at a 9-3 record.
Other than a strange loss to the Cardinals in Week 3, the Cowboys have been crushing their opponents. That was the case last week with a 38-3 victory over the New England Patriots.
But that is likely to change this week when the Cowboys go to San Francisco to take on the top-rated 49ers. The Cowboys are expected to lose by 4 points with a score of 21-25. But anything could happen and it is likely to be a great game!
Sun Dec 10 : Philadelphia Eagles at Dallas (NBC)
Which Channels Do I Need to Watch the Dallas Cowboys?
When it comes to streaming Cowboys games, you'll need five channels to cover the majority of the season. Local channels can be viewed through a streaming service or a digital antenna without cable.
Depending on your location, either option should allow you to watch CBS, NBC, and FOX without cable. You'll also need ESPN (and NFL Network for some of the earliest games), which require a streaming service to watch the Cowboys live stream without cable.
Unblock Your Favorite Events & Teams With a VPN

If you can't watch your favorite events or teams because of your location, a VPN will allow you to get the access you are entitled to, plus extra security and unequaled privacy. Check out our VPN Guide for everything you need to know, including our top pick ExpressVPN.

Other brands worth checking out include Hotspot Shield and CyberGhost.
How to Watch the Dallas Cowboys without Cable
There are a wide variety of streaming services that will allow you to watch sports and all kinds of other content without cable. We often recommend Fubo because both of these services give you a mix of entertainment options that provide something for just about everyone.
Still, there are other options available. On the whole, most streaming services are cheaper and just as easy to use. They also tend to offer more features than your typical cable contract.
Streaming services allow you to sign up without any form of contract, too. If you're not happy, you're free to leave at any time.
Setup is easy and can be completed in minutes. You just sign up, connect to a compatible streaming device (Roku, Chromecast, Apple TV, mobile devices, etc.), and choose what you want to watch. Your device connects to the Internet as opposed to a cable connection.
This means that you can watch the Dallas Cowboys games online from just about anywhere!
Out-of-Market Dallas Cowboys Games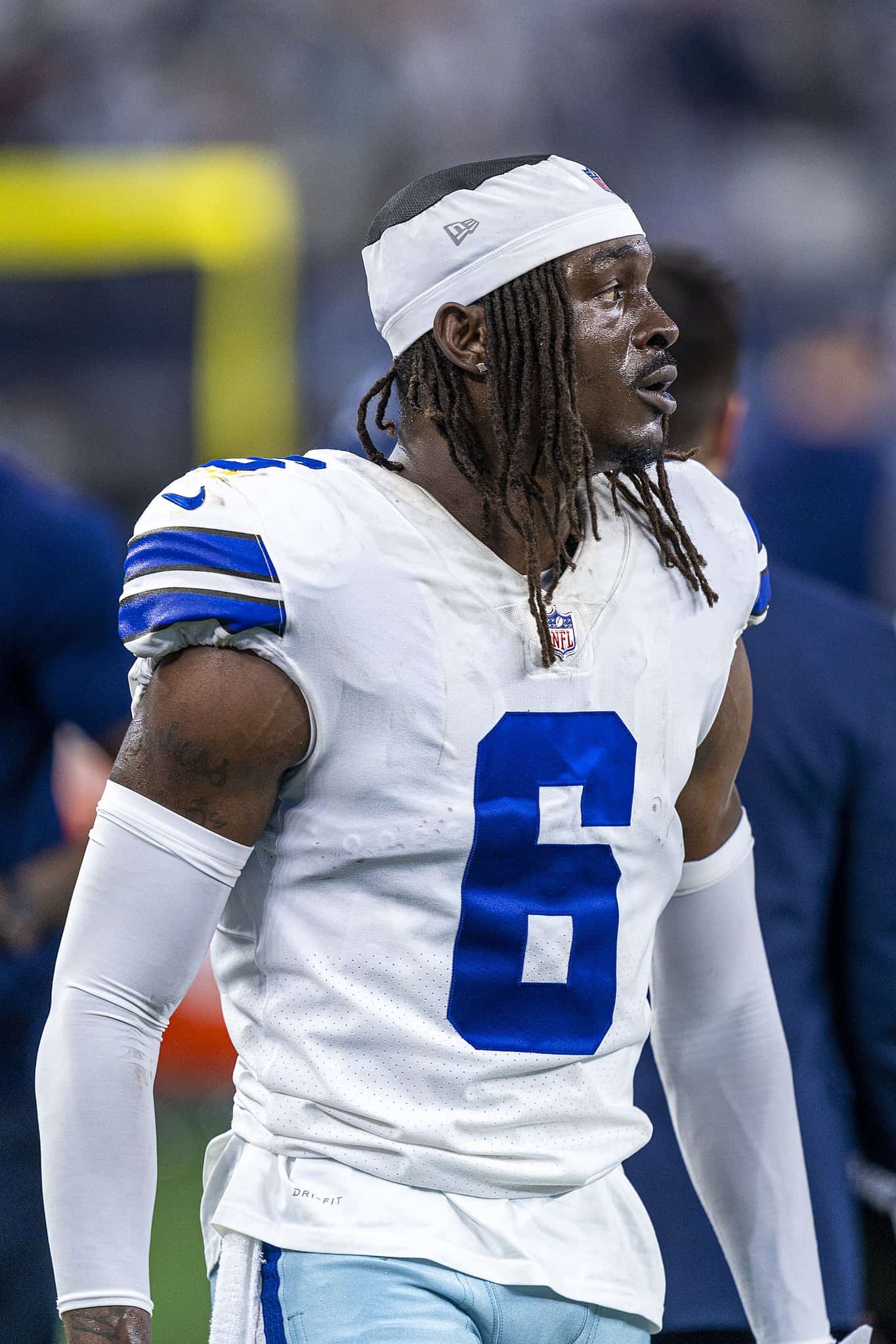 Local fans of the Dallas Cowboys can tune into their local Fox affiliates to watch most games. For fans in other parts of the country, watching is not so easy. This is because Sunday Afternoon games are regionally broadcast based on which team is of most interest there.
We've written a guide that provides all the information you need, NFL Out-of-Market Football Games.
NFL Sunday Ticket was created specifically to address this problem. It allows out-of-market fans to see any game they want. The problem is that it is only available on YouTube and YouTube TV.
For this season, cord cutters must use other tools. It's worth considering a VPN to watch out-of-market NFL games. There are still issues with using one. Find out more with ExpressVPN (deal).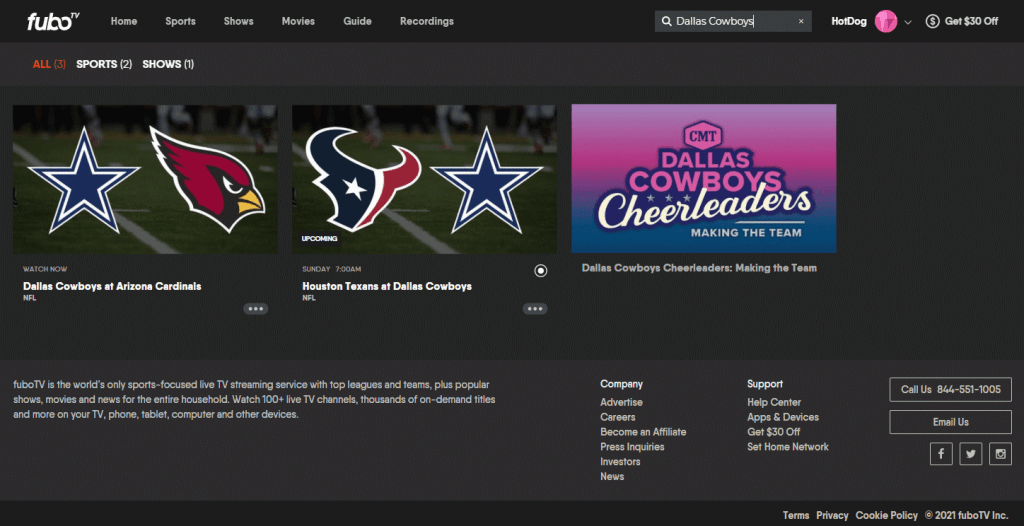 Watch the Dallas Cowboys without Cable on Fubo
Fubo (formerly FuboTV) is another great option. This is a pick that most sports fans would love for just $74.99/mo. There are over 150 channels in this package and more than 35 of those channels offer sports! Packages also include an on-demand library and cloud-DVR. You can also watch additional content with TV Everywhere apps.
More Fubo details:
Fubo is inexpensive, offers a plethora of content, and offers a fair amount of customization. Upgrades allow you to add more space to your cloud-DVR or to add channels to your package.
As there are no long-term contracts, you can remain a subscriber as long – or as little – as you like.
Watch Dallas Cowboys With DIRECTV STREAM
DIRECTV STREAM is a dependable brand that will appeal to those who are concerned about ditching cable or satellite. At the same time, it offers many great extras like unlimited cloud DVR and simultaneous streaming. And it features a modern UI that's easy to use.
With 75+ TV channels for $79.99/mo, it offers all the channels you need to follow the Cowboys. This includes all the local affiliates from ABC, CBS, Fox, and NBC as well as ESPN.
Upgrade to the Choice plan for $108.99/mo to get NFL Network and MLB Network
NFL Network airs the preseason games
NFL RedZone is also available in the Sports plus add on
Find out more in our DIRECTV STREAM Review.
Get DIRECTV STREAM Free for 5 Days
Watch the Dallas Cowboys Online via Hulu + Live TV
Hulu + Live TV offers an inexpensive way to replace cable. Its plan is $76.99/mo and free of contracts. In addition to 85+ live channels, it comes with ESPN+ and Disney+. You have plenty of room for customization, but the basic package offers enough for many people.
Here's more on Hulu Live:
Hulu Live offers a great service, especially if you want to watch the Dallas Cowboys without cable. The package is inexpensive, and it's already filled with entertainment from the jump. Of course, you can add more to watch, if you want.
Other Options to Watch Dallas Cowboys Online
Now that you know about Fubo, DIRECTV STREAM, and Hulu Live, let's look at some other available options. All the following options should let you watch some or all of the Dallas Cowboys season streaming without cable. Your other options include:
Superpower Your Sports Streaming With a VPN

For the sake of privacy, security, and access, you should be using a VPN. They are low-cost and easy to use. We've been using them for years and our top pick is ExpressVPN. Other brands worth checking out include Hotspot Shield and CyberGhost.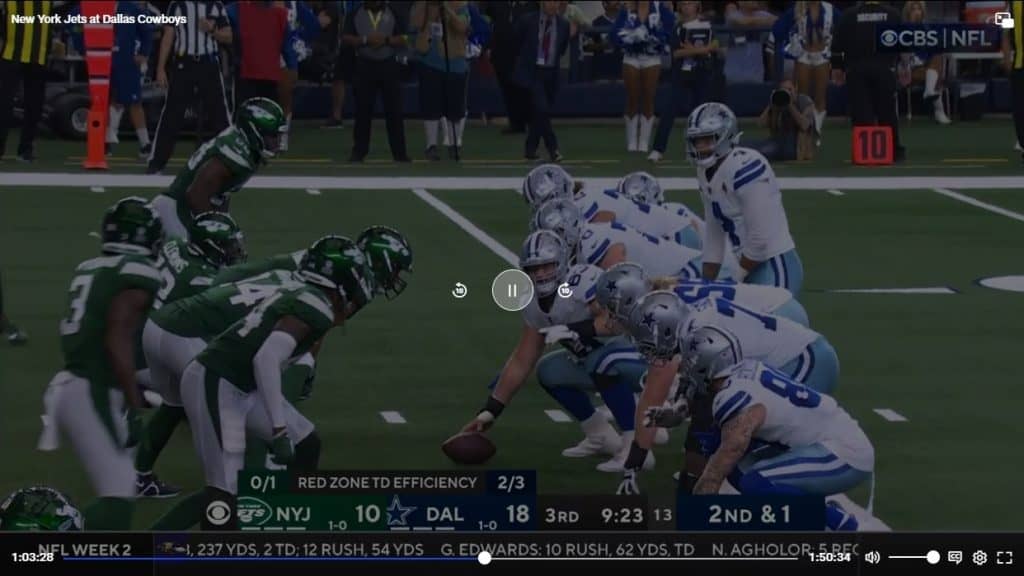 About the Dallas Cowboys
The Cowboys went 12-5 for the second straight season, their best record since the 2016 Cowboys compiled a 13-3 mark, and advanced to the divisional round of the playoffs for the first time since 2018.
However, a much-desired return to the NFC championship game, which last occurred in 1995, will have to wait at least one more year. In fact, Dallas has now lost the last seven divisional games that it has played.
The latest playoff exit was courtesy of a 19-12 loss to the 49ers on Sunday.
Looking forward, will the Cowboys stick with Dak Prescott taking the snaps? There is some concern with his quarterback rating being just 51.5 for their final contest.
NFC East Standings
| | | | |
| --- | --- | --- | --- |
| Team | W | L | T |
| Philadelphia Eagles | 10 | 2 | 0 |
| Dallas Cowboys | 9 | 3 | 0 |
| New York Giants | 4 | 8 | 0 |
| Washington Commanders | 4 | 9 | 0 |
2023-24 Dallas Cowboys Schedule
How do I watch the Dallas Cowboys game tonight?

Cowboys play night games on NBC, ESPN, and NFL Network. Thursday night games are on NFL Network (but they are moving to Amazon Prime in 2022). Sunday night games are on NBC. And Monday night games are on ESPN. You can watch them all with a streaming service like Fubo. The majority of Dallas Cowboys day games air on Fox or CBS so chances are that they will be on one of your local affiliates.
Sat Aug 12 : Cowboys (23) vs Jacksonville Jaguars (28) [Preseason]
Sat Aug 19 : Cowboys (22) @ Seattle Seahawks (14) [Preseason]
Sat Aug 26 : Cowboys (31) vs Las Vegas Raiders (16) [Preseason]
Sun Sep 10 : Cowboys (40) @ New York Giants (0) (NBC)
Sun Sep 17 : Cowboys (30) vs New York Jets (10) (CBS)
Sun Sep 24 : Cowboys (16) @ Arizona Cardinals (28) (Fox)
Sun Oct 1 : Cowboys (38) vs New England Patriots (3) (Fox)
Sun Oct 8 : Cowboys (10) @ San Francisco 49ers (42) (NBC)
Mon Oct 16 : Cowboys (20) @ Los Angeles Chargers (17) (ESPN)
Sun Oct 29 : Cowboys (43) vs Los Angeles Rams (20) (Fox)
Sun Nov 5 : Cowboys (23) @ Philadelphia Eagles (28) (Fox)
Sun Nov 12 : Cowboys (49) vs New York Giants (17) (Fox)
Sun Nov 19 : Cowboys (33) @ Carolina Panthers (10) (Fox)
Thu Nov 23 : Cowboys (vs Washington Cardinals (CBS)
Thu Nov 30 : Cowboys (41) vs Seattle Seahawks (35) (Prime Video)
Sun Dec 10 : Cowboys vs Philadelphia Eagles (NBC)
Sun Dec 17 : Cowboys @ Buffalo Bills (Fox)
Sun Dec 24 : Cowboys @ Miami Dolphins (Fox)
Sat Dec 30 : Cowboys vs Detroit Lions (ESPN/ABC)
Sun Jan 7 TBD: Cowboys @ Washington Commanders (Fox)
Wrapping Up
If you're looking to replace cable, hopefully, you've discovered that live TV streaming services can help you do that and more. Thanks to reasonable prices and a growing list of options, you should be able to craft the perfect package for you at a price you can afford.
We recommend Fubo for Dallas Cowboys fans. Fubo allows you to try out its service with a free trial.
FAQs
What radio stations are the Dallas Cowboys on?
Cowboys games are on a wide variety of radio stations. The Dallas Cowboys Radio Network is broadcast on dozens of local stations across Texas. It is also broadcast on select stations in Arkansas, Louisiana, New Mexico, and Oklahoma. Games are also broadcast on Compass Media Networks stations across the country. Finally, you can listen to all games using NFL+ and SiriusXM.
How do I watch the Dallas Cowboys on my phone?
Most streaming services allow you to watch Cowboys games on your phone. Although some like Amazon Prime and Paramount+ allow you to stream limited games, you are best to get a full cable replacement service like Fubo or Vidgo. They allow you to watch on most streaming devices including Android and iOS phones. If you don't mind watching after the game is over, NFL+ allows you to stream on your smartphone too.
How many championships have the Dallas Cowboys won?
The Dallas Cowboys has won 37 championships since its formation in 1960 with an overall record of 526 wins, 398 losses, and 6 ties. They've been Division champions 23 times — the last in 2018. They've been Conference champions 9 times — the last in 1995. And they've won the Super Bowl 5 times: 1971, 1977, 1992, 1993, and 1995.
How do I record Dallas Cowboys live games?
You can record Dallas Cowboys games using the Cloud DVR that comes with your streaming service. While there are some exceptions (eg, ESPN3), you can generally record anything you stream from your service. So regardless of where you are watching the Cowboys (CBS, ESPN, Fox, NBC, NFL Network), you can record with a click of a button.
How do I watch other NFL teams?
Need more information on how to watch the NFL without cable tailored specifically to your favorite team? Click on your team below.
Ditch "Big Cable" Now – 3 Simple Steps to Cut the Cord
Pick the right streaming service
Get the content you deserve with the best VPN.
Supercharge your internet provider
That's it — you'll save money, take back control, and enjoy TV more!
Page Updates
▼
▲
Updated some sub-sections. Updated some section headings. Changes to some of the sections.

Changed some content in main section. Reformatting.

Updated one section. Formatting changes. Reworded some things.

Added new section. More links. Pricing updates. Changed a few bits of content.

Added links to streaming services. Added links. Pricing updates. Various changes to content.

Added buttons for streaming services. Added streaming info. Updated some sub-sections. Mentioned offers. Added some links.

Added sub-section. Changes to sections. More links. Pricing updates.

Updates to a section. Changed some content in main section. Added useful links.
Latest posts by Frank Moraes
(see all)