The 2022 Winter Olympic Games in Beijing are over. You can still stream anything you missed on Paramount+ or the live TV streaming services listed below. Otherwise, check back here as the 2024 Summer Olympics in Paris approaches. We'll have all the details here.
In a hurry? All of these services provide excellent coverage of the Olympics — and a lot more:
FuboTV: The best streaming service for international sports also provides 130+ well-selected channels. FuboTV allows you to try out its service free for 7 days.
Sling TV: This low-cost service allows you to select just the channel lineup you want. Save a bundle with Sling TV.
DIRECTV STREAM: Get a great channel lineup with the best selection of RSNs in the industry. A 5-day free trial is now available for DIRECTV STREAM.
If you can't watch your favorite sports because of your location, get ExpressVPN to access the content you deserve.
Unfortunately, we don't know a streaming service in that covers this sport. But if you've already paid for the right service, and just can't watch because of your location, there is an easy way to get the content you deserve. You need a VPN, like one of the following.
ExpressVPN: Premium VPN provider that just works, with 3,000+ locations in 94 countries. Supports five simultaneous devices and comes with a 30-day money-back guarantee. (ExpressVPN review)
Surfshark: Connect to over 3,200 servers in 99 countries (+ tonnes of US metro areas). Try it with a 7-day free trial.
NordVPN: Connect to over 5,000 premium servers in 60+ countries. Comes with a 30-day money-back guarantee!
If you're overwhelmed and not sure where to begin, you'll find all the answers in our full VPN guide.
See All Beijing Olympics on Fubo (free trial)
What you need to know:
2022 Beijing Olympics Medal Totals
Norway, with its population of less than 6 million people, performed above all other nations this year both in terms of total medals and gold medals. But this is not surprising since Norway usually excels at the Winter Games.
| | | | | |
| --- | --- | --- | --- | --- |
| Country | Total | Gold | Silver | Bronze |
| Norway | 37 | 16 | 8 | 13 |
| ROC | 32 | 6 | 12 | 14 |
| Germany | 27 | 12 | 10 | 5 |
| Canada | 26 | 4 | 8 | 14 |
| USA | 25 | 8 | 10 | 7 |
| Sweden | 18 | 8 | 5 | 5 |
| Austria | 18 | 7 | 7 | 4 |
| Japan | 18 | 3 | 6 | 9 |
| Netherlands | 17 | 8 | 5 | 4 |
| Italy | 17 | 2 | 7 | 8 |
Medal count at the 2022 Beijing Olympics.
Unblock Your Favorite Events & Teams With a VPN
If you can't watch your favorite events or teams because of your location, a VPN will allow you to get the access you are entitled to, plus extra security and unequalled privacy. Check out our VPN Guide for everything you need to know, including our top pick ExpressVPN.

Learn how to watch March Madness!
Top Streaming Services for the Olympics
All the major streaming services can provide full access to the upcoming Olympic games — some with their base plans and others with add-ons like Sling TV.
One feature that is very important to people who don't want to miss a minute of the Olympics is a DVR. Normally, many events are happening at the same time so being able to record one event or show while watching another is critical.
Another good feature for people with family or roommates is the availability to stream on multiple screens at the same time. All the services provide at least 2-3 screens but you can usually pay extra to get more.
The services below provide all the channels you need to watch the Beijing Games. (Fubo and Hulu do so with their base plans, DIRECTV STREAM with their Ultimate Plan, and Sling TV with its Blue Plan with the Sports Extra add-on.)
So which service you choose will depend upon everything else in the plans and your price point. We've provided links to our reviews for each of them.
2022 Beijing Olympics on FuboTV
For $74.99/mo, FuboTV includes more than 110 channels with every package. This includes everything you need to watch the Olympics without cable. They provide local NBC affiliates pretty much everywhere as well as Olympic Channel and USA with their basic (Pro) plan.
FuboTV gives all new subscribers a free one-week trial. Since this is a contract-free service, you'll be able to cancel during the trial if this isn't the right service for you. This will ensure you're not charged for anything. If you wait to cancel until after the trial ends, you'll be charged for at least the first month, depending on when you cancel.
Our FuboTV review can tell you more.
Sign Up for a Free 7-Day Fubo Trial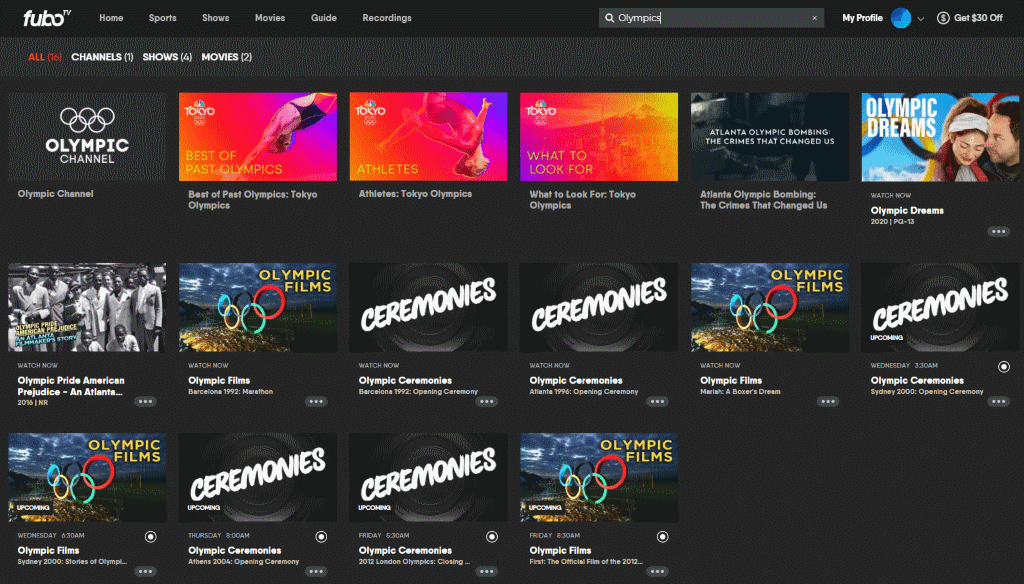 Beijing Olympics on DIRECTV STREAM
DIRECTV STREAM (formerly AT&T TV) offers roughly 75+ channels for $74.99/mo with many options for greater coverage. Their base plan includes USA with the local NBC affiliate in almost all areas.
To get The Olympics Channel, you will need to upgrade to their Ultimate Plan for $109.99/mo, which comes with 130+ channels including 8 feeds from Starz Encore. For interesting, you also get access to the best selection of regional sports networks (RSNs) in the industry. These are the channels you need if you want to watch all the games from your local MLB, NBA, NHL, and MLS teams.
Check out our DIRECTV STREAM review to learn more.
Get DIRECTV STREAM Free for 5 Days
Beijing Olympics on Sling TV
Sling TV is probably the best low-cost streaming services. For just $40.00/mo, Sling Blue provides access to 40+ streaming channels including USA. They also offer local NCA affiliates, but their coverage is not nearly as good as for Hulu, Fubo, and DIRECTV, so make sure you are covered before signing up.
This alone will provide you with very good access to The Olympics. By including the Sports Extra add-on (for a total of $46/mo), you can get it all! It adds Olympic Channel plus 10+ other channels including MLB Network, NBA TV, and NFL RedZone.
So for $46/mo, you will have complete Olympics coverage. For all the details on Sling TV, see our review.
Beijing Olympics on Hulu + Live TV
Hulu with Live TV starts you off with over 85 channels for $69.99/mo. This collection includes the channels where the Olympics will be airing: Olympic Channel, USA, and your local NBC affiliate (in virtually all areas).
On top of that, Hulu + Live TV offers complete access to all Hulu on-demand content including Hulu Originals. And if that isn't enough, you get Disney+ and ESPN+.
It is a contract-free service, which means you don't have any commitments. You can cancel whenever you want. You can try Hulu + Live TV.
Our Hulu + Live TV review has full details.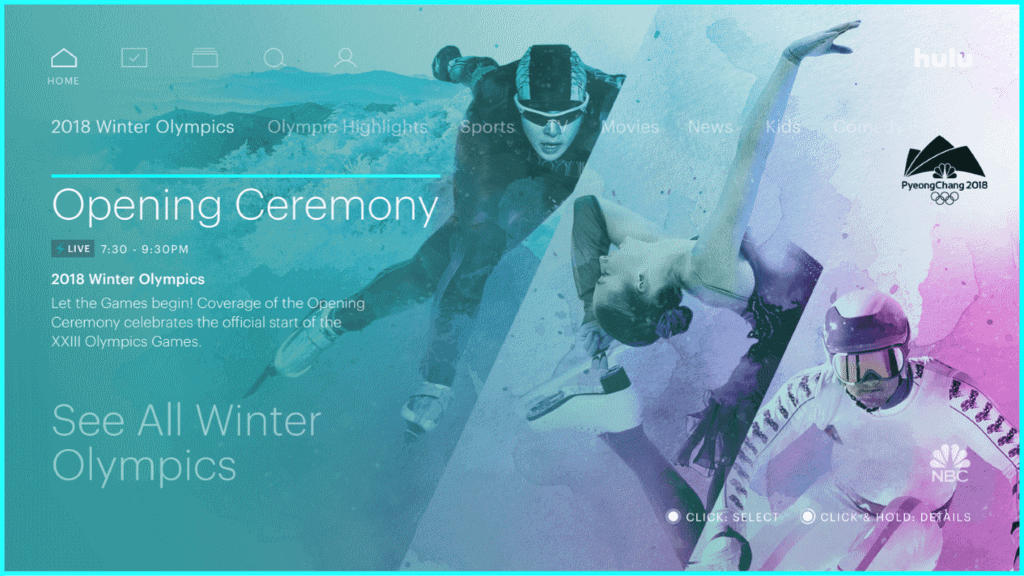 More Ways to Watch the 2022 Beijing Olympics Without Cable
Olympics coverage airs on multiple channels. The streaming services above make this easy to do. There are more options than what we've already discussed. It may take a bit of planning to see your favorite events, but you can do it..
Watch 2022 Beijing Olympics Over-the-Air
The most important events of the Winter Games will air on your local NBC affiliate. You can watch this absolutely free if you have a digital antenna — assuming you live relatively close to a local station.
Having a digital antenna is a good thing for cord-cutters. They provide you with greater options for your viewing experience. Check out these articles for more information on getting set up:
If you are going to use an antenna, you should check out Sling TV. It offers a special deal. Pay for three months upfront and they will give you an HD antenna and AirTV 2 unit for just $44 (it would normally be $150 or more).
This will allow you to watch all your antenna channels along with your streaming channels in Sling's excellent app. Even if you don't subscribe to Sling, its app is a good choice to access your OTA channels.
Integrate Your Antenna With Sling TV!
Streaming the Olympics
There are a couple of other ways to stream the Winter Games.
Peacock TV
NBCUniversal has promised to stream all their Olympic coverage via Peacock TV. This will only be available via their paid plans but the cost is relatively low: $4.99/mo for ads-based content and $9.99/mo for ad-free streaming.
We assume they will also offer free Olympic content. During the 2020 Tokyo Olympics, they aired four live shows each day: Tokyo LIVE, Tokyo Gold, On Her Turf at the Olympics, and Tokyo Tonight.
They will probably offer similar shows for the Beijing Games. We will let you know when they are announced.
Sign Up for Peacock Premium for 99¢/mo!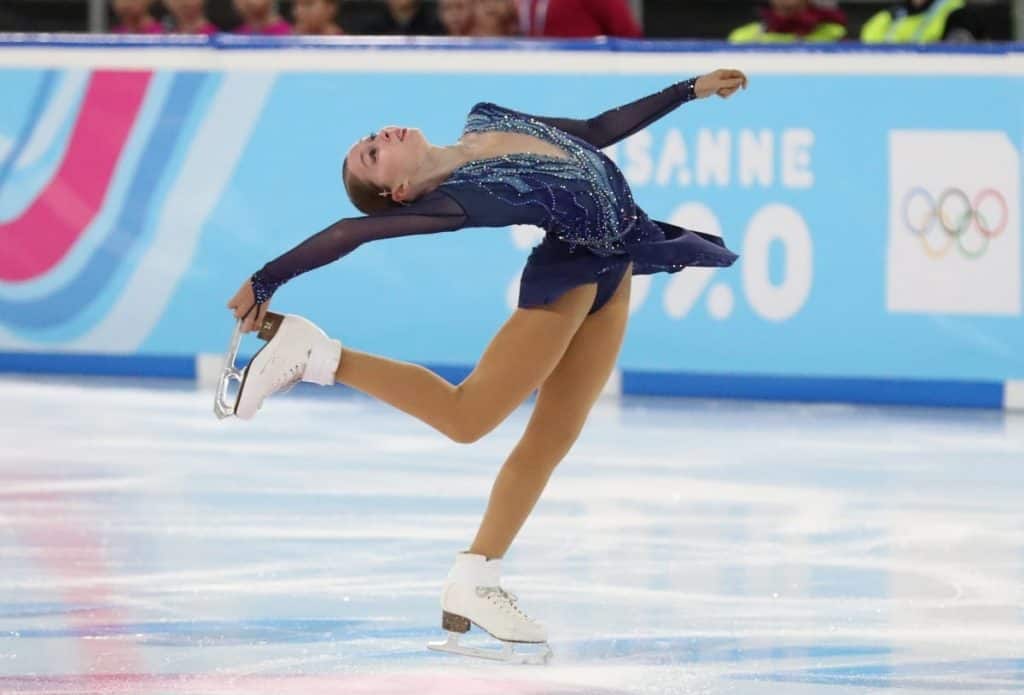 YouTube TV
For $72.99/mo, YouTube TV offers a plan similar to Hulu + Live TV but without ESPN+ and Disney+. It provides access to NBC in most areas, USA, and Olympic Channel.
See our YouTube TV review for more information.
How to Watch 2022 Beijing Olympics on Major Streaming Devices
To fully enjoy the coming Olympic games, you want to view them in high definition. So it's critical that the service you pick supports your devices. There's good news about this.
These days, the major streaming services provide excellent support for streaming devices. If it was purchased over the past couple of years from Amazon or a big box store, it's almost certainly supported.
All the services we discussed above provide support for the following devices:
Amazon Fire TV
Apple TV
Chromecast
Mobile Devices (Android, iOS)
Roku
Samsung smart TVs.
There are some notable additions. All the providers except DIRECTV STREAM provide support for Android TV (Google TV), LG smart TVs, and Xbox gaming systems. Hulu and Fubo support VIZIO smart TVs. Fubo supports Hisense smart TVs. Hulu supports the PlayStation and Nintendo Switch gaming systems. Sling TV supports the Oculus VR device. And DIRECTV STREAM provides its own set-top boxes.
2022 Beijing Olympics in 4K
FuboTV streams over 130 events each year in 4K. They support most of the 4K versions of the devices listed above.
They streamed many events at the 2020 Tokyo Olympic Games in 4K and we assume they will do so for the upcoming 2022 Beijing Winter Olympics. We will provide a complete list of 4K events as soon as it is available.
Sign Up for a Free 7-Day Fubo Trial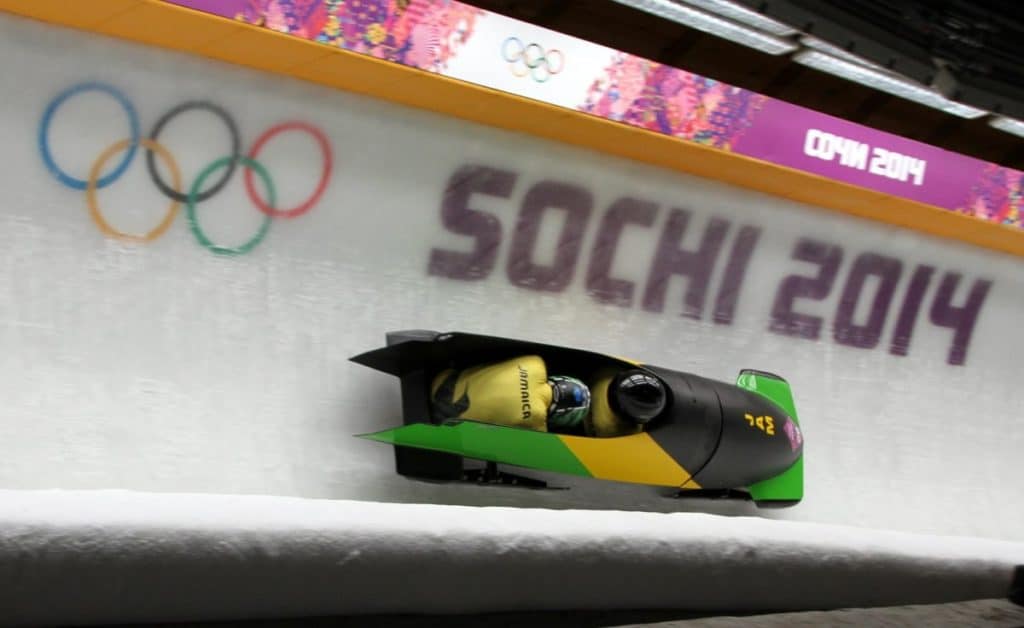 Superpower Your Streaming With a VPN
For the sake of privacy, security, and access, you should be using a VPN. They are low-cost and easy to use. We've been using them for years and our top pick is ExpressVPN. Be sure to check out our deals page on ExpressVPN, NordVPN, SurfShark and PureVPN.
When Is the Start Date For the 2022 Beijing Olympics?
The COVID-19 pandemic messed up the usual Olympics schedule. The Summer Games ran from July 23rd through Aug 8th, 2021. The Winter Games start on Feb 4th.
Moving forward, the Olympic games will continue on as before with the next Summer games in 2024 and the next Winter Games in 2026.
Summer Olympics 2021

Location: Tokyo, Japan
Opening ceremony: Jul 23, 2021
Closing ceremony: Aug 8, 2021
Events: 339

Winter Olympics 2022

Location: Beijing, China
Opening ceremony: Feby 4, 2022
Closing ceremony: Feb 20, 2022
Events: 109

Summer Olympics 2024: Jul 26 – Aug 11 in Paris, France
Winter Olympics 2026: Feb 6 – Feb 22 in Milan-Cortina d'Ampezzo, Italy
Summer Olympics 2028: Jul 21 – Aug 6 in Los Angeles, USA.
The games span 17 days. The most popular Summer games are gymnastics, swimming, track, soccer, and basketball. But less-prominent games like volleyball, wrestling, and table tennis can be extremely exciting.
The Winter games feature less than a third as many events but they are very popular. That's especially true of figure skating, ice hockey, and alpine (downhill) skiing. Other events worth checking out include snowboarding, freestyle skiing, and bobsleighing. But the oft-maligned curling is usually a lot of fun to watch.
Get Fubo for All the 2022 Beijing Games
Winter Olympic Events
The Winter Olympics does not feature as many events as the Summer Games. However, they are just as varied and perhaps even more confusing for the casual viewer. Here's an overview of what you will be seeing at this year's games.
Alpine Skiing
Alpine skiing is a popular participatory sport with tens of millions taking part in this activity at ski resorts and elsewhere. Despite its popularity and iconic status, it was not in the first few Olympics, appearing only since 1936. However, it does not simply consist of one event for men and one for women as numerous alpine skiing disciplines are scheduled every Olympics.
There are five kinds of events:
Downhill: The first speed event it features wide turns with gates far apart.
Super-G: Similar to Downhill but it is shorter and has more turns.
Giant Slalom: A technical event, which features many more turns and is
Slalom: The second technical event, it is the shortest with extremely tight turns featuring less than a second in time between gates
Super Combined: The first half is a short speed race followed by a slalom.
For the 2022 Games, there are men's and women's events for each of these. There is also a coed team event wrapping up the slate. As a result, 11 sets of medals are awarded in this sport.
Biathlon
Biathlon features a combination of cross-country skiing and rifle shooting. It got its start as a military patrol competition at the inaugural Winter Games in 1924. That initial format also involved ski mountaineering, which will be added to the Olympics in 2026 as a separate sport.
Bobsleigh
Bobsleigh is a sport that features two or four men or one or two women pushing and riding in a bobsled down a track specially designed for doing so. In 2022, the length of the track used has been set at 1,615 meters or 5,300 feet.
Cross-Country
Cross-country skiing is what many view as the sport at the Winter Olympics that most measures athletes' endurance. It is also, along with biathlon, one of the two most popular sports in Norway. That country has by far the most Olympic medals in this sport. The longest event for men is 50 kilometers (30 miles) while the longest for women is 30 kilometers (20 miles).
Curling
Curling is a cerebral, strategic sport in which teams get as many stones to as close to the middle of the house as possible through 10 ends of play in men's and women's matchups and eight ends in mixed doubles contests. The sport has a long history, having been invented, many historians believe, in Scotland in the 1500s. The British curling team has historically consisted solely of Scottish players.
Three curling events are scheduled: men's, women's, and mixed doubles. Each of those competitions consists of a round-robin schedule being completed before four sides apiece move on to the semifinals and the gold and bronze medal games.
Sign Up for a Free 7-Day Fubo Trial
Figure Skating
Figure skating is, for many, the premier event at the Winter Olympics. Those who win gold medals in this event often become amongst the most known Olympians in history. Examples include Katarina Witt, Kristi Yamaguchi, and Scott Hamilton.
This is also one of two sports that entered the Olympics prior to the inaugural Winter Games, initially being contested in London in 1908. (Men's ice hockey is the other.)
The four figure-skating disciplines at the Olympics are men's, women's, pairs, and ice dance. A team event, incorporating eight elements (short and free portions of the four events), is also held.
The team event opens the figure skating competition. Additionally, a non-competitive exhibition gala closes the schedule.
Freestyle Skiing
Freestyle skiing is generally an artistic competition in that judges fully or partially determine the results in most of the disciplines. Men and women take part in the following events:
Aerial: What most people think of when they hear "freestyle skiing" where skiers are propelled nearly straight into their air where perform various twists and flips.
Big Air: Similar to Aerial but with a less-sloped ramp. Beijing is the first time this has been an Olympic sports.
Halfpipe: Competitors ski back and forth down a half-pipe. This should be familiar to competitive skateboarding fans.
Moguls: Race down a moguled (bumpy) course.
Ski Cross: A timed race on challenging terrain including Big Air elements. It is the only freestyle skiing event that does not involve judges.
Slopestyle: Effectively a skiing obstacle course but one where competitors try to artistic merit rather than speed.
Ice Hockey
A popular Winter Olympics sport is ice hockey. This is particularly true when NHL players participate. But the event garners significant interest regardless.
In fact, this sport was a part of the Olympics prior to the first Winter Olympics being held as it was contested at the 1920 Games. Canada took the gold that year in Antwerp, Belgium.
Twelve men's and 10 women's squads take part in 2022 with nine countries sponsoring teams in both of those genders: Canada, China, Czech Republic, Denmark, Finland, Russia, Sweden, Switzerland, and the United States. All men's teams and eight of the women's sides advance to the playoffs.
Luge
Luge features one or two men or women taking a sled down a track that has been designed for this activity. In most cases, the same track is used for bobsleigh, luge, and skeleton competitions. This is the case at the 2022 Games. The Yanqing National Sliding Centre in Beijing will host those three sports.
Nordic Combined
The Winter Olympics has a few competitions that combine events. As its name suggests, Nordic Combined is one. It features ski jumping with cross-country skiing.
This is also a men's-only discipline. Its two individual events involve a 10-kilometer (6-mile) race; one adds on a normal hill while the other incorporates a large hill. A team event on a large hill with a relay race is also held.
Short Track Speed Skating
Short Track Speed Skating is one of the more exciting Olympic sports due to its speed and drama, which sometimes involves last-moment craziness. One example was Australian Steven Bradbury claiming the 1,000-meter event at the 2002 Games when the four ahead of him crashed into each other at the end and fell.
Men and women take part in 500-, 1,000-, and 1,500-meter races while men compete in a 5,000-meter relay, women in a 3,000-meter relay, and men and women combine for a 2,000-meter mixed relay.
Skeleton
The skeleton competitions involve men and women competing individually on a small sled, somewhat smaller than a luge sled and significantly smaller than a bobsled. It was held sporadically at the Olympics, in 1928 and 1948, before enjoying a permanent stay on the program from 2002 on.
Sign Up for a Free 7-Day Fubo Trial
Ski Jumping
Ski jumping is one of the more fascinating sports at the Winter Olympics for many as skiers attempt to be skyward for as long as possible before finally landing on the slope.
However, that is not the only measurement taken into account as judges there analyze the jumpers' style and technique. There are men's, women's, and mixed normal hill competitions and men's large hill events.
Snowboard
Snowboarding was added to the Winter Olympics in 1998 with giant slalom and halfpipe events for both men and women. In 2022, snowboarders have been slated to participate in big air, halfpipe, slopestyle, parallel giant slalom, and snowboard cross, the same as was on the program in 2018.
Speed Skating
Speed skating is similar to track competitions at the Summer Olympics. Events range from relatively short distances (eg, 500 meters) to ones that take more than 12 minutes to complete (eg, 10,000 meters).
Men and women compete in 500-, 1,000-, 1,500-, and 5,000-meter races while men are the ones who race 10,000-meter distances. Conversely, women are the only ones to go 3,000 meters.
Men's and women's mass start and team pursuit competitions are held as well.
Wrapping Up
You won't have any problems watching the Olympics online without cable. You'll be able to stream on most devices. You can even use a digital antenna for the events airing on NBC.
It should be easy enough to find a service that offers all of the channels you need to watch the Olympics without cable, so you can watch everything all in one spot!
Make sure to let us know if you have any questions about how to watch the Olympics online without cable!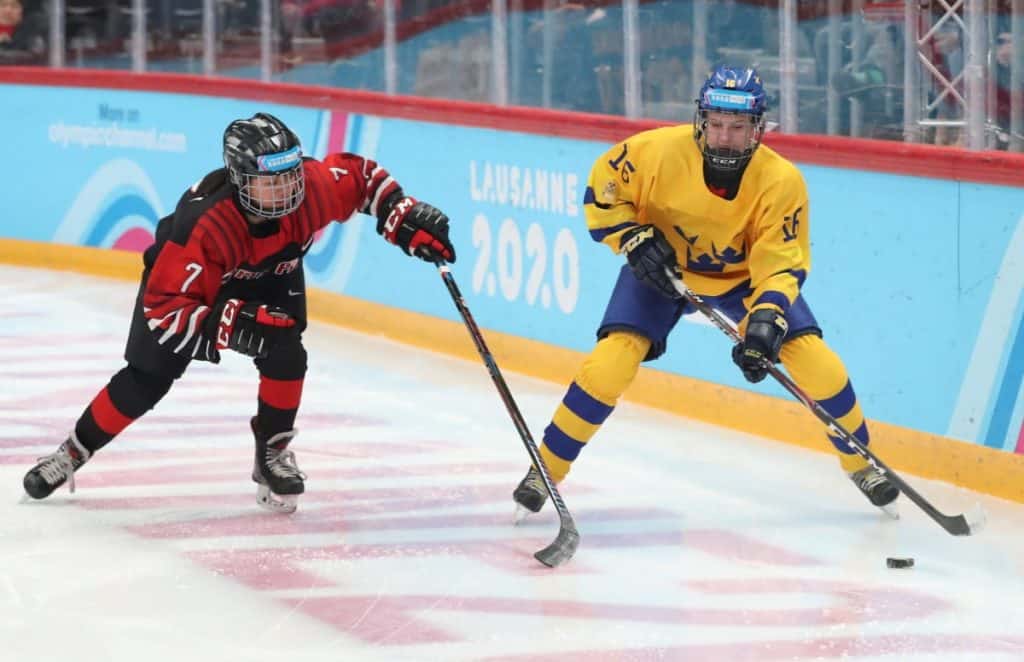 Sign Up for a Free 7-Day Fubo Trial
FAQs
The Olympics and how to watch is a vast subject. Below, we've provided answers to additional frequently asked questions about Olympic history, events, broadcasting, and other matters.
What is the schedule of the 2022 Beijing Winter Games?
The 2022 Beijing Olympics start officially on Feb 4th. But as always, there are some events before that. On Wed, Feb 2nd, the curling competition will start. It will continue on Thu, Feb 3rd. That day, freestyle skiing and ice hockey will also start. The events from Fri, Feb 4th on are listed below:
Fri Feb 4

Opening Ceremonies
Curing
Figure Skating
Ice Hockey

Sat Feb 5

Biathlon
Cross-Country Skiing
Curling
Freestyle Skiing
Ice Hockey
Luge
Snowboard
Ski Jumping
Speed Skating
Short Track Speed Skating

Sun Feb 6

Alpine Skiing
Cross-Country Skiing
Curling
Freestyle Skiing
Figure Skating
Ice Hockey
Luge
Snowboard
Ski Jumping
Speed Skating

Mon Feb 7

Alpine Skiing
Biathlon
Curling
Freestyle Skiing
Figure Skating
Ice Hockey
Luge
Snowboard
Ski Jumping
Speed Skating
Short Track Speed Skating

Tue Feb 8

Alpine Skiing
Biathlon
Cross-Country Skiing
Curling
Freestyle Skiing
Figure Skating
Ice Hockey
Luge
Snowboard
Speed Skating

Wed Feb 9

Alpine Skiing
Curling
Freestyle Skiing
Ice Hockey
Luge
Nordic Combined
Snowboard
Short Track Speed Skating

Thu Feb 10

Alpine Skiing
Cross-Country Skiing
Curling
Freestyle Skiing
Figure Skating
Ice Hockey
Luge
Snowboard
Skeleton
Speed Skating

Fri Feb 11

Alpine Skiing
Biathlon
Cross-Country Skiing
Curling
Ice Hockey
Snowboard
Ski Jumping
Skeleton
Speed Skating
Short Track Speed Skating
Sat Feb 12

Biathlon
Cross-Country Skiing
Curling
Figure Skating
Ice Hockey
Snowboard
Ski Jumping
Skeleton
Speed Skating

Sun Feb 13

Alpine Skiing
Bobsleigh
Biathlon
Cross-Country Skiing
Curling
Freestyle Skiing
Ice Hockey
Speed Skating
Short Track Speed Skating

Mon Feb 14

Bobsleigh
Curling
Freestyle Skiing
Figure Skating
Ice Hockey
Snowboard
Ski Jumping

Tue Feb 15

Alpine Skiing
Bobsleigh
Biathlon
Curling
Freestyle Skiing
Figure Skating
Ice Hockey
Nordic Combined
Snowboard
Speed Skating

Wed Feb 16

Alpine Skiing
Biathlon
Cross-Country Skiing
Curling
Freestyle Skiing
Ice Hockey
Short Track Speed Skating

Thu Feb 17

Alpine Skiing
Curling
Freestyle Skiing
Figure Skating
Ice Hockey
Nordic Combined
Speed Skating

Fri Feb 18

Bobsleigh
Biathlon
Curling
Freestyle Skiing
Figure Skating
Ice Hockey
Speed Staking

Sat Feb 19

Alpine Skiing
Bobsleigh
Biathlon
Cross-Country Skiing
Curling
Freestyle Skiing
Figure Skating
Ice Hockey
Speed Staking

Sun Feb 20

Bobsleigh
Cross-Country Skiing
Curling
Figure Skating
Ice Hockey
Closing Ceremonies
What countries have won the most Olympic medals?
The exact number of Olympic medals won by different countries is a bit complicated. Countries change over time. The best example of this is the Soviet Union, which won 1,204 total medals during its existence. But it broke up into 15 different countries at the end of 1991.
To get an accurate picture of the number of medals that belong to "Russia," we would need to combine the Russian Empire (1721-1917), some fraction of the Soviet Union (1917-1991), the Russian Federation (1991-today), plus the medals won by the ROC.
With that understood, here are the top medal wins. Also note that these numbers vary a small amount depending upon the source.
| | | | | |
| --- | --- | --- | --- | --- |
| Country | Total | Gold | Silver | Bronze |
| US | 2,934 | 1,165 | 943 | 826 |
| Soviet Union | 1,204 | 473 | 376 | 355 |
| Great Britain | 950 | 296 | 323 | 331 |
| Germany | 895 | 293 | 295 | 307 |
| France | 875 | 259 | 286 | 330 |
These winners are followed in order of total medal wins by Italy (742), China (697), Sweden (661), Australia (562), Japan (555), and Russia (547).
If we look at the average number of medals per Olympics, the numbers are USSR (67), US (58), Russian (46), China (32), Germany (31), Great Britain (18), France (17), Italy (15), Sweden (13), Japan (13), and Australia (12). Note that these can also be deceptive because they don't take into account the number of athletes or competitions.
Were fans allowed at the 2021 Olympics?
Fans were not allowed to attend the Olympics events in Tokyo. However, some domestic spectators were allowed to attend events held at venues northeast of Tokyo. In July, Tokyo declared a state of emergency due to COVID-19. They banned foreign visitors — including athletes' families — from traveling to Tokyo to attend the games. The ban also barred any domestic spectators from attending Olympic events in Tokyo.
What was Japanese opinion on the Tokyo Olympics spectator ban?
Public opinion about the spectator ban at the 2020 Tokyo Olympics is split fairly evenly between canceling the Games, banning spectators, and allowing some spectators. The following chart is based on a survey conducted by the Japanese broadcaster Japan News Network (JNN) in the first week of July and reported by Bloomberg.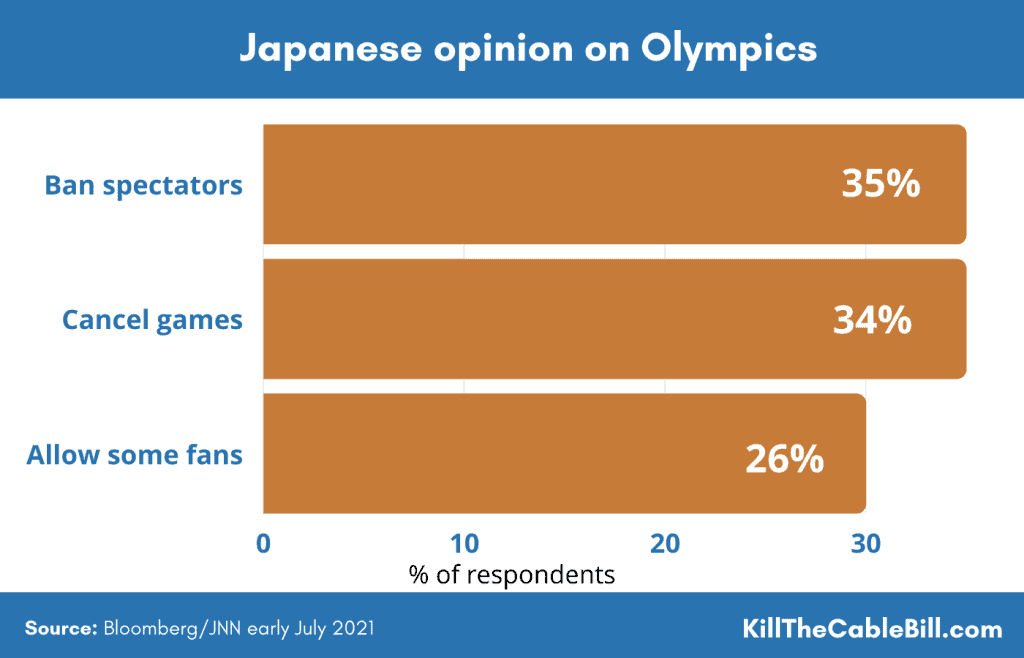 What was American opinion on the Tokyo Olympics spectator ban?
A May 2021 survey conducted by Seton Hall University indicated that 52% of Americans agreed with Tokyo banning foreign spectators from the Olympics but only 33% agreed with the banning of athlete's families. Indeed, 48% of Americans opposed the ban on athlete's families. The survey found more than half of Americans planned to watch the Olympics.
Which channels broadcast the Olympics?
In the old days of network TV, viewers were limited to watching only parts of the most popular events. Cable changed all that. And now, you don't even need cable. In fact, Peacock TV plans to run complete coverage. The main coverage will also appear on NBC, USA, and Olympic Channel.
How can I watch The Olympic Channel without cable?
The Olympic Channel is widely supported among the top streaming services. It comes with the base plans of FuboTV, Hulu + Live TV, and YouTube TV. It comes with Sling TV via the Sports Extra add-on. DIRECTV STREAM requires that you upgrade to its Ultimate Plan. For more information, see our Olympic Channel guide.
Despite the name, it provides year-round coverage of Olympic-style competition. Much of it is directly related because of qualifying events.
Sign Up for a Free 7-Day Fubo Trial
What happened to the 2020 Olympics?
Normally, the Olympic Summer Games would have occurred in 2020. But it was delayed because of the COVID-19 pandemic. So even though the Games are occurred in 2021, they are normally referred to as the 2020 Summer Olympics or Tokyo 2020. The Winter Olympic Games will be held at their normal time and the next Summer Games will be held as normal in 2024.
What sports were featured at the 2020 Summer Olympics?
The sports featured at the Summer Games are always changing. At this year's Olympics, the following sports were featured:
Archery
Artistic Gymnastics
Artistic Swimming
Athletics
Badminton
Baseball Softball
3×3 Basketball
Beach Volleyball
BMX Freestyle
BMX Racing
Canoe/Kayak Flatwater
Canoe/Kayak Slalom
Diving
Equestrian
Fencing
Handball
Hockey
Judo
Karate
Marathon Swimming
Modern Pentathlon
Mountain Bike
Rhythmic Gymnastics
Rowing
Sailing
Shooting
Skateboarding
Sport Climbing
Surfing
Swimming
Table Tennis
Taekwondo
Track Cycling
Trampoline
Triathlon
Volleyball
Water Polo
Weightlifting
Wrestling.
What new sports were part of the Tokyo Olympics?
Four sports made their Olympic debut in Tokyo: skateboarding, surfing, sport climbing (rock climbing), and karate. In addition, a variant of basketball, called 3×3 basketball, made its Olympic debut. Originally developed in urban areas of America, this intense game features 3 players on each side, only one basketball hoop, and it's played on a half-court.
What was the Tokyo Olympics schedule?
A handful of Olympic events started before the Opening Ceremony. These included softball, soccer, rowing, and archery.
Below is a list of when the most popular events start:
Wed
Jul
21
women's soccer, softball
Thu
Jul
22
men's soccer
Fri
Jul
23
Opening Ceremony, archery, rowing
Sat
Jul
24
badminton, basketball 3×3, beach volleyball,
boxing, men's cycling, equestrian, fencing,
field hockey, men's gymnastics, men's handball,
judo, shooting, swimming, table tennis, taekwondo,
tennis, men's volleyball, women's water polo,
women's weightlifting
Sun
Jul
25
men's basketball, canoe/kayak, women's cycling,
women's diving, women's gymnastics, women's handball,
sailing, men's skateboarding, surfing, women's volleyball,
men's water polo, men's weightlifting
Mon
Jul
26
men's diving, men's rugby, women's skateboarding,
men's triathlon
Tue
Jul
27
women's basketball, women's triathlon
Wed
Jul
28
baseball
Thu
Jul
29
men's golf, women's rugby
Fri
Jul
30
track and field, women's trampoline
Sat
Jul
31
men's trampoline
Sun
Aug
1
wrestling
Mon
Aug
2
artistic swimming
Tue
Aug
3
men's sports climbing
Wed
Aug
4
women's golf, women's sports climbing
Thu
Aug
5
karate, modern pentathlon
Fri
Aug
6
rhythmic gymnastics
Sat
Aug
7
Sun
Aug
8
Closing Ceremony
What is the time difference between the US and Beijing?
The 2022 BeijingOlympic Games will be over half a day out of sync with US viewers. Beijing is GMT+8 hours. Since the Pacific coast of the US is GMT-8 hours, they are 16 hours apart. The Atlantic coast of the US is GMT-5 hours, so they are 13 hours apart.
Beijing is always ahead, so it is often a day later there than it is in the US. To figure out when it is at the 2022 Olympics, just add the following number of hours to your local time:
HST: 18 hours
AKST: 17 hours
PST: 16 hours
MST: 15 hours
CST: 14 hours
EST: 13 hours.
Can I watch the Olympics on Hulu?
Hulu offers two kinds of plans. The standard plan only provides on-demand streaming. You will be able to see a lot of the Olympics using this plan but it will not be live. The Hulu + Live TV plan will provide you with live Olympic coverage that is as good as any you will get in the industry or on cable.
Can I watch the Olympics live via NBCOlympics.com?
Yes, you can watch the Olympics via nbcolympics.com but you need to login via TV Everywhere with your streaming service (or cable/satellite provider). If you don't have an account, then nbcolympics.com — the official broadcaster of the Olympics — will only give you 30 minutes of watch time. If you don't have cable you can watch the Olympics live via a free trial with an online streaming service like FuboTV or Hulu.
What is the Olympic Channel?
The Olympic Channel is an internet television service run by the International Olympic Committee (IOC). It airs Olympic-style sporting events year-round. It also airs qualifying events as well as the Olympic events themselves. At the 2020 Tokyo Games, the Olympic Channel is airing extensive tennis and wrestling coverage along with news from the event.
Why isn't Russia in the recent Olympics?
Russia was banned from the Olympics, Paralympics, and World Championships for two years following an investigation by the World Anti-Doping Agency. The organization found that over a thousand athletes had been involved in a state-sponsored doping program. As a result, Russian athletes are competing under the Russian Olympic Committee (ROC). To avoid confusion, we list them as Russia in our medals count table.
What is Chinese Taipei?
Chinese Taipei is the name given to Taiwan for international sporting events. This is due to the conflict regarding Taiwan's sovereignty. Taiwan considers itself an independent state and China considers Taiwan part of China. To allow Taiwanese athletes to compete in such events, Taiwan is referred to as Chinese Taipei, and no symbols (eg, flags, national anthem) from the republic are allowed.
Why does the host country always do so well at the Olympics?
No one knows for sure but with the notable exception of the USA in the 1996 Atlanta Games, the host country always does better than in the Games before and after it. That was true of Brazil in 2016 and seems to be happening with Japan now who are currently leading in Gold medals.
Three reasons have been proposed for this. First is the effect of the local crowd. That wouldn't be such a big deal in Tokyo, however, since there isn't much of a crowd. The second is being familiar with sporting venues, which can be especially important in events like baseball. And finally, there is the fact that the host country's athletes don't need to travel.
Who won the 2020 Tokyo Olympics?
In the end, the USA managed to win in terms of total medals and Gold medals. However, its Gold medal total was only one higher than China's.
| | | | | |
| --- | --- | --- | --- | --- |
| Country | Total | Gold | Silver | Bronze |
| USA | 113 | 39 | 41 | 33 |
| China | 88 | 38 | 32 | 18 |
| Russia | 71 | 20 | 28 | 23 |
| Great Britain | 65 | 22 | 21 | 22 |
| Japan | 58 | 27 | 14 | 17 |
| Australia | 46 | 17 | 7 | 22 |
| Italy | 40 | 10 | 10 | 20 |
| Germany | 37 | 10 | 11 | 16 |
| Netherlands | 36 | 10 | 12 | 14 |
| France | 33 | 10 | 12 | 11 |
Final medal count at the 2020 Tokyo Olympics.
Of particular note is Japan's performance. They beat their total medal count from Rio de Janeiro by 17 going from 41 to 58. And they more than doubled their Gold medals from 12 to 27.
If you look at the top 10 medal winners on a population basis, things look very different. Australia received the most Gold medals per capita. And The Netherlands received the most medals overall.
Watch Tokyo Summer Games With Fubo! (free trial)
Sara Madelene Marøy: Women's Giant Slalom at the 2020 Winter Youth Olympics by Martin Rulsch under CC BY-SA 4.0.
Ditch "Big Cable" Now – 3 Simple Steps to Cut the Cord
Pick the right streaming service
Get the content you deserve with the best VPN.
Supercharge your internet provider
That's it — you'll save money, take back control, and enjoy TV more!
Latest posts by Frank Moraes
(see all)