For local Sports fans, Bally Sports Oklahoma is a must-have channel. Once available only to satellite and cable subscribers, cord-cutters can also get it. Read on to learn how and what your alternatives are.
In a hurry? DIRECTV STREAM is the only service with the channels for most MLB, NBA, and NHL teams. Get all of the regional sports networks in your area with roughly 100 other channels in its Choice Plan. A 5-day free trial is now available for DIRECTV STREAM.
If you can't watch your favorite sports because of your location, get ExpressVPN to access the content you deserve.
Bally Sports Oklahoma provides coverage of the state's most popular sports entities, the NBA's Oklahoma City Thunder and the NCAA's Oklahoma Sooners and Oklahoma State Cowboys and Cowgirls.
It also shows significant high school sports events being played in the state. Having formerly been a part of Bally Sports Southwest, it broadcasts some of that latter channel's programming as well.
If you are in Bally Sports Oklahoma's broadcast area and would like to access this channel without being tied to a cable contract, you need to subscribe to DIRECTV STREAM ($89.99/mo), the only streaming service that offers it.
What Is Bally Sports Oklahoma?
Bally Sports Oklahoma is one of several regional sports networks (RSNs) that are part of the larger Bally Sports network. It is available throughout Oklahoma and Arkansas. It is also available in Texas and Louisiana but it isn't clear if Thunder games are broadcast there.
Bally Sports Oklahoma was called Fox Sports Oklahoma until March 31, 2021, when all Fox Sports affiliates changed to Bally Sports ones in advance of MLB's opening day on April 1. Fox Sports Oklahoma had originally broken away from Fox Sports Southwest, (currently Bally Sports Southwest) in 2008 in advance of the Oklahoma City Thunder's inaugural season thereafter having moved from Seattle.
Get Bally Sports With DIRECTV STREAM!
Which Teams Does Bally Sports Oklahoma Cover?
As expected, Bally Sports Oklahoma spends a considerable amount of its programming on the reason for it becoming a channel in the first place: the Oklahoma City Thunder. Nearly all of that NBA team's games are shown on this network, and that even includes postseason contests in some cases.
However, its coverage of Oklahoma Sooners and Oklahoma State Cowboys and Cowgirls sports events is considerable as well. This includes broadcasts of several of the sports teams at those institutions. But note that OU and OSU football games are not shown on Bally Sports Oklahoma.
Due to its connections with Bally Sports Southwest, Bally Sports Oklahoma also shows some of that channel's programming, such as Texas Rangers games. Doing so helps fill its summer programming when the Thunder, Sooners, Cowboys, and Cowgirls are all in their offseasons or in generally slower times of their years.
In addition, Bally Sports Oklahoma broadcasts a variety of other sports throughout the year, including beach volleyball, softball, fencing, and mixed martial arts.
Bally Sports Oklahoma Subchannels
In the past, Bally Sports Oklahoma offered a subchannel to deal with scheduling conflicts. They were called Bally Sports Oklahoma Plus or Bally Sports Oklahoma Extra at different times.
These channels don't seem to exist at this point — probably because they are unnecessary.
Bally Sports Oklahoma Programming
Bally Sports Oklahoma is focused on live game broadcasts of the Thunder and Sooners. This includes pregame and postgame shows as part of Thunder Live. And there are various other news and commentary shows that cover Sooners sports.
Oklahoma City Thunder games are called locally by Chris Fisher, Michael Cage, Nick Gallo, and Paris Lawson. Fisher has been the team's primary voice on its Bally Sports Oklahoma broadcasts since the 2018-19 campaign.
It also airs Bally Sports shows like The Rally (sports news) and Live on the Line (sports better). They also air various other licensed shows.
Finally, Bally Sports Oklahoma simulcasts many games featuring Texas Ranger and Dallas Stars from Bally Sports Southwest.
Unblock Your Favorite Movies and Shows With a VPN
If you can't watch your favorite movies and shows because of your location, a VPN will allow you to get the access you are entitled to, plus extra security and unequalled privacy. Check out our VPN Guide for everything you need to know, including our top pick ExpressVPN.
Streaming Bally Sports Oklahoma

The Bally Sports RSNs used to be carried by a number of streaming services. However, times have changed, resulting in DIRECTV STREAM being the only one with access to any of the Bally Sports affiliates around the country.
In order to get Bally Sports Oklahoma, those in its broadcast area need to subscribe to, at a minimum, DIRECTV STREAM's Choice plan ($89.99/mo).
Doing so also provides access to Bally Sports Southwest, AT&T SportsNet Southwest, and several nationally broadcast sports-oriented channels, including ESPN, ESPN2, ESPNU, Fox Sports 1 (FS1), MLB Network, NBA TV, and the ACC and SEC networks.
For more information, see our thorough DIRECTV STREAM review.
Get DIRECTV STREAM Free for 5 Days
Bally Sports+
Note: At this point, Bally Sports+ has not secured rights to most MLB, NBA, and NHL team games. Make sure that your teams will be available before signing up. Or stick with DIRECTV STREAM.
As of mid-2021, a direct-to-consumer streaming service, Bally Sports+, is available. It provides whatever specific Bally Sports channels that are available in your area.
There is only one plan but two payment structures:
Monthly: $19.99
Yearly: $189.99
The number of Bally Sports channels that you will receive will depend on your location. Subscribers in Oklahoma City, for example, will get Bally Sports Oklahoma and Bally Sports Southwest (Texas Rangers, Dallas Stars).
If you want, you can use Bally Sports+ directly with its website, BallySports.com, but there are better options. Currently, there are apps for the following devices: Amazon Fire TV, Android TV-compatible TVs, tvOS, and mobile devices with iOS (iPhone, iPad) or Android.
Bally Sports+ is a good option to have but you will likely want to combine it with a live TV streaming service. This is partly because Bally Sports is limited to regular season games. But also, you might want AT&T SportsNet Southwest (Houston Astros).
To get it, you would need to combine Bally Sports+ with FuboTV. Or you could skip Bally Sports+ altogether and sign up with DIRECTV STREAM.
Alternatives to Bally Sports Oklahoma
If you are in Oklahoma and want to watch the Oklahoma City Thunder while not having access to Bally Sports Oklahoma, your options are slim, and most games will simply not be possible to watch.
You are limited to a small selection of them on national television outlets, including NBA TV, TNT, ESPN, and ABC, through a streaming service like FuboTV or Hulu + Live TV. Or, in the case of ABC, you can watch with an antenna.
Conversely, those not in the team's NBA League Pass blackout area, which does extend north and east beyond Oklahoma's borders, can subscribe to that service for $28.99/mo and watch all games live (with minor exceptions). Fans inside the blackout area can also watch — but only after the game has completed.
OU and OSU fans enjoy greater options than Thunder supporters do. This is thanks to so many of the contests played by those schools' teams being shown through other outlets.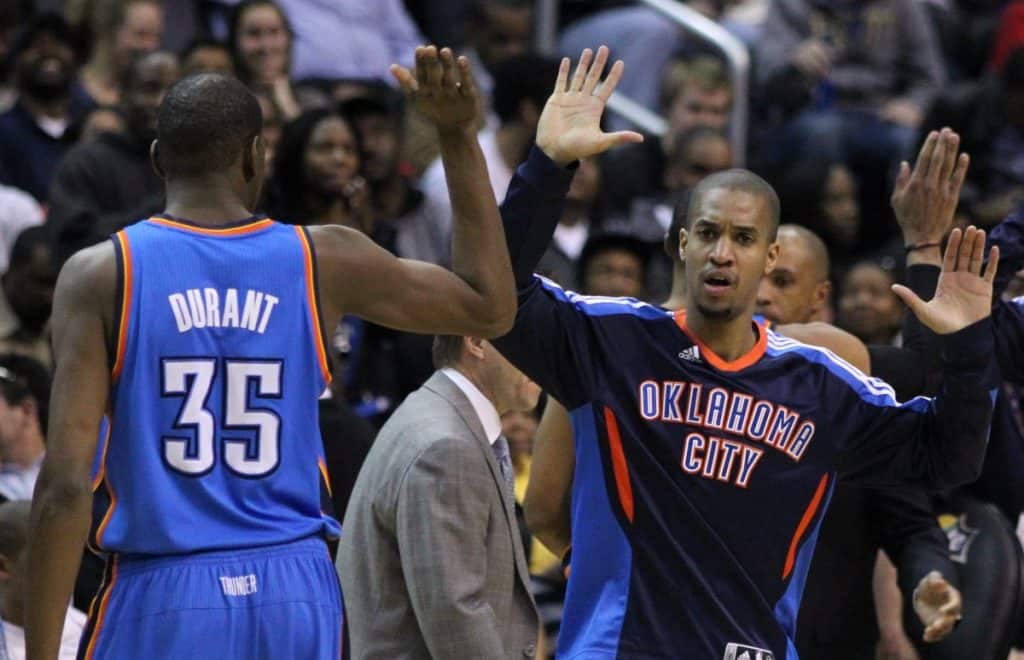 ESPN+ ($6.99/mo) streams a significant number of them and is an especially valuable resource for fans who support the schools' non-football and non-basketball teams.
As for football, during the 2019 college season, Oklahoma contests were shown on Fox (seven games), ABC (five), ESPN (one), and through pay-per-view (one) while Oklahoma State match-ups were on FS1 (four), Fox (two), ESPN (two), ESPN2 (two), ESPN+ (two), and ABC (one).
As a result, simply having an antenna allowed OU fans to catch 12 of 14 games and OSU supporters to watch three of 13 contests.
Devices to Live Stream Bally Sports Oklahoma
DIRECTV STREAM has apps for most devices in use today. Roku, Amazon Fire TV, and Apple TV devices are all supported as are most Samsung smart TVs directly. You can also cast to TVs using Chromecast (either built-in or external).
You can stream Bally Sports Oklahoma through DIRECTV STREAM on mobile devices running Android and iOS (iPhones and iPads). You can also watch directly on most web browsers. Finally, DIRECTV STREAM offers its own device.
Superpower Your Live TV Streaming With a VPN
You can't beat a VPN for privacy, security, and access. We have used them for years as an important part of our streaming toolkit and we recommend ExpressVPN.
Wrapping Up
The bottom line is that Bally Sports Oklahoma is a must-have for Oklahoma City Thunder fans located within its viewing area. Those who want to catch as many Oklahoma and Oklahoma State sporting events as possible should garner access to that channel as well.
If any of those descriptions fit you, consider giving DIRECTV STREAM a try. A 5-day free trial is now available for DIRECTV STREAM.
Get DIRECTV STREAM Free for 5 Days
FAQs
What happened to Fox Sports Oklahoma?
In 2019, Disney sold the Fox Sports RSNs that it had just purchased a couple of years prior. That was necessary as the US Justice Department had determined that Disney, which owns ABC and ESPN, also securing those RSNs constituted an unfair monopoly.
Sinclair Broadcast Group, which bought them from Disney, then came to a naming-rights agreement with Bally's Corporation in November with the channels taking on that name change four months later.
Why can't I get Bally Sports Oklahoma elsewhere?
Each of Bally Sport's affiliates represents different areas of the country, which is necessary as the teams that they cover have broadcast deals that only allow their non-nationally televised games to be shown in that regional area. However, with that said, subscribers sometimes have access to more than one Bally Sports affiliate.
That is why Bally Sports Southwest is also available to those in Oklahoma. The reverse is also true as those in Dallas who subscribe to DIRECTV STREAM get both channels.
Does FuboTV include Bally Sports Oklahoma?
Bally Sports Oklahoma is not included in FuboTV's channel lineup. In fact, no Bally Sports channels are. You can, however, combine FuboTV with Bally Sports+. This would give you AT&T SportsNet Southwest (home of the Houston Astros) along with a few dozen other sports channels. To get all this in one place, you need DIRECTV STREAM.
Does Hulu + Live TV have Bally Sports Oklahoma?
Hulu + Live TV offers very few RSNs and none of those covering the southern part of the United States. Its 85+ live channel liveup is very good for sports and will have you covered for national games (including all of the playoffs). But if you want to watch every Thunder game this year, you should look elsewhere. Sooners fans will find more to like since Hulu + Live TV includes ESPN+ for $69.99/mo.
Can I get Bally Sports Oklahoma with YouTube TV?
You don't get access to any Bally Sports channels with YouTube TV. It offers the same RSNs as Hulu + Live TV. However, you do get a great lineup of local and national channels. Thunder and Sooners fans are probably best off with DIRECTV STREAM or Hulu + Live TV.
Can I subscribe to Bally Sports Oklahoma directly?
You can subscribe to Bally Sports Oklahoma directly through Bally Sports+. Note that you must still live in the broadcast area and you need to make sure that they offer the teams you expect to watch. The cost is $19.99/mo or $189.99/yr. Note, however, that you will only get Bally Sports channels. If you want AT&T SportsNet Southwest, you will need to get FuboTV as well.
How can I watch the Thunder's divisional rivals?
For information about the other teams in the Northwest Division, see these articles:
How do I watch other sports channels without cable?
These pages will tell you all you need to know to watch various sports channels:
Ditch "Big Cable" Now – 3 Simple Steps to Cut the Cord
Pick the right streaming service
Get the content you deserve with the best VPN.
Supercharge your internet provider
That's it — you'll save money, take back control, and enjoy TV more!
Latest posts by Frank Moraes
(see all)