Disclosure:
Your support helps keep our site running! We earn referral fees for some of the products & services we recommend.
Learn more
For many, The Masters is the most important of the Major golf tournaments. And because of its popularity, it is relatively easy for cord-cutters stream it. What's more, the finals can even be watched via antenna.
In a hurry? The Masters will air on ESPN and CBS. But there will be a lot of analysis on The Golf Channel as well. These streaming services will allow you to watch it all:
FuboTV: Get CBS, ESPN, Golf Channel and 100+ more channels with this sports-focused streaming service. Try it free for 7 days!
Hulu + Live TV: Get 85+ channels along with Disney+ and ESPN+.
DIRECTV STREAM: Transition easily from cable with this highly customizable service.
Each year, The Masters is held during the first week of April at Augusta National in Georgia. First played in 1934, the 2022 Masters will be the 86th time that the event has been held over the last 88 years.
Let's dive deeper into an event that many in the United States consider to be the most important golf tournament of the year.
About The Masters
The Masters is one of just a handful of professional golf tournaments to be played at the same course each year. Augusta National was developed in 1930 by Bobby Jones, who was one of the most influential golfers of his day. As of January 2022, the course is 7,475 yards in length and is a par 72.
Augusta National is home to several important landmarks including the Eisenhower Tree and Ike's Pond. It is also famous for Amen Corner, which is the unofficial name for the 11th, 12th, and parts of the 13th holes.
This tournament is also unique because participants must be invited to play in the event. In fact, the tournament was originally called the Augusta National Invitational Tournament.
The event is now referred to as The Masters because those who take part in it have to abide by strict criteria to enter. But anyone who has won any previous Masters event earns a lifetime invitation to this tournament.
You can also be invited to the Masters if you have won any other major championship in the past five years. Anyone who finished in the top 12 of the 2021 Masters will be invited to the 2022 event. And individuals who won any 2021 event that awarded points toward that year's FedEx Cup will also be invited to play in Augusta in 2022.
Since 1949, the winner of this tournament has been awarded a green jacket. But the real goal is the purse. In 2022, the winner will take home a significant portion of the $11.5 million that will be distributed among those in the tournament field.
Horton Smith won the first Masters in 1934 and would win it again in 1936. Jack Nicklaus has won the Masters on six different occasions, which is more than any other person in the event's history. Tiger Woods has won the event five times while Arnold Palmer has four Masters championships to his name.
2022 Masters
The 2022 Masters is scheduled to begin on Thu April 7 and conclude on Sun April 10.
Hideki Matsuyama won the 2021 Masters with a score of 10 under par, and he is expected to be among the favorites to win this year as well. Matsuyama was the first man from Japan to ever win this event.
Other favorites to win the 2022 Masters include Brooks Koepka, Dustin Johnson, and Jon Rahm. There are rumors that changes are being made to the 11th, 13th, and 15th holes in an effort to make the tournament even more compelling.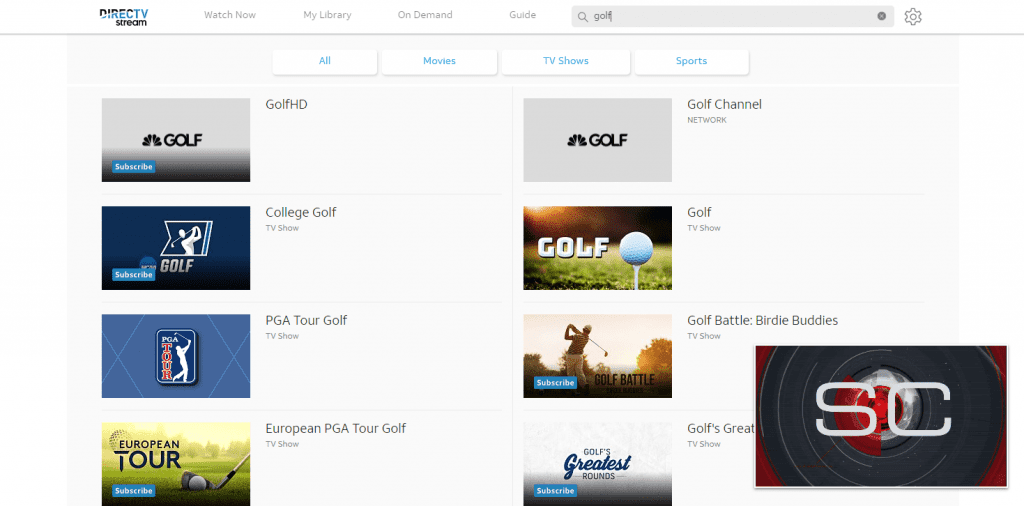 Watching the Masters
In 2022, the first two rounds of the Masters will be broadcast on ESPN. On both Thursday and Friday, ESPN will provide coverage of this event from 3 pm to 7:30 pm. On Saturday, CBS will broadcast the Masters from 3 pm until 7 pm, and on Sunday, coverage will begin at 2 pm and keep going until a winner has been decided. CBS will also likely show the winner receiving his jacket from the winner of the previous year's event.
Thu Apr 7 3:00 pm (EDT): Round 1 (ESPN)
Fri Apr 8 3:00 pm (EDT): Round 2 (ESPN)
Sat Apr 9 3:00 pm (EDT): Round 3 (CBS)
Sun Apr 10 2:00 pm (EDT): Round 4 (CBS).
ESPN+ will also present 115 hours of secondary coverage.
Watching Outside the US
Canadian viewers will receive the American feed of the tournament from ESPN and CBS. All four rounds are simulcast on TSN, which broadcasts its content in English. The final two rounds are simulcast on CTV while those who want to watch the tournament in French can do so by watching RDS.
In the United Kingdom, coverage of this event is exclusively on Sky Sports (streaming on NOW). Until 2019, both the BBC and Sky had the rights to broadcast the final two days of the event. However, after losing a bidding war, the BBC will not televise any live golf in 2022.
Those who are watching this tournament in Australia will be able to do so on Nine Network. Australian viewers may also have access to coverage of this event through Kayo and Foxtel.
Viewers throughout Europe, Africa, and Asia may also be able to watch this event live through various content providers. A live stream of the event may be available to international viewers who don't have access to these networks or simply prefer to have other viewing options.
Watching the Masters Without Cable
The final two rounds of The Masters will appear on CBS. That means you can watch it for free with an antenna. See our HD antenna guide for all the information you need to get up and running. Note that you can interface an antenna really well with Sling TV. Check them out!
If you want full coverage of the event or just don't want to mess with an antenna, these streaming services will have you watching in minutes:
FuboTV: Includes well-over 100 channels with a decidedly sports orientation for $64.99/mo. But they have more than enough entertainment, movie, music, news, and family channels to please everyone. All plans come with 250 hours of cloud DVR and streaming on up to 3 screens at once. See our FuboTV review for details.
Hulu + Live TV: This is a great all-around entertainment system with 85+ live channels, and incredible on-demand library, Disney+, and ESPN+ — all for $69.99/mo. It comes with 50 hours of cloud DVR and simultaneous streaming on up to two devices. Get all the information in our Hulu + Live TV review.
DIRECTV STREAM: Provides roughly 80 channels in its base plan for $69.99/mo. But you have many options for more channels. It also comes with unlimited DVR storage and streaming on up to 20 devices! See our DIRECTV STREAM review for more information.
YouTube TV: It offers a similar plan to Hulu + Live TV but slightly cheaper without Disney+ and ESPN+.
Streaming Devices to Watch The Masters
Most of the streaming devices in use today are supported by the services we've discussed above: Amazon Fire TV, Android mobile, Apple TV, Chromecast, iOS, Roku, Samsung smart TVs, and web browsers.
Smart TVs by LG and VIZIO and those with Android TV work with Fubo and Hulu. They both also support the Xbox One. Hulu supports the PlayStation and Nintendo Switch.
Other devices are supported. See the individual streaming service reviews for complete information..
Summing Up
The Masters is one of the most anticipated golf tournaments in the world, and it can be seen on ESPN and CBS from April 7 through April 10. Taking place at Augusta National in Georgia, it will feature some of the biggest names in golf including Phil Mickelson, Jordan Speith, and other star players.
Cord-cutters will have no problem enjoying the entire event!
How to Watch Other Golf Events
The following guides explain how to watch golf without cable:
Here is our guide for watching the Golf Channel.
Latest posts by Frank Moraes
(see all)