The Clemson Tigers are one of the most popular teams in the Atlantic Coast Conference. They consistently place within the top teams in the nation. If you're an NCAA fan, you know how important it used to be to have cable during football season. Now you can watch Clemson Tigers football online without cable.
In a hurry? There are only a handful of channels you need to follow the ACC season. These services have them all:
Fubo: The best streaming service for international sports also provides 150+ well-selected channels. Fubo allows you to try out its service with a free trial.
DIRECTV STREAM: Get a great channel lineup with the best selection of RSNs in the industry. A 5-day free trial is now available for DIRECTV STREAM.
Sling TV: This low-cost service allows you to select just the channel lineup you want. Save 50% on Sling TV now.
If you can't watch your favorite sports because of your location, get ExpressVPN to access the content you deserve.
Unfortunately, we don't know a streaming service in that covers this sport. But if you've already paid for the right service, and just can't watch because of your location, there is an easy way to get the content you deserve. You need a VPN, like one of the following.
| | | |
| --- | --- | --- |
| | ExpressVPN: Known as "The VPN that just works," it combines remarkable ease of use with with state-of-the-art power, speed, security, and privacy. Get three extra free months when you sign up for a year. Unleash your streaming with this top-rated VPN. | Sign Up Now |
| | Surfshark: Surfshark: Secure and easy to use with thousands of servers around the world. Of special note is its excellent collection of servers inside the US, which is great for regional sports lie NFL, MLB, and NBA. Get it now with an incredible 82% discount on a 24-month plan. | Sign Up Now |
| | NordVPN: One of the top VPNs with extremely fast servers all over the world. Great for streaming with tested perfomance on the biggest servers and included ad-blocking. Currently offering 70% discount on 2-year plans. | Sign Up Now |
If you're overwhelmed and not sure where to begin, you'll find all the answers in our full VPN guide.
Where to Watch Clemson Tigers Sports
The Clemson Tigers football games are usually featured on ABC, ESPN, and the ACC Network (ACCN). Games featuring the school's men's and women's basketball teams are typically featured on ESPN2, ESPN3, or ESPNU depending on the quality of their opponents.
The ACC has an agreement with Notre Dame to play the school every other year. This year's games against the Fighting Irish will be broadcast on ABC.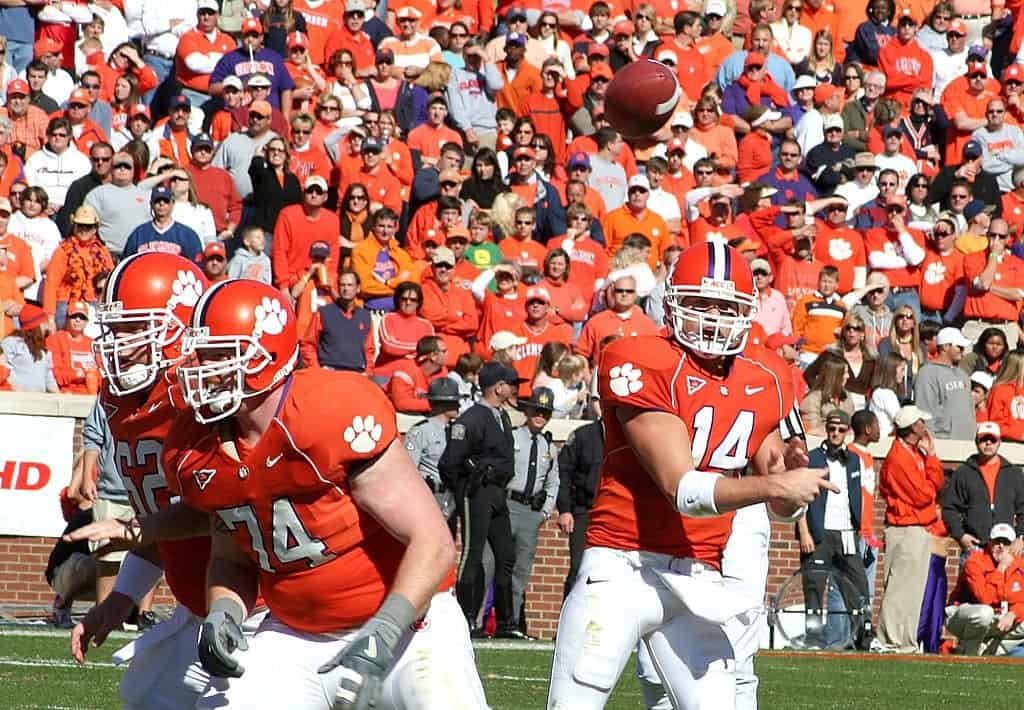 Unblock Your Favorite Events & Teams With a VPN

If you can't watch your favorite events or teams because of your location, a VPN will allow you to get the access you are entitled to, plus extra security and unequaled privacy. Check out our VPN Guide for everything you need to know, including our top pick ExpressVPN.

Other brands worth checking out include Hotspot Shield and CyberGhost.
This Week's Clemson Tigers Football Game
Sat Sep 23 TBD: Florida State Seminoles at Clemson
How to Stream Clemson Sporting Events
As a member of the ACC, sporting events featuring the Clemson Tigers tend to be broadcast on major networks. Generally speaking, these networks are included as part of a streaming platform's base service package. Therefore, you should have no trouble finding a plan that meets your needs and budget.
These platforms will also usually feature the SEC Network, Big Ten Network (BTN), and Pac-12 Network. The Longhorn Network may also be included on your preferred streaming platform either as part of a base package or as part of an add-on.
Fubo

Fubo (formerly FuboTV) started as a streaming service for Americans who wanted to watch international soccer. It has grown into a great all-around streaming service with 150+ channels for $74.99/mo.
But its lineup is still oriented toward soccer even though it is also great for football with local channels, Big Ten Network, CBS Sports Network, ESPN, ESPN2, FS1, FS2, and NFL Network. To get great NCAA football coverage, you need to upgrade with the Fubo Extra add-on for $7.99/mo more.
With this, you get pretty much everything you could want: ESPNU, ACCN, Pac-12, and SEC Network. You also get MLB Network, NBA TV, and NHL Network. And there's a lot more than we can go into here.
Fubo's base plan comes with 1000 hours of cloud DVR and the ability to stream on up to 10 devices at once.
For complete information, see our Fubo review.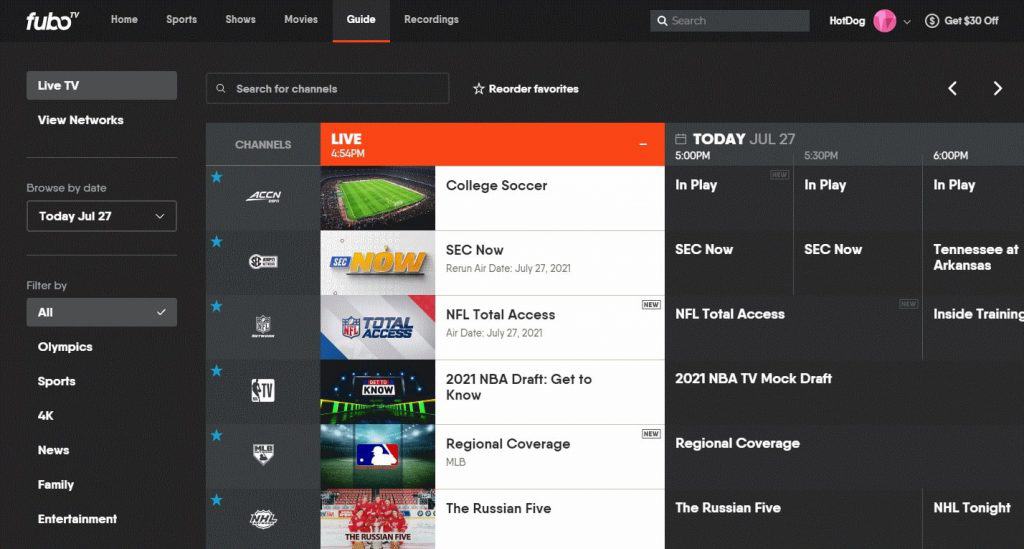 DIRECTV STREAM

DIRECTV STREAM offers a well-rounded plan with roughly 80 channels (including all the local affiliates) for $74.99/mo. This base plan includes ESPN, ESPN2, and FS1. If you upgrade to the Choice plan ($99.99/mo), you get ACCN, BTN, ESPNU, and SEC Network.
You also get NBA TV and MLB Network. Additionally, you get access to DIRECTV STREAM's outstanding collection of regional sports networks (RSNs) that air almost all MLB and NBA games to local viewers each season.
All plans come with unlimited cloud DVR (as long as you sign up online) and simultaneous streaming on unlimited devices.
For all the details, see our DIRECTV STREAM review.
Get DIRECTV STREAM Free for 5 Days
Sling TV

ESPN, ESPN2, and ESPN3 are all available on the Sling Orange package for $40.00/mo. To get the conference networks, you need to upgrade with the Sports Extra add-on ($11/mo). It includes ACCN, ACCNX, ESPNU, Longhorn Network, Pac-12 Network, SEC Network, and SEC Network+.
To get BTN, you will need to opt for the Sling Orange & Blue plan for $55.00/mo. And then add Sports Extra ($15/mo) for a total of over 70 channels with a good sports focus. It also includes NFL RedZone.
The Orange plan channels (eg, ESPN) can only be viewed on a single device at one time. The plan comes with 50 hours of cloud DVR.
Our Sling TV review explains everything. See our ACC football guide for specifics.
Hulu + Live TV

Hulu + Live TV starts at $69.99/mo and comes with an outstanding on-demand library along with 85+ live TV channels including entertainment, family, news, sports, and more. In almost all areas, you get all the local channels ABC, CBS, Fox, and NBC.
The base Hulu Live plan also includes ACC Network as well as ESPN, ESPN2, ESPNU, BTN, and SEC Network. It also includes FS1, FS2, and CBS Sports Network.
Its plan comes with unlimited cloud DVR for 9 months as well as the ability to stream on up to two devices at once.
See our Hulu + Live TV review for more details.
Vidgo

The Vidgo Plus plan shows all the signs of being designed by an NCAA fan. It comes with all the major conference/school networks: ACCN, BTN, BTU TV, Longhorn Network, all 7 Pac-12 Network channels, and SEC Network. It also comes with ESPN, ESPN2, and ESPNU. This is all part of a 100+ channel plan for $69.99/mo.
There's more: you get both NFL Network in addition to FS1, FS2, and even the Spanish language channels ESPN Deportes and Fox Deportes. Finally, it comes with 20 hours of cloud DVR storage and you can use it on up to 3 devices at once.
Check out our Vidgo review for more information.
Other Options
There are other options for watching Clemson Tigers football without cable.
ESPN+: Showcases hundreds of live sporting events throughout the year for just $9.99/mo. In addition to college football and basketball, you can get access to dozens of NHL, NBA and MLB games live from wherever you happen to live. See our ESPN+ review.
Paramount+ Premium: Features content that is broadcast on CBS, which includes Clemson Tigers games.
YouTube TV: Another full cable replacement service featuring 100+ channels for $72.99/mo with ESPN and the conference channels. This plan is similar to Hulu + Live TV.
Watch Clemson Tigers on Most Streaming Devices
You should have no problem watching the Tigers on TVs and streaming devices you already own.
Samsung smart TVs are supported by all the services except Vidgo. Hulu, Sling, and Fubo also support LG and Vizio smart TVs. And all of them support Android TV-based devices.
TV "stick" devices (Amazon Fire TV, Apple TV, and Roku) are supported by all the services. The same goes for Android and iOS mobile devices. And you can cast from them to your Chromecast-enabled TV (built-in or external device).
The Xbox One gaming console is supported by Sling TV, Fubo, and Hulu. Hulu also supports the PlayStation and Nintendo Switch units. And Sling TV supports the VR device Oculus.
And, of course, you can watch on a web browser (which can be connected to a TV in many cases). Our streaming service reviews include complete lists of supported devices.
Clemson Tigers
The Clemson Tigers began competing in football during the late 19th century. They were given their nickname in 1896 by Walter Riggs. Riggs was the football coach at the time, and he decided to name the team after Princeton, which was considered one of the most prestigious schools in the country at that time.
The football team has played at the Memorial Stadium on the Clemson campus since the early 1940s.
Currently, the Tigers compete in 17 different varsity sports — generally in the Atlantic Coast Conference (ACC).
The preseason NCAA rankings have Clemson at No 14 — two spots below the Tennessee Volunteers, who defeated them 31-14 in last year's Orange Bowl. They are expected to be very strong this year under the leadership of Dabo Swinney with some potential to win the NCAA Championship.
Perhaps most important, for the third year in a row, Clemson will end the regular season with a match against the South Carolina Gamecocks, who the Tigers lost to last year 31-30.
2023 Clemson Football Schedule
Mon Sep 4 : @ Duke Blue Devils (ESPN)
Sat Sep 9 : vs Charleston Southern Buccaneers (ACCN)
Sat Sep 16 : vs Florida Atlantic Owls (ACCN)
Sat Sep 23 TBD: vs Florida State Seminoles
Sat Sep 30 TBD: @ Syracuse Orange
Sat Oct 7 TBD: vs Wake Forest Demon Deacons
Sat Oct 21 TBD: @ Miami Hurricanes
Sat Oct 28 TBD: @ NC State Wolfpack
Sat Nov 4 TBD: vs Notre Dame Fighting Irish (ABC)
Sat Nov 11 TBD: vs Georgia Tech Yellow Jackets
Sat Nov 18 TBD: vs North Carolina Tar Heels
Sat Nov 25 TBD: @ South Carolina Gamecocks
Superpower Your Sports Streaming With a VPN

For the sake of privacy, security, and access, you should be using a VPN. They are low-cost and easy to use. We've been using them for years and our top pick is ExpressVPN. Other brands worth checking out include Hotspot Shield and CyberGhost.
Wrapping Up
The Clemson Tigers have a proud tradition of competing at the highest levels of college athletics. Whether you are a fan of their football, basketball, or golf programs, you will likely be able to follow your favorite teams without the need for a cable or satellite subscription.
Most streaming platforms will carry ESPN, ABC, and any other channel that games are generally showcased on. This means that you'll be able to find a plan that meets your needs and budget. What's stopping you?
Fubo is our top choice for NCAA football. Fubo allows you to try out its service with a free trial.
FAQs
How many national championships has Clemson won?
The Clemson Tigers have won a total of seven national championships across all sports throughout the program's history. The school's most recent title came in 2018 when the Tigers defeated the Alabama Crimson Tide in the College Football Playoff (CFP) final. The team also won national championships in football in 1981, 2016, and 2018. In addition, the Tigers won soccer titles in 1984, 1987, and 2021 as well as a golf title in 2003.
The school has sent both its men's and women's soccer, volleyball, and track teams to national events. Its baseball program is also considered to be among the best in the ACC despite the fact that it has never won a national title. Clemson's men's basketball team last reached the NCAA tournament in 2021; the women last reached in in 2019.
What are Clemson's biggest rivals?
With a football program spanning one and a quarter centuries, Clemson has developed a lot of rivalries. These include four teams that they competed with back in the 1920s in the Southern Conference: Alabama Crimson Tide, Auburn Tigers, Georgia Bulldogs, and South Carolina Gamecocks. And they have rivalries with ACC teams Boston College Eagles, Florida State Seminoles, Georgia Tech Yellow Jackets, and NC State Wolfpack.
Who are Clemson's most notable players?
The two most notable Clemson players are probably Deshaun Watson and Trevor Lawrence. Each player was the starting quarterback on a national championship team and each was a first-round pick in the NFL draft. Watson went 12th to the Houston Texans in the 2017 draft while Lawrence went 1st overall to the Jacksonville Jaguars in the 2021 draft.
Wide receivers Tee Higgins and Sammy Watkins are also notable members of the Clemson sports family who are currently playing in the NFL.
How can I watch teams other than Clemson?
We have guides for watching college football and college bowl games. Here are our guides on particular teams:
We also have guides for watching college basketball and March Madness. And here are guides on college basketball teams:
Ditch "Big Cable" Now – 3 Simple Steps to Cut the Cord
Pick the right streaming service
Get the content you deserve with the best VPN.
Supercharge your internet provider
That's it — you'll save money, take back control, and enjoy TV more!
Page Updates
▼
▲
Updated for the 2023 season.

Updated some sub-sections. Updated some section headings. More links.

Image changes. Formatting. Misc changes to content.

Added useful links. Reformatting.

Added buttons for streaming services. Pricing updates. Mentioned offers. Additional links.

Added buttons for streaming services. Image changes. Updated some sub-sections. Added a few links. Deleted unneeded sub-section.

Image changes. Linking. Pricing updates.
Latest posts by Frank Moraes
(see all)