Disclosure:
Your support helps keep our site running! We earn referral fees for some of the products & services we recommend.
Learn more
For many, Cartoon Network's edgy nighttime programming Adult Swim has become a must-view channel. Luckily, you don't need to suffer from a cable contract to get Adult Swim.
There are plenty of alternatives.
In a hurry? If you aren't concerned about all the details of your different choices and just want a quality streaming service to watch Adult Swim, we recommend the following:
Hulu + Live TV: This service adds 85+ live TV channel to their outstanding on demand service. Check it out free for 7 days!
Sling TV: The top low cost streaming service provides CN in both its base plans. Try it for a month without obligation for just $10!
DIRECTV STREAM: Makes it easy to switch from cable to streaming with their 65+ channel Entertainment plan. Comes with a 14-day money-back guarantee!
Adult Swim is the surreal, satirical, unquestionably darker nighttime alternate personality of Cartoon Network's daytime programming. It runs from 8 pm to 6 am, Mondays through Saturdays, and Sundays from 9 to 6.
It's also the reigning late-night refuge of insomniacs, stoners, and second-shift workers, having thrived on both Futurama reruns and counter-culture content that's been called both avant-garde and low-brow (three words: Too Many Cooks).
Adult Swim's meta-parody shtick means that you're never sure if the often-experimental shows are actually getting stranger as the night goes on, or if the sleep deprivation is just starting to get to you.
If you're a night-owl who wants to cut the cord but doesn't think you can get through the night without The Venture Bros, you can go to sleep (at sunrise) secure in the knowledge these streaming services have you covered.
How to Watch Adult Swim Live Without Cable
Adult Swim was launched in September 2001, the result of Turner Broadcasting's Cartoon Network not knowing what else to do with its 8:00 pm to 10:00 pm block of time when its normal target audience (7- to 14-year-olds) was in bed.
Since then, it's become a cult favorite with a fiercely loyal fanbase. Despite time-sharing its slot on the dial with Cartoon Network, it is branded, marketed, and officially rated as a separate entity. Even though it's only on part of the day, it regularly outperforms most 24-hour cable channels in ratings.
Turner Broadcasting and its owner WarnerMedia are now all owned by AT&T, so Adult Swim's other sister channels include Boomerang (a channel for classic animation like Bugs Bunny and Tom & Jerry), TBS, TNT, truTV, Turner Classic Movies, CNN, HLN, The CW, HBO, and Cinemax.
How To Find Adult Swim With A Provider
Some TV providers list Adult Swim separately from Cartoon Network, others don't. But if a service carries Cartoon Network, they also carry Adult Swim.
"TV provider" used to mean your local cable or satellite provider; Adult Swim/Cartoon Network isn't an over-the-air broadcast station like NBC or ABC that you can pick up with an antenna. But now you don't have to rely on overpriced contracts with corporate media conglomerates to get your Aqua Teen Hunger Force fixed.
You have the option to get Adult Swim and all your other favorite cable channels from lower-priced, contract-free services that stream over the internet (that are also owned by corporate media conglomerates, no getting around that).
Just check out the streaming services below, and get ready to get schwifty!
Streaming Services with Adult Swim
First, the bad news: there are several streaming services that just flat-out do not carry any of the WarnerMedia/Turner channels: FuboTV, Vidgo, and Philo.
But that's totally okay! Hulu + Live TV, Sling TV, and DIRECTV STREAM (formerly AT&T TV) have it all covered.
Hulu + Live TV

Hulu is where it's at for Adult Swim fans. With a low-cost Hulu on-demand plan, you get Rick and Morty, Fire Force, The Venture Bros, Mr Pickles, Momma Named Me Sheriff, Mike Tyson Mysteries, The Eric Andre Show, and more.
Hulu + Live TV adds 85+ live channels to this amazing library, including Adult Swim/Cartoon Network, Boomerang, and all the other WarnerMedia channels.
You also get your local network stations, plus 50 hours of Cloud DVR and viewing on up to 2 screens at a time. HBO and Cinemax are available as premium channels for an additional fee.
This is all available for $64.99/mo with a 7-day free trial.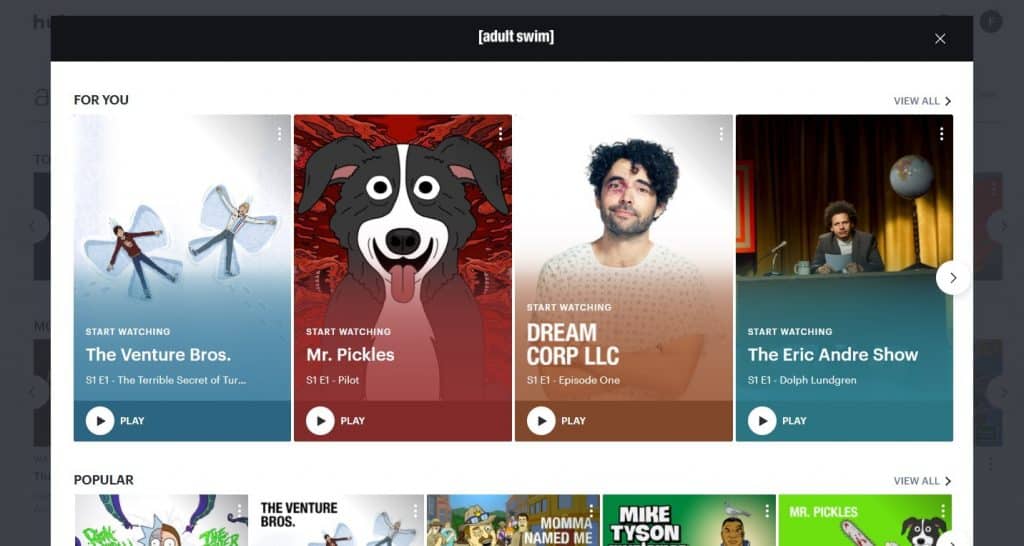 Sling TV

Sling TV doesn't have quite as many channels as the other options (over 50 with the Blue + Orange packages), but it's significantly cheaper, too. Both Orange and Blue packages ($35/mo each, $50/mo together) have Adult Swim/Cartoon Network.
On the fence? Go with Sling Blue because it features more channels (40+) and you get 3 simultaneous streams. You can get Boomerang along with other kids' channels for just $6 extra per month with the Kids Extra add-on.
One downside is that Sling doesn't carry The CW, but they do have your local NBC and Fox affiliates in most areas. Both packages come with 50 hours of Cloud DVR.
Sling doesn't have a free trial but the first month is only $10 for either package or $20 for both.
DIRECTV STREAM

DIRECTV STREAM (formerly AT&T TV) is the most expensive option here, but it may be worth it if you're really into sports — especially local sports. If you opt for the Choice or better package ($84.99/mo), you get regional networks included (varies by area), plus 3 free months of HBO Max.
All packages, starting with the 65+ channel Entertainment package at $69.99/mo, include local stations, Adult Swim/Cartoon Network, Boomerang, and the rest of the WarnerMedia family.
DIRECTV STREAM also comes with 20 hours of cloud DVR and a generous 20 simultaneous possible streams. They don't have a free trial, but they do offer a 14-day money-back guarantee.
The likes of Fubo and Sling don't give a trial unless you give them your credit card details, so it works out about the same.
Other Ways to Stream Adult Swim
But those aren't the only ways to binge Robot Chicken from midnight to 3 a.m. Here are some other ways to stream Adult Swim:
YouTube TV: This popular streaming service has Adult Swim/Cartoon Network with a plan similar to Hulu + Live TV.
YouTube: Adult Swim itself provides clips and sometimes whole episodes on its channel.
On-Demand: Because of the way syndication and licensing rights are frequently bought, sold, lent, and traded, Adult Swim shows end up on (and sometimes off) various on-demand services.
Adult Swim Website: It streams 24/7 marathons of over a dozen of its most popular shows.
Adult Swim App: Allows you to watch live but requires a TV Everywhere-compatible log-in from a pay TV provider.
TVs and Streaming Devices to Watch Adult Swim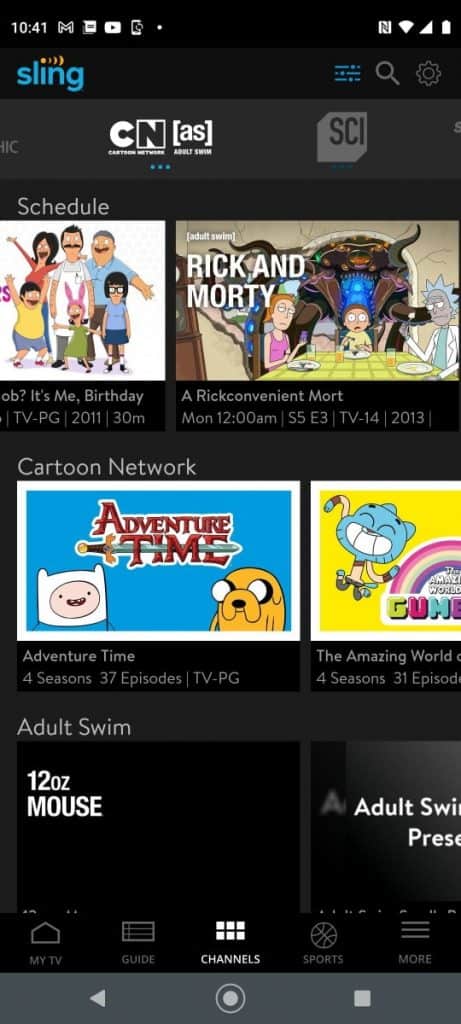 You can watch Adult Swim on most TVs and other streaming devices:
Android devices (smartphones)
iOS devices (iPhones, iPads, iPods Touch)
Chromecast (devices and units installed in TVs)
TV "stick" devices (Roku, Apple TV, Amazon Fire TV)
Samsung TVs
Web browsers (Chrome, Edge, Safari).
If it makes it easier, you can use DIRECTV STREAM's device (you can buy it gradually as part of your monthly bill).
Sling TV and Hulu + Live TV also support Android TV-powered units as well as smart TVs from LG and Vizio. They both also support the gaming system Xbox One. They also support a number of less popular devices so check with them if you aren't sure.
Wrapping Up
So whether you're a millennial who's grown up on Adult Swim for the past twenty years, an insomniac fan of anime, or just a lover of late-night parody with an absurdist bent, you can still put your cable bill to bed forever.
Just take your pick of the streaming services above and never miss Tender Touches again!
FAQ
What kind of shows does Adult Swim have?
Adult Swim's shows are a mix of animation (all types) and live-action. They tend to be offbeat and irreverent (at best), taking the form of mockumentaries, sketch comedy, and shorts that defy categorization. Most of the shows contain sexual themes and content, nudity, adult language, and extreme violence, completely rejecting any notion that "cartoons" are only for kids.
Adult Swim typically kicks off with a few hours of more mainstream shows, such as reruns of Bob's Burgers, American Dad, Family Guy, and the Adult Swim hit original series, Rick and Morty, now in its fifth season. This is normally followed by a large block of Robot Chicken at midnight.
Saturday mornings from 4:30 to 5:00 am, they show "infomercials" – their laboratory for their most experimental, "out there" stuff. Saturday night and early Sunday morning they run their Toonami block of anime shows imported from Japan, which comprises many of their most popular shows.
Other popular shows include:
Harley Quinn
Final Space
The Venture Bros
Teen Titans
Primal
Tuca & Bertie
Blade Runner: Black Lotus.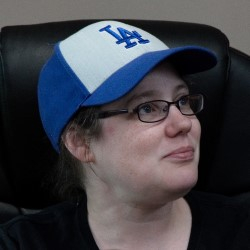 Latest posts by Alanna Baker
(see all)