Disclosure:
Your support helps keep our site running! We earn referral fees for some of the products & services we recommend.
Learn more
BET is one of the best entertainment channels and a destination for many viewers. It's so popular that it is included in most streaming service plans. Read on to learn all the options available to cord-cutters.
In a hurry? If you want to get watching BET now and don't care to deal with all the options, try one of these services (all with free 7-day trials):
FuboTV: A great overall streaming service with over 100 channels. It's a particularly good choice for sports fans!
Hulu + Live TV: Adds 85+ live channels to its fantastic on-demand library. It provides a one-stop entertainment solution.
Philo: This low-cost leader may not provide sports or local channels but it provides a good 60+ live TV channel line up for not much more than an on-demand service.
There may be others now, but BET was the original Black-owned, Black-focused channel. It goes all the way back to 1980 when it was just a two-hour weekly programming block on USA Network consisting of music videos and reruns of African-American sitcoms.
BET continued to grow in viewership, and in 1991 became the first Black-controlled TV company to be listed on the NYSE. The channel began experimenting with original programming, before and after it was purchased by Viacom in 2001.
Though today BET faces competition for the African-American demographic, it remains one of the most widely distributed cable channels, reaching over 90 million American households.
But you don't have to have a cable subscription to find out what's going on with your fave Tyler Perry series — read on to find out how to keep on watching BET without cable.
BET and Related Channels
BET has spawned a number of spin-off channels over the years, such as BET Her, BET Jams, and BET Soul. The networks are now part of the larger ViacomCBS family, which includes CBS, MTV, VH1, Nickelodeon, Comedy Central, and Paramount Network.
While BET may have been the first, there are now a number of channels that target African-American viewers: AMC Network's Allblk, aspireTV, Black News Channel (BNC), TV One and Cleo TV, the Oprah Winfrey Network (OWN), and Showtime's SHOxBET.
BET is a pay-TV channel, meaning you can't pick it up free "over the air" (OTA) with an antenna. You need a subscription to a pay-TV service to watch it. That service used to be only through cable or satellite. But now there are over a half-dozen companies that offer the same channels at lower prices, with no long-term commitments or contracts.
Which services carry BET? Take a look at the next section to find out.
Streaming Services with BET
Because BET has been around so long and is such a staple channel, it shouldn't be surprising that every major streaming service carries it. This is great for you the viewer because it means you can look at the features that each service provides and choose the one that's right for you.
You have the whole bunch to choose from. While all the services offer BET, and a few have BET Her, only FuboTV also has BET Jams and BET Soul, so we'll start there.
FuboTV

FuboTV started off as an attempt to make European soccer more accessible to Americans. Today it's expanded well beyond that to cover all kinds of sports all over the world, plus a great non-sports selection.
Fubo's plans start at 100+ channels for $64.99/mo, which includes BET, all the ViacomCBS channels (Comedy Central, MTV, VH1, Nick, Paramount), and Oprah Winfrey Network.
The three BET spin-off channels are part of the Fubo Extra add-on, which is an additional $7.99/mo. As mentioned before, this is the only place you'll find BET Soul or BET Jams on a live-streaming service. SHOxBET is part of the Showtime premium package for $10.99/mo.
FuboTV can stream on up to 3 devices at a time and comes with 250 hours of cloud DVR and all your local network stations.
Check out the seven-day free trial to see if you like it. Our FuboTV review has more details.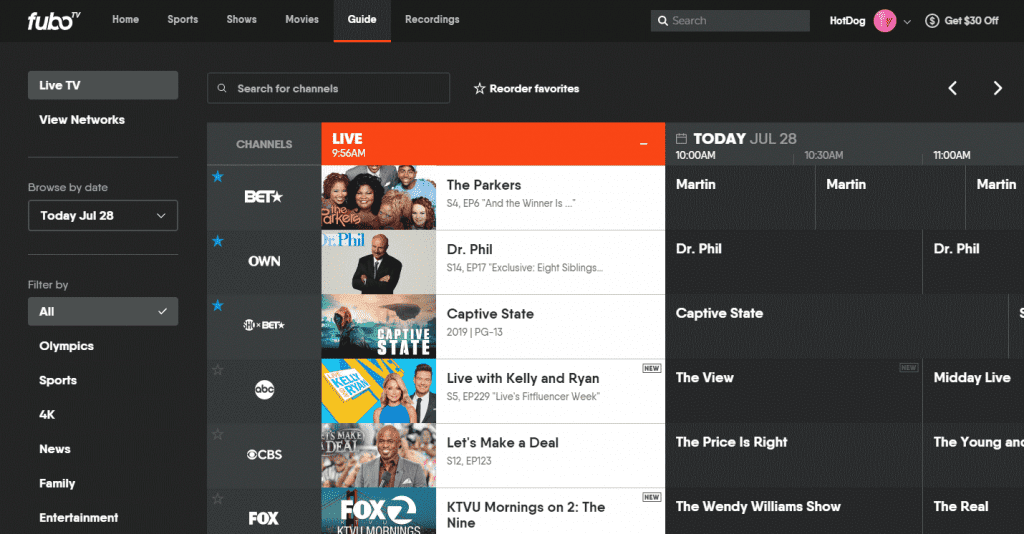 Hulu + Live TV

Hulu has a great on-demand library, but Hulu + Live TV takes its service to the next level. For $64.99/mo, you get over 85 channels, 50 hours of cloud DVR, and streaming on up to 2 screens at a time.
Hulu Live's channels include BET, all your network stations, and all the ViacomCBS networks. BET Her is available in the Entertainment add-on for $7.99/mo. And you can get SHOxBET with any premium Showtime subscription through Hulu for $10.99/mo.
Read our Hulu + Live TV review for more.
Philo

Philo is a really sweet deal: over 60 live TV channels for $25/mo and no, that's not a typo. You can stream on up to three screens at a time, and you have unlimited cloud DVR storage. They also have one of the more solid Black channel line-ups: BET, BET Her, aspireTV, Cleo TV, Oprah Winfrey Network, and TV One.
On the downside, you get no local channels, no Warner/Turner or NBCUniversal stations, and not a single sports station, which is a deal-breaker for a lot of people.
Check out our Philo review for all the details.
DIRECTV STREAM

DIRECTV STREAM (formerly AT&T TV) features over 65 channels in its Entertainment plan for $69.99/mo. It includes BET, all of BET's CBS sister channels, and the Black News Channel. If you upgrade to the $84.99 Choice package, you'll also get Cleo TV, TV One, and Oprah Winfrey Network.
In addition, the Choice package has regional sports networks so you can catch all your local teams' games regardless of where you live. Go up another tier to Ultimate ($94.99) and there's aspireTV and BET Her.
All packages offer streaming on up to 20 different devices around your home at a time, 20 hours of cloud DVR, all your local networks, and a 14-day money back guarantee on service and equipment.
See our DIRECTV STREAM review for more information.
Sling TV

The base Sling TV plans are $35/mo, and both come with BET, Comedy Central, MTV, and Nickelodeon.
Allblk and SHOxBET are both available as premium channels. Sling also offers 50 hours of DVR storage, and Sling Blue includes your local NBC and Fox stations. There's no free trial, but the first month is just $10.
Read our Sling TV review for more information.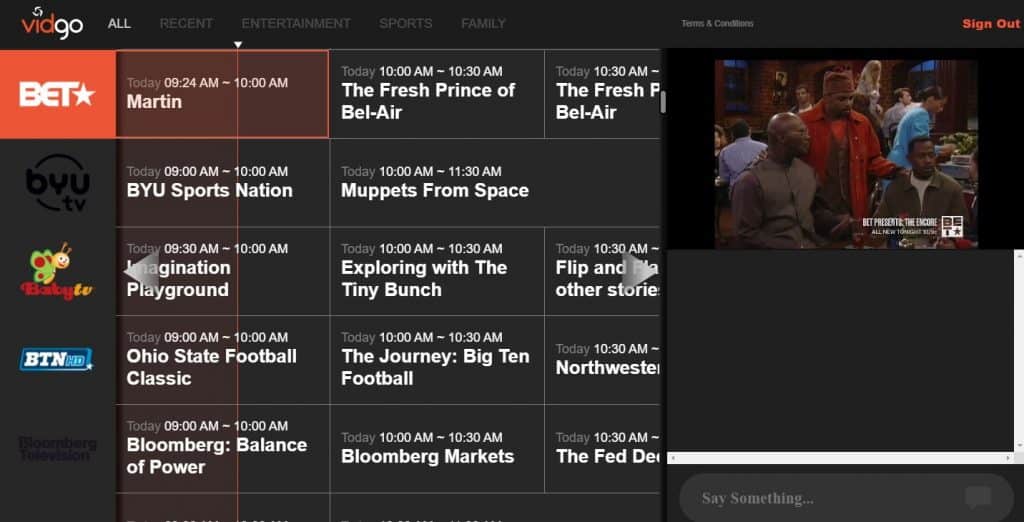 Vidgo

Vidgo is a good mid-level service: 85+ channels for $55/mo, streamable on up to 3 devices simultaneously. Like Sling, it doesn't offer a free trial, but the first month is only $10. The Plus plan includes BET, aspireTV, Comedy Central, MTV, Nickelodeon, Paramount Network, Oprah Winfrey Network, and TV One.
Unfortunately, Vidgo doesn't include any DVR storage or on-demand content. It's also missing all AMC Network, Warner/Turner, and NBCUniversal channels. But it does include ABC and Fox affiliates and a good selection of sports channels.
See our Vidgo review for more.
Other Ways to Stream BET
There are a few more ways to keep up with your favorite BET shows:
YouTube TV: A similar service to Hulu + Live TV, you get 85+ channels for $64.99/mo, including BET and BET Her.
BET+: BET Networks and Tyler Perry launched this on-demand video service in 2019. It has classic BET series and movies as well as a ton of exclusive content, including the entire Tyler Perry library. Note that it is on-demand — not a live channel.
BET Now: Has BET content available for on-demand streaming. Most of it requires a pay account to access but some is available free to watch.
Pluto TV: ViacomCBS's free multichannel service has both a BET Her and a BET Pluto TV channel. BET Her offers content similar to the pay channel, but Pluto's BET is exclusively movies, no series.
Paramount+: ViacomCBS's low-cost on-demand streaming service has content from all their biggest brands, including BET.
TVs and Streaming Devices for BET
You can stream BET on most modern TVs and devices. All the services we've highlighted support the "stick" devices: Amazon Fire TV, Apple TV, and Roku.
Android and iOS mobile devices are also universally supported. And you can cast from them (and some web browsers) to your TV with Chromecast.
Except for DIRECTV STREAM, all the services support devices based on Android TV.
Other than Philo and Vidgo, all the services allow you to watch BET on Samsung smart TVs. Hulu + Live TV, FuboTV, and Sling TV also allow LG and Vizio smart TVs. You can use FuboTV with Hisense TVs.
Hulu, Sling, and FuboTV support the Xbox One gaming console. Hulu + Live TV also supports the PlayStation and Nintendo Switch.
These are just the most popular devices supported. There are complete lists in our individual streaming service reviews.
Wrapping Up
So whether you prefer the female-empowerment bonding of Sistas or the power games of Boomerang or the high drama of The Oval, you don't need a cable company to watch all your Tyler Perry faves.
Just subscribe to any of the streaming services listed in this article. and tell your cable bill goodbye for good.
FAQs
What shows are on BET?
Recent popular BET original shows include:
Boomerang

Death Row Chronicles

Games People Play
Hit the Floor
Murder In The Thirst
The Oval
The Quad
Tales.
How to Watch Other Entertainment Channels without Cable
Looking for info on how to watch another channel without cable? Check out the chart below with links to complete guides on how to see the shows you want — without cable.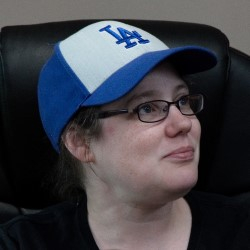 Latest posts by Alanna Baker
(see all)