The 2023 NFL football season has begun! Get all the information in our NFL Guide!

And you can follow the whole season with Fubo. Try it free!
Stanford has one of the best basketball programs in the NCAA — especially on the women's side. Read on to learn all you need to watch every game without cable.
In a hurry? Cardinal games appear on a number of TV channels but if you want to watch all the games, you will need Pac-12 Network. It isn't as widely available as many channels but these three streaming services offer it:
If you can't watch your favorite movies and shows because of your location, try ExpressVPN to get access to the content you deserve.
Stanford has the best athletics department in the country with more than 130 national championships, and its basketball programs have contributed to that number. The men's team won an NCAA title in 1942 while Stanford's women's program claimed championships in 1990, 1992, and 2021.
Do you want to see all the action taking place inside Maples Pavilion this winter? If so, you are not alone as both Stanford basketball teams receive a significant amount of national interest in their games.
Channels to Watch Stanford Basketball
In most cases, you can watch Stanford basketball games on the Pac-12 Networks, ESPN, ESPN2, ESPNU, ABC, and FS1. In some cases, other channels such as CBS will broadcast Cardinal games as well.
Also note that some Stanford home games may be only available online through "Stanford Live Stream" or "Stanford Live Stream-2," both of which are free livestreams on the Pac-12's website. In addition, other entities may show away-from-Stanford non-conference matchups. For example, a 2022-23 women's game at Pacific on November 11 was streamed by the WCC Network while neutral-site contests with Florida Gulf Coast on November 25 and Grambling State on November 26 were not streamed at all.
Radio broadcasts for all games played by both teams, including the rare ones with no video streaming, are available on Stanford All-Access and may be accessed on Stanford's athletics department's website.
How to Stream Stanford Cardinal Basketball
The Cardinal basketball teams appear on the major sports channels. But a large number of their games appear on Pac-12 Network, which is only available through three services.
FuboTV

With plans starting at $74.99/mo, FuboTV gives you 130+ channels including CBS Sports Network (CBSSN), ESPN, ESPN2, FS1, FS2, and the networks beIN Sports and TUDN. Pac-12 Network comes with the Fubo Extra ($7.99/mo) and Sports Plus With NFL RedZone ($10.99/mo).
You also get 1,000 hours of cloud DVR storage and streaming on up to 10 devices at once. Get all the information in our FuboTV review.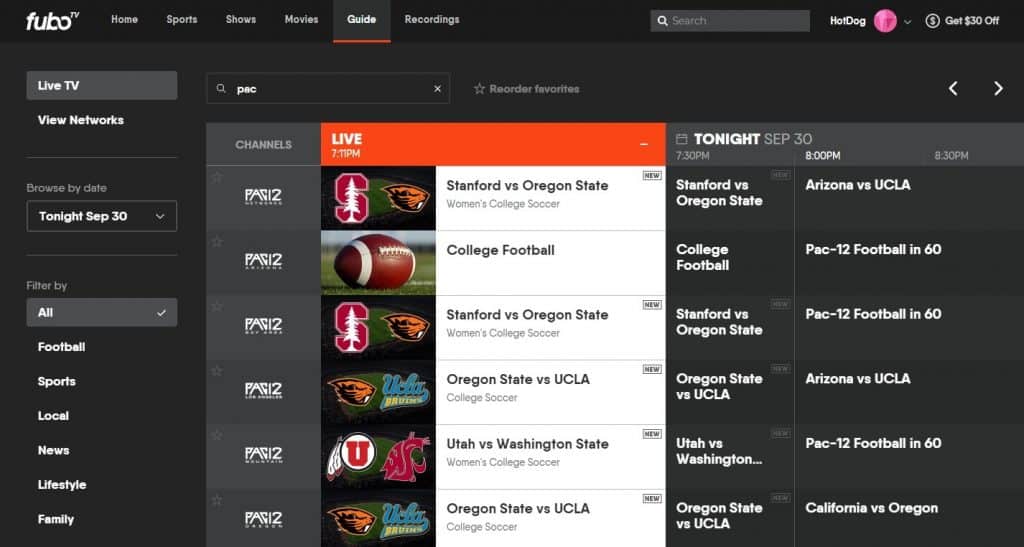 Sling TV

Although Sling TV offers plans starting at $40.00/mo, Stanford basketball fans will probably want to upgrade to the Sling Orange & Blue plan for $55.00/mo. It includes ESPN, ESPN2, ESPN3 (ABC Sports), Fox, FS1, NBC, and USA.
The Sports Extra add-on for $15/mo gives you Pac-12 Network and many other channels including ESPNU, ESPNews, ACC Network, Longhorn Network, and SEC Network. You also get NFL RedZone, MLB Network, NBA TV, and NHL Network.
All plans come with 50 hours of cloud DVR storage. You can stream on up to 3 devices with the Blue plan channels but only one with the Orange (eg, ESPN) channels. For more information, see our Sling TV review. We also have a guide to March Madness coverage and schedule.
Vidgo

Vidgo costs $69.99/mo and includes over 100 channels that are great for NCAA sports fans. These include all of the Pac-12 Network channels. It also includes local affiliates of ABC and Fox in select areas.
You can stream on up to 3 screens at once. But the 20 hours of cloud DVR storage it provides is only temporary. To keep it, you will need to upgrade. See our Vidgo review for all the details.
Other Streaming Services
You can still watch a lot of Stanford basketball without Pac-12 Network. These streaming services offer excellent packages:
ESPN+ and Paramount+ will each stream one game (women's and men's) during the 2022-23 season. The women's game on ESPN+ is exclusive.
Devices to Live Stream Stanford Basketball
At base, all the streaming services support these devices:
Amazon Fire TV
Android mobile
Android TV
Apple TV
Chromecast
iOS (iPhone, iPad)
Roku
Web browsers.
The support from Sling TV and FuboTV is notably better — including smart TVs from LG, Samsung, and Vizio plus gaming systems from Xbox.
Stanford Basketball
The Stanford Cardinal has played in the Pac-12 Conference since 1959, joining the then-named Athletic Association of Western Universities after the Pacific Coast Conference, which it and several other Pac-12 schools were members of, disbanded.
The school's men's basketball team first took to the court during its inaugural 1913-14 season.
However, it was Stanford's women's team that played the school's first college basketball game. In fact, it was the country's first women's intercollegiate sporting event. On April 4, 1896, Stanford defeated California, 2-1, in San Francisco in this historic contest.
Today, both Stanford teams play home games at Maples Pavilion. This building, which has a capacity of 7,392, opened in 1969 before being renovated in 2004. It is shared with the school's volleyball teams.
Stanford's big rival is Cal, which is also located in the Bay Area, 40 miles to the north in Berkeley. The Battle of the Bay has been dominated by Stanford in both men's and women's basketball.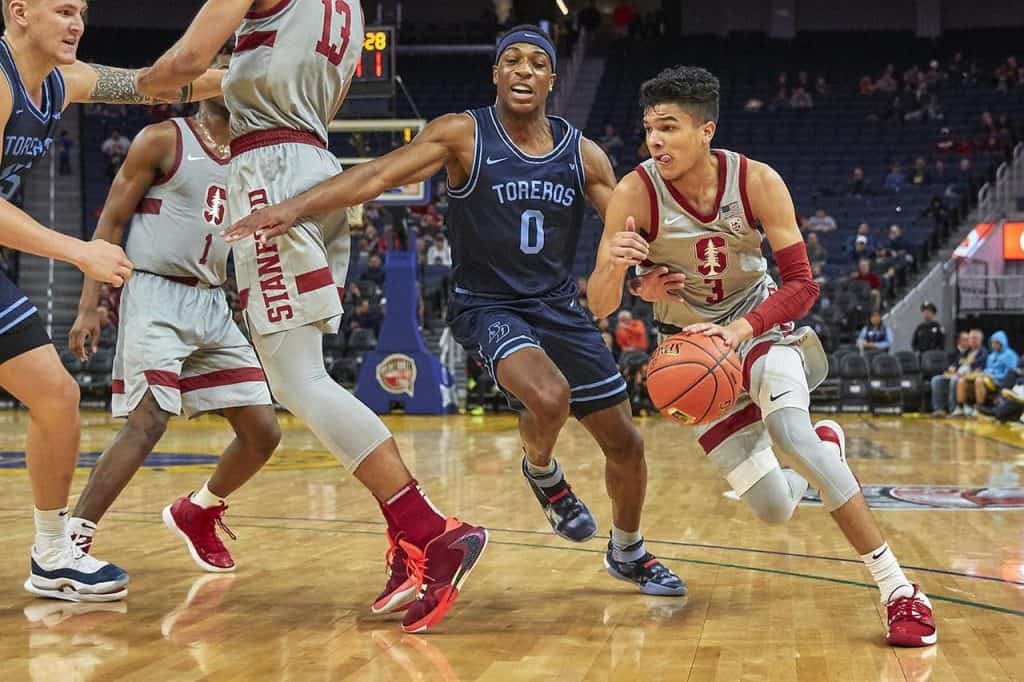 Stanford Men's Basketball
Although Stanford's men's basketball team has not had much success the last decade-plus, it does have notable history in this sport. Most notably, it claimed the 1942 NCAA Tournament, which was the fourth edition of March Madness. Stanford rode wins over Rice, Colorado, and Dartmouth to that title.
However, it would not even be selected to another NCAA Tournament field until 1989 while it next played in the Elite Eight in 1998, advancing one round further that year to the Final Four. Another Elite Eight appearance occurred three years later.
Overall, Stanford has made 17 NCAA Tournament appearances although just one since 2008, which came in 2014.
The players leading Stanford's 2022-23 squad include Spencer Jones, the team's leading scorer, Maxime Raynaud, its top rebounder, Harrison Ingram, Michael Jones, Brandon Angel, and Isa Silva.
2022-23 Cardinal Men's Basketball Schedule
Stanford Women's Basketball
Stanford's women's basketball program is not only one of the country's most historic, dating back to that initial game in 1896, but it is also amongst its most prestigious. Most notably, under the tutelage of head coach Tara VanDerveer, the Cardinal claimed national championships in 1990, 1992, and 2021.
Its most recent title was the result of March Madness wins over Utah Valley, Oklahoma State, Missouri State, Louisville, South Carolina, and fellow Pac-12 member Arizona. The squad's attempt at a repeat in 2022 came up a couple of wins short, ending with a Final Four loss to UConn, 63-58.
The Cardinal is a regular participant in the Women's Final Four as that 2022 appearance was its 15th. It even had a five-year stretch of making every one, from 2008-12, to go with three-year runs from 1990-92 and 1995-97.
Those contributing significantly for the 2022-23 squad, which is looking for more hardware, include Cameron Brink, last season's Pac-12 Player of the Year, Haley Jones, Hannah Jump, Kiki Iriafen, Talana Lepolo, and Lauren Betts.
2022-23 Cardinal Women's Basketball Schedule
Wrapping Up
Stanford is an institution that is full of basketball history, and its games may be viewed on numerous channels. However, if you secure access to the Pac-12 Networks, ESPN, ESPN2, ESPNU, and FS1, you will be able to watch a considerable majority of them. Also keep CBS, TBS, TNT, and truTV in mind for when the school's men's program achieves its return to March Madness. That will likely not be in 2023, however.
We recommend FuboTV for Stanford Cardinal fans. Fubo allows you to try out its service with a free trial.
FAQs
How can I watch the Stanford-UConn game?
If Stanford and UConn are playing, it is likely a postseason game as they have not met in the regular season in men's or women's basketball since the Cardinal women lost to UConn, 78-53, on November 12, 2017. It likely being a postseason contest also means that it is likely a women's game. In that case, you should head to ABC, ESPN, and ESPN2 as one of those channels is probably broadcasting it.
Why is Stanford the Cardinal singular?
A common misunderstanding is what Stanford's mascot is. It is not Cardinals, the bird. In other words, it is not the same nickname as the St. Louis Cardinals baseball team. It is Cardinal, the color. As a result, it is utilized in the singular form — like the Harvard Crimson.
How can I watch other NCAA basketball teams?
We've written guides for a number of teams:
Image cropped from Cameron Brink of the Stanford Cardinal by Gamecock Central under CC BY 2.0.
Latest posts by Frank Moraes
(see all)