The ACC Network is a must-have channel for fans of schools from that conference or general college sports fans who want to watch as many games as possible. And thankfully, you don't need cable or Satellite TV to watch it. Read on to learn everything you need to know.
In a hurry? If you just want to start watching the ACC and other NCAA conferences, these streaming services will work great:
FuboTV: With 100+ channels, it offers something for everyone. FuboTV allows you to try out its service free for 7 days.
DIRECTV STREAM: Provides everything you expect from cable with many options. A 5-day free trial is now available for DIRECTV STREAM.
Sling TV: Probably the best streaming service in terms of customization with a super low price. Save 50% on your first month of Sling TV.
Every year, ACC Network broadcasts dozens of football and hundreds of basketball match-ups and other sporting events hosted by conference institutions.
This channel, which began broadcasting in 2019, is the newest conference-specific channel to start airing, following the SEC Network (2014), Pac-12 Network (2012), and Big Ten Network (2007).
Fortunately for cord-cutters, the ACC Network is available through all of the major streaming services: FuboTV ($69.99/mo), Hulu + Live TV ($69.99/mo), Sling TV ($46/mo), Vidgo ($59.95/mo), and DIRECTV STREAM ($89.99/mo)
What Is the ACC Network?
The ACC Network is a channel that is devoted to the Atlantic Coast Conference. It broadcasts numerous sports events played by conference institutions throughout the school year. These, of course, include football and basketball games. But they also include numerous other sports, such as volleyball, soccer, baseball, and softball.
Essentially, sports events that are hosted by ACC schools that are not picked up by channels such as ABC or ESPN may be shown on the ACC Network instead. As far as football games go, early 2021 contests that were broadcast by this channel included South Florida at North Carolina State, Colgate at Boston College, Illinois at Virginia, Kansas at Duke, and North Carolina at Georgia Tech.
ACC Network Extra
Since so many eligible games are not shown on the ACC Network or on any other television network, numerous contests are streamed through ACC Network Extra (ACCNX).
This is especially the case for games played by non-revenue teams, but some football and basketball games can only be seen courtesy of ACC Network Extra as well.
In 2021, football games that were only available online through this service included Louisiana Tech at North Carolina State and New Hampshire at Pittsburgh.
To receive access to this, simply pay for a service that offers the ACC Network. Note, however, that you may need to use the ESPN app to access it (depending on the streaming service).
How to Watch the ACC Network Without Cable
Before the creation of ACCN, Raycom Sports had been distributing content via over-the-air channels free of charge. This all came to an end with the 2019 ACC Men's Basketball Tournament.
As a result, you can no longer use an antenna to watch any ACC sporting events, and your only options for watching this channel are through cable, satellite, or streaming service plans.
A major advantage of streaming services is that they are all month-to-month contracts. If a cable or satellite company suffers the loss of a channel such as the ACC Network, you may be stuck.
For example, the ACC Network and Comcast were still negotiating a deal well into the 2021 football season.
Streaming Services with the ACC Network
ACC Network is readily available on a significant number of streaming services at the present time. And that looks unlikely to change. The trend has generally moved in the opposite direction.
FuboTV

FuboTV is known for its sports content. Of the 100+ channels in its Starter plan ($69.99/mo), over 35 are sports-oriented (eg, ESPN, FS1/2, CBS Sports Network, and RSNs in select markets).
To get ACC Network, however, you need to add Fubo Extra ($7.99/mo), which gives you 48 other channels including Pac-12 Network and SEC Network (Big Ten Network comes with the base plan).
You also get 750 hours of DVR storage, streaming on up to 10 screens, and a free 7-day trial. Find out all the details in our FuboTV review.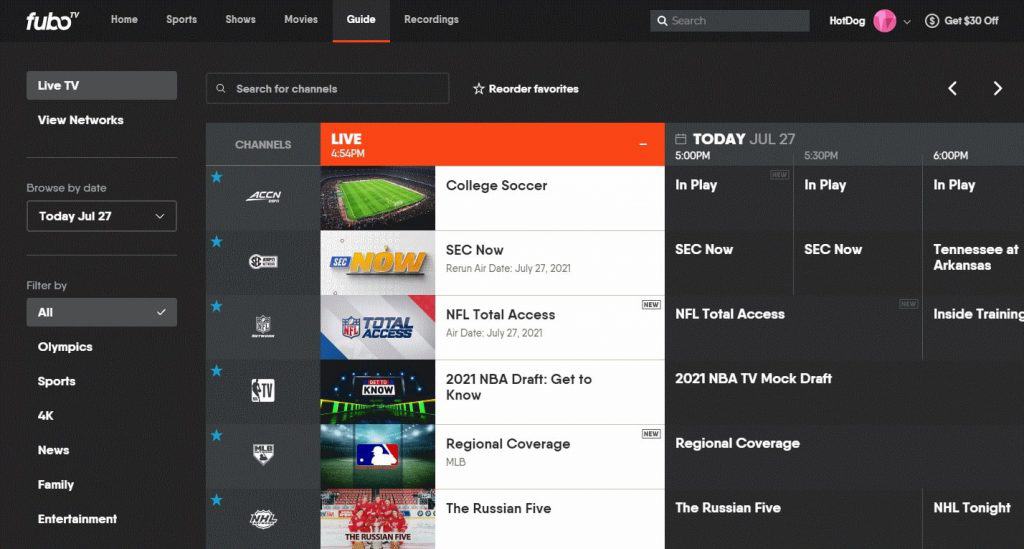 DIRECTV STREAM

The DIRECTV STREAM (formerly AT&T TV) Choice plan for $89.99/mo will get you the ACC Network as well as the Big Ten Network, ESPN, ESPN2, ESPNU, FS1, and SEC Network.
Meanwhile, a bump up to its Ultimate plan ($104.99/mo) will also get you CBS Sports Network and FS2 although you will not miss out on too many ACC-related events if you stick with its Choice plan.
All plans come with unlimited cloud DVR storage (if you buy online) and the ability to watch on up to 20 devices at home and 3 on the road.
See our DIRECTV STREAM review for more information.
Sling TV

In order to get the ACC Network through Sling TV, you will need to purchase its Orange plan for $35/mo and then add the Sports Extra plan for an additional $11/mo.
That's still only $46/mo and includes the SEC Network, Pac-12 Network, Longhorn Network, and ESPNU, while the base Orange plan includes ESPN, ESPN2, and ESPN3.
All Sling TV plans include 50 hours of cloud DVR storage and streaming on 3 screens simultaneously. Get the details in our Sling TV review.
Hulu + Live TV

Hulu + Live TV costs $69.99/mo and that offers the ACC Network as part of its 85+ channel lineup. You also get a good selection of other sports-oriented channels such as the Big Ten Network, FS1, FS2, ESPN, ESPN2, ESPNU, CBS Sports Network, and NBC Sports Network. ACC schools will generally be shown on all of those at some point, particularly for non-conference away games.
This plan also comes with ESPN+. And Disney+.
You also get Hulu's outstanding on-demand library as well as unlimited cloud DVR with 9 months of storage, and the ability to stream on up to 2 devices at once. Learn more in our Hulu + Live TV review.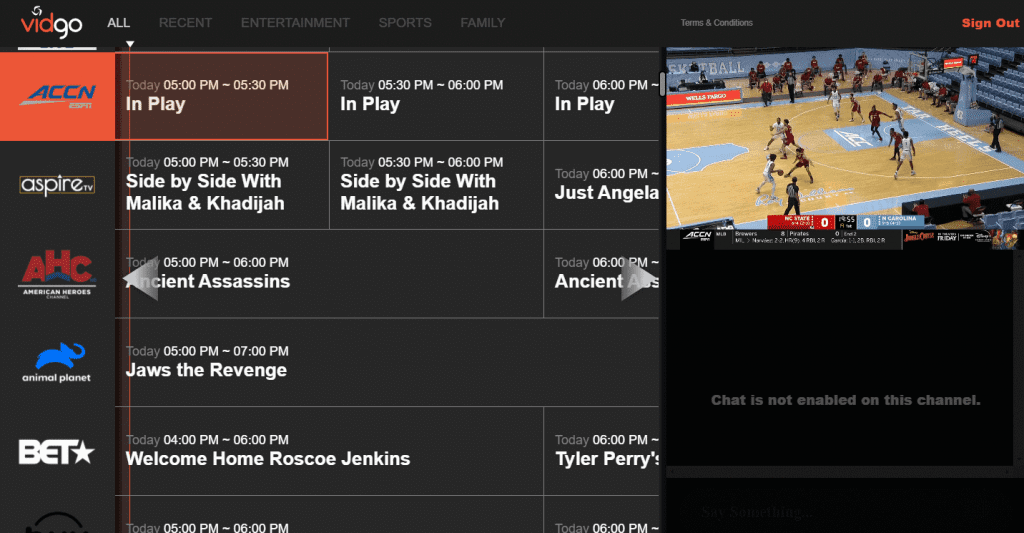 Vidgo

ACC fans cannot go wrong by selecting Vidgo and accessing the ACC Network through it. For $59.95/mo, they will also receive all the other NCAA conference channels including Big Ten Network, SEC Network, and Pac-12 Networks. You also get FS1, FS2, ESPN, ESPN2, and ESPNU.
All in all, you get 100+ channels.
Vidgo features an extremely simple deal. There are no add-ons — just a solid channel lineup and the ability to stream simultaneously on up to three screens. One downside: you don't get a cloud DVR.
Our Vidgo review has all the details.
Other Ways to Get the ACC Network
YouTube TV ($64.99/mo) is another option for streaming the ACC Network.
You can also watch ACC Network-broadcast games through the ESPN app, but that is only possible if you have an active subscription to a provider that offers that channel. The app allows you to watch all the ESPN channels and you may need it to watch ACCNX (eg, this is necessary with FuboTV).
Unfortunately, the ACC Network cannot be viewed with an antenna and television as it is not connected with the syndication package by the same name that had preceded it and that had allowed ACC fans from throughout much of the country to watch these types of games through no cost whatsoever.
Watch ACC Network on Most Streaming Devices and TVs
All the streaming services we've highlighted above feature apps that run on most devices in use today.
Except for Vidgo, Samsung smart TVs are universally supported. Hulu, Sling, and Fubo also support smart TVs from LG and Vizio. FuboTV supports Hisense TVs. And all except for DIRECTV STREAM support Android TV-based devices.
The popular "stick" devices (Amazon Fire TV, Apple TV, and Roku) are universally supported. That also goes for Android and iOS mobile devices. These can also be used with Chromecast to cast to your TV.
Sling TV, FuboTV, and Hulu support the Xbox One gaming console. Hulu also supports the PlayStation and Nintendo Switch. And Sling TV supports the Oculus VR device.
Finally, you can watch via a web browser on most devices. Check the individual streaming service reviews for a complete list.
Wrapping Up
If you want to watch the ACC Network without cable, you have a lot of options. What you choose will largely come down to what you want in a total package.
FAQs
What is the cheapest way to stream the ACC Network?
If getting the ACC Network is your sole or primary focus, you will want to head to Sling TV and secure its Orange package and its Orange-related Sports Extra add-on. That will cost you $46/mo, the cheapest option that exists. However, do make sure to fully research your options as you may be more content overall with a different provider after considering the channels and cost that it offers you instead.
Which schools are in the ACC?
Full ACC members include Boston College, Clemson, Duke, Florida State, Georgia Tech, Louisville, Miami, North Carolina, North Carolina State, Notre Dame, Pittsburgh, Syracuse, Virginia, Virginia Tech, and Wake Forest. However, note a significant exception: Notre Dame's football team is not associated with the conference and instead plays as an independent with NBC owning rights to each of its home games.
Is the ACC Men's Basketball Tournament on the ACC Network?
Several ACC Men's Basketball Tournament games are exclusively shown on the ACC Network. For the 2021 competition, this included the seven games played on the first two days of the competition, before ESPN and ESPN2 took over coverage and showed the quarterfinals, semifinals, and championship games. A number of tournament games in other sports are shown on the ACC Network as well.
How do I watch sports on other channels without cable?
If you want to know how to watch games on another sports channel, check out these channel-specific guides:
Latest posts by Frank Moraes
(see all)