Fox Business is one of the top business news outlets. And you don't need cable to stream it. Read on to learn all your options.
In a hurry? All the major live TV streaming services offer Fox Business — usually in their base plans. Here are our top choices for services to get it:
Fubo: With 150+ channels, it offers something for everyone. Fubo allows you to try out its service with a free trial.
DIRECTV STREAM: Provides everything you expect from cable with many options. A 5-day free trial is now available for DIRECTV STREAM.
Sling TV: Probably the best streaming service in terms of customization with a super low price and a 50% discount on your first month!
If you can't watch your favorite sports, TV and movies because of your location, try ExpressVPN to get access to the content you deserve. Signup now.
Unfortunately, we don't know a streaming service in that offers this TV channel. But if you've already paid for the right service, and just can't watch because of your location, there is an easy way to get the sports, movies, and TV you deserve. You need a VPN, like one of the following.
| | | |
| --- | --- | --- |
| | ExpressVPN: Known as "The VPN that just works," it combines remarkable ease of use with with state-of-the-art power, speed, security, and privacy. Get three extra free months when you sign up for a year. Unleash your streaming with this top-rated VPN. | Sign Up Now |
| | Surfshark: Surfshark: Secure and easy to use with thousands of servers around the world. Of special note is its excellent collection of servers inside the US, which is great for regional sports lie NFL, MLB, and NBA. Get it now with an incredible 82% discount on a 24-month plan. | Sign Up Now |
| | NordVPN: One of the top VPNs with extremely fast servers all over the world. Great for streaming with tested perfomance on the biggest servers and included ad-blocking. Currently offering 70% discount on 2-year plans. | Sign Up Now |
If you're overwhelmed and not sure where to begin, you'll find all the answers in our full VPN guide.
If you're in business, you know how important it is to have current, accurate, dependable information. But if you're a corner restaurant owner, a private individual investor, or a professional in practice for yourself, you aren't a high finance expert. You don't know from citrus futures or derivative commodities. You want information that is relevant to you, not a multinational CEO or hedge-fund manager. That's why Fox Business Network (FBN) is essential for you and your livelihood.
What Is Fox Business
Fox Business Network is sister to the long-standing #1 Fox News Channel. Along with Fox, Fox News, and Fox Sports 1 & 2 it is the Fox part of 20th Century Fox that Rupert Murdoch kept (20th Century and FX were sold to Disney). Launched in 2007, the business channel was intended to be a Main Street foil to what was seen as CNBC's Big Finance and Wall Street approach.
Whether or not it has surpassed its longtime rival is a matter of hot debate. Nielsen says yes, but CNBC counters that its viewers are in offices, executive suites, and trading floors, and thus not counted in Nielsen's household viewing numbers. But however you measure it, FBN has undeniably been a tremendous success.
Fox Business Shows
Fox Business shares a lot of its on-air personalities with Fox News. These include hosts like Maria Bartiromo and Stuart Varney. Daytime programming follows coverage of trading markets, followed by talk/opinion shows in the evenings.
It's no secret that both Fox News and Fox Business have a conservative slant, and many attribute FBN's rising popularity to its increased political coverage, especially of the Trump administration.
Daily program linchpins on FBN include:
Mornings with Maria: Anchor Maria Bartiromo hosts a "roundtable of rotating industry titans and economic experts" that discuss current events in the financial and business world.
Varney & Co: Market-open and economic/political news with Stuart Varney. Currently FBN's second-highest rated show.
Cavuto Coast to Coast: Neil Cavuto and guest(s) discuss and analyze breaking news and market updates.
Making Money with Charles Payne: Day-end wrap-up plus a look at rising business stars with Charles Payne.
The Claman Countdown: Liz Claman covers the final hour of trading on Wall Street. Segments include "7 Late Movers" and "30 Minutes to Close."
Kudlow: Evening market analysis, policy discussion, and interviews with "business influencers across the world" hosted by Larry Kudlow. Currently Fox Business News's highest-rated show.
Competitors
There is a lot of competition in the world of business news.
CNBC: NBCUniversal's financial news channel was the long-standing TV leader of economic and business news. While it also covers the trading day, it shows more mainstream entertainment in the evening.
Bloomberg TV: Bloomberg TV has been around since 1994. It's never tried to be the biggest, but has instead cultivated a reputation as a more serious source of economic news for global-minded business elites (and those who try to emulate them).
Cheddar: Cheddar is the hip, young upstart founded by former Buzzfeed top dog Jon Steinberg. It's business news for the Gen-Z/Millennial set.
Unblock Your Favorite Movies and Shows With a VPN
If you can't watch your favorite movies and shows because of your location, a VPN will allow you to get the access you are entitled to, plus extra security and unequalled privacy. Check out our VPN Guide for everything you need to know, including our top pick ExpressVPN.
Other brands worth checking out include Hotspot Shield and CyberGhost.
Stream Fox Business
Fox Business Network is a pay channel, and as such, you have to subscribe to a pay TV service to get it. Live TV streaming services make channels like FBN available to you at a fraction of the cost and with more flexibility than traditional cable or satellite.
Here are the services that carry FBN and other financial news sources.
FuboTV

FuboTV is the place for soccer fans left in the cold by the United States' disdain for the rest of the world's favorite sport. But it's also great for sports in general and has a great overall channel lineup. Fubo has FBN in its Pro package ($69.99/mo), along with Bloomberg TV, CNBC, and Fox News. Cheddar is relegated to the News Plus add-on (8 news channels for $2.99/mo). Fubo allows you to try out its service with a free trial.
All FuboTV plans come with 750 hours of cloud DVR and simultaneous streaming on up to 10 devices. For more information, see our FuboTV review.
Sling TV

Sling TV takes a different approach: instead of offering you a giant base package, they give you a smaller base at half the price. Then they let you add on the channels you want. For news and finance, you'll want Sling Blue ($40.00/mo) as your base. That gives you FNC, Bloomberg, and Cheddar all already included. Save 50% on Sling TV now!
For FBN, though, you need the News Extra, which is a $6/mo add-on that gives you around 14 extra news channels from around the world, including Fox Business, CNBC, Newsmax, BBC World News, Euronews, RT America, and more. And it's still cheaper than any other service on this list!
The base plan comes with 50 hours of cloud DVR and streaming on up to 3 devices at once. See our Sling TV review for more.
DIRECTV STREAM

DIRECTV STREAM has FBN in its Entertainment package, which is good for your bottom line since it's the least expensive tier at $69.99/mo. It's also got Fox News, CNBC, and Bloomberg there as well. Cheddar's in the Choice package ($89.99/mo). Other than this, like most of the streaming services, it offers a good line up of channels including affiliates of ABC, CBS, Fox, and NBC.
All plans come with unlimited cloud DVR storage as long as you sign-up online and streaming on up to 20 devices at once. Get all the details in our DIRECTV STREAM review.
Get DIRECTV STREAM Free for 5 Days
Hulu + Live TV

Hulu + Live TV is also now Hulu + Live TV + Disney+ + ESPN+, all included for $69.99/mo. Like the others, you get FBN, FNC, CNBC, and Bloomberg all in the base package, and, nice bonus, Cheddar is there too. And now with Disney+, you can see the newest Star Wars series and decide for yourself if you should buy some more DIS stock.
The base plan comes with unlimited cloud DVR (9 months storage) and streaming on up to two devices at the same time. For details, see our Hulu + Live TV review.
Vidgo

Vidgo runs a close second to Sling on the affordability factor. For $59.95/mo, you can get their Plus package (despite the name, it's their base tier). It gets you FBN, Cheddar News, Newsmax, and Fox News. You will not find Bloomberg, CNBC, or any other NBC channels, nor any WarnerMedia channels (like CNN). There's also lots of college sports and family-friendly content.
Vidgo does not currently offer a DVR. But you can stream on up to three devices. Our Vidgo review has more details.
YouTube TV

YouTube TV has 85+ channels for $64.99/mo including Fox Business, Fox News, Cheddar, and CNBC.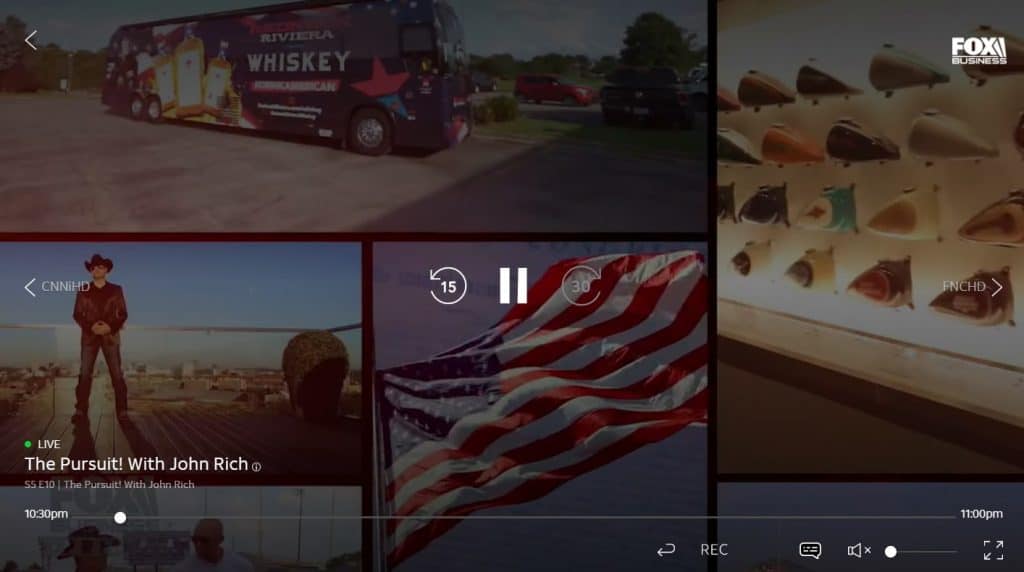 Devices to Live Stream Fox Business
Chances are that whatever streaming devices you own, they are supported by the services discussed here. All the services support the following:
Amazon Fire TV
Android mobile devices
Apple TV
Chromecast
iOS devices (iPhone, iPad)
Roku
Web browsers

.
DIRECTV STREAM has its own device that you can also use. Other than DIRECTV STREAM, all the services support Android TV-based devices (eg, Sony smart TVs). All the services other than Vidgo support Samsung Smart TVs. All the services except DIRECTV STREAM and Vidgo support LG, and VIZIO smart TVs as well as the Xbox One. Hulu and Youtube supports the PlayStation. And Hulu supports the Nintendo Switch.
Our streaming service reviews have complete details on supported devices.
Superpower Your Live TV Streaming With a VPN
You can't beat a VPN for privacy, security, and access. We have used them for years as an important part of our streaming toolkit and we recommend ExpressVPN. Other brands worth checking out include Hotspot Shield and CyberGhost.
Wrapping Up
As you can see, there's no shortage of ways to watch Fox Business Network. So if you're considering cutting the cord, there's never been a better time to take the plunge.
And if you're a fan of Varney & Co in the mornings and Kudlow in the evenings, you definitely don't have to miss out on your critical business updates and commentary. We recommend Hulu + Live TV but any we've discussed are good choices.
Other News Channels
Here are our guides for watching other news channels:
Ditch "Big Cable" Now – 3 Simple Steps to Cut the Cord
Pick the right streaming service
Get the content you deserve with the best VPN.
Supercharge your internet provider
That's it — you'll save money, take back control, and enjoy TV more!
Page Updates
▼
▲
Updated some sub-sections. Updated some section headings. Pricing updates.

Image changes. Added links. Changes to formatting.

Added VPN info. Image changes. Various changes to content.

Added buttons for streaming services. Pricing updates. Reworded some things.

Added sub-section. Updated some sub-sections. Image changes. Pricing updates.

Image changes. More links. Pricing updates.

Added links to streaming services. Added pricing. Changes to some of the sections. Added useful links. Formatting.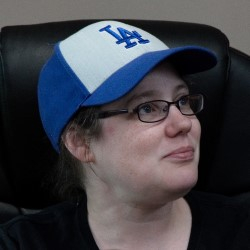 Latest posts by Alanna Baker
(see all)