Are you a New York Mets or Connecticut Huskies women's basketball fan? If either is true and you are in the SportsNet New York coverage area, this is a must-have channel for you. Cord-cutters have plenty of options that we discuss below.
In a hurry? If you are a fan of either of these teams, there isn't a lot to think about: you need SportsNet New York. These are our top picks:
FuboTV: The best streaming service for international sports also provides 120+ well-selected channels. FuboTV allows you to try out its service free for 7 days.
DIRECTV STREAM: Get a great channel lineup with the best selection of RSNs in the industry. A 5-day free trial is now available for DIRECTV STREAM.
Hulu + Live TV: A great overall streaming service offering 85+ live channels along with ESPN+ and Disney+. Try one month for $69.99.
If you can't watch your favorite sports because of your location, get ExpressVPN to access the content you deserve.
Unfortunately, we don't know a streaming service in that covers this sport. But if you've already paid for the right service, and just can't watch because of your location, there is an easy way to get the content you deserve. You need a VPN, like one of the following.
ExpressVPN: Premium VPN provider that just works, with 3,000+ locations in 94 countries. Supports five simultaneous devices and comes with a 30-day money-back guarantee. (ExpressVPN review)
Surfshark: Connect to over 3,200 servers in 99 countries (+ tonnes of US metro areas). Try it with a 7-day free trial.
NordVPN: Connect to over 5,000 premium servers in 60+ countries. Comes with a 30-day money-back guarantee!
If you're overwhelmed and not sure where to begin, you'll find all the answers in our full VPN guide.
Sign Up for a Free 7-Day Fubo Trial
What Is SportsNet New York?
SportsNet New York (SNY) is a regional sports network that has been broadcasted throughout New York state and adjacent areas since 2006. It was created with the New York Mets in mind and helped further break up what was essentially a monopoly of coverage of New York City's major sports teams that Cablevision had held until 2002.
SNY followed in the footsteps of the YES Network, which had launched in 2002 and had taken the New York Yankees and then-named New Jersey Nets from Cablevision.
Unblock Your Favorite Movies and Shows With a VPN
If you can't watch your favorite movies and shows because of your location, a VPN will allow you to get the access you are entitled to, plus extra security and unequalled privacy. Check out our VPN Guide for everything you need to know, including our top pick ExpressVPN.
Where Is SportsNet New York Available?
SNY is available throughout New York state, including as far away as Buffalo and Niagara Falls. Its coverage area also reaches into Connecticut and nearby areas of New Jersey and Pennsylvania.
For example, it is available in Trenton, NJ, but not towards the southern part of that state like Atlantic City. Also, within Pennsylvania, it can be accessed in Scranton but not in Allentown.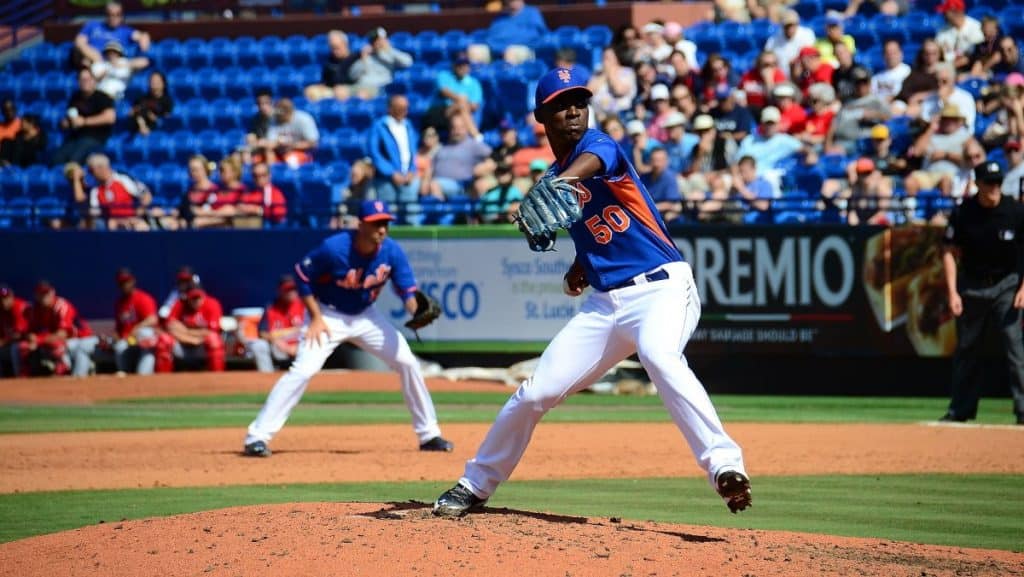 What Sports Does SportsNet New York Cover?
SNY's primary focuses are the New York Mets and the Connecticut Huskies women's basketball team.
It broadcasts around 120 of the Mets' games every season with the rest of the non-nationally broadcast contests airing on PIX11, a CW-affiliated channel that is based in New York City.
The powerhouse UConn women's basketball team then takes over in the winter with at least 17 of that team's games being shown on SNY. During the 2021-22 season, that number increased to 18.
Regular programming related to both the Mets and Huskies is also shown on SNY throughout their respective seasons.
A third focus for SNY is the New York Jets. Although all of that team's games are broadcast on other channels, usually CBS and Fox on a regional basis, SNY is the place to go before and after games for its special Jets-focused pre- and post-game shows. It also airs Jets Game Plan earlier in the week.
In addition, SNY shows a select number of non-UConn college sports events, mostly focused on the Columbia Lions but also featuring other local teams, such as the Sacred Heart Pioneers, who are based in nearby Fairfield, Conn. For example, its selection of college football broadcasts in the 2021 season includes Marist at Columbia, Columbia at Princeton, Merrimack at Sacred Heart, and Penn at Columbia.
Other SNY programming includes classic baseball games, usually featuring the Mets, baseball- and general sports-oriented shows focused on the overall NYC sports scene, and historic boxing matches.
SportsNet New York Commentators
Gary Cohen, Keith Hernandez, and Ron Darling team up to bring New York Mets baseball to those watching the team's broadcasts on SportsNet New York. All three have been Mets announcers since 2006.
Superpower Your Live TV Streaming With a VPN
You can't beat a VPN for privacy, security, and access. We have used them for years as an important part of our streaming toolkit and we recommend ExpressVPN.
Streaming SportsNet New York
Several streaming services offer those in SNY's broadcast area access to this channel.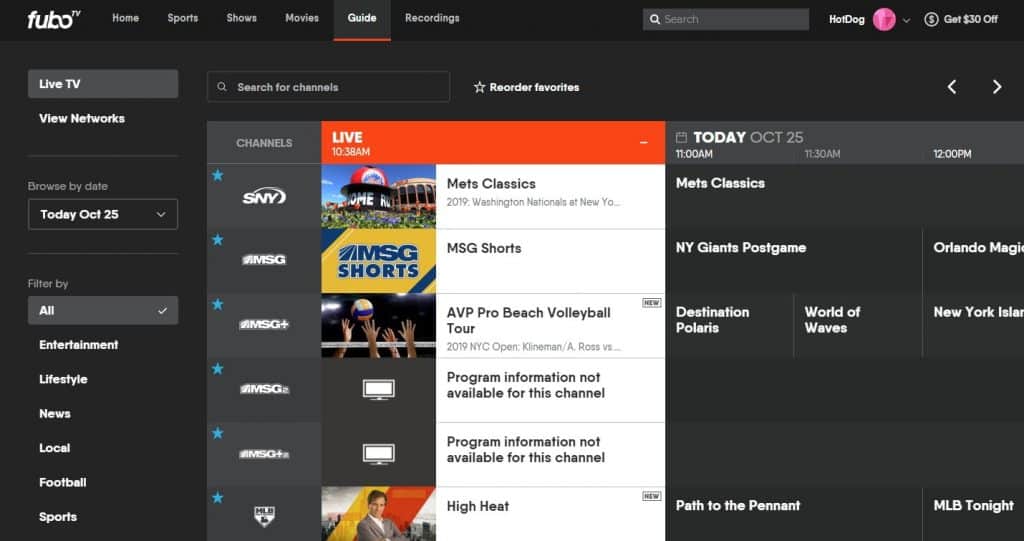 FuboTV

FuboTV offers a great deal for $69.99/mo: over 110 channels including SNY, MSG Network, and 35+ other sports-focused channels. These include CBS Sports Network, ESPN, ESPN2, FS1, FS2, Golf Channel, NFL Network, Olympic Channel, and a collection of channels from beIN Sports and TUDN.
If you are a Yankees fan, however, you will need to spend the extra money and sign up with DIRECTV STREAM since it is the only streaming service currently offering YES Network. (It also covers Brooklyn Nets and New York City FC.)
Rutgers Scarlet Knights fans should note that several sports events played by that school are shown on the Big Ten Network, which is included with FuboTV's base (Pro) plan. You can get even more college sports with the Fubo Extra ($7.99/mo) and Sports Plus ($10.99/mo) add-ons.
For more information, see our FuboTV review.
Sign Up for a Free 7-Day Fubo Trial
DIRECTV STREAM

To get access to SportsNet New York through DIRECTV STREAM, you need to subscribe to at least its Choice plan ($89.99/mo) and be located in that channel's broadcast area. Doing so will also get you the Big Ten Network, ESPN, ESPN2, ESPNU, Fox Sports 1 (FS1), and MLB Network. A bump up to its Ultimate plan ($104.99/mo) will garner access to events broadcast on CBS Sports Network and Fox Sports 2 (FS2) as well.
Those interested in more expansive coverage of New York City-based teams should note that a Choice plan subscription includes the YES Network and the MSG Network. Between these three channels, you will get locally produced game coverage of each of the metropolitan area's MLB, NBA, NHL, and MLS teams.
For all the details, see our DIRECTV STREAM review.
Get DIRECTV STREAM Free for 5 Days
Hulu + Live TV

Hulu + Live TV ($69.99/mo) might be the best option for local New York Mets fans as it not only offers SNY but also The CW affiliate PIX11 (WPIX) and the approximately 30 Mets games that are broadcast on that channel. However, do take into account that neither the YES Network nor the MSG Network is offered by Hulu + Live TV, which is a significant disadvantage if you are interested in non-Mets New York City-based sports teams as well.
With that said, Hulu + Live TV does provide each of its subscribers with access to the ACC Network, Big Ten Network, CBSSN, FS1, FS2, ESPN, ESPN2, ESPNU, and NFL Network.
See our Hulu + Live TV review for all the details.
SportsNet New York Alternatives
Fortunately, local New York Mets fans can watch a significant number of that team's games with an antenna. These include the approximately 30 that are broadcast on PIX11, The CW affiliate in New York. And so do those shown nationally or regionally on Fox. Any World Series games that the Mets play will be on Fox as well.
Meanwhile, UConn's women's basketball team is also periodically shown on network television. During the 2021-22 season, its game with UCLA on Dec 11 was scheduled for ABC coverage. With that said, do note that you need access to ESPN to watch the team play NCAA Tournament and Women's Final Four contests.
You can also get SNY with YouTube TV, which features a plan very similar to Hulu + Live TV with 85+ channels.
Out-of-Market Fans
If you are not located in the New York Mets broadcast area, you can watch each of that team's out-of-market broadcasts with an MLB.TV subscription ($24.99/mo).
UConn women's basketball fans who are outside of the SNY broadcast reach can stream those games through the Fox Sports app if they have access to Fox through their streaming service. DIRECTV STREAM, FuboTV, and Hulu + Live TV all offer Fox.
Watching SportsNet New York With TVs/Devices
All three services highlight above support most currently-used streaming devices. They all support recent Samsung smart TVs, for example.
They also all support all the TV devices like Amazon Fire TV, Apple TV, and Roku.
You can watch SNY on your mobile devices running Android and iOS. And you can cast with Chromecast to your TV.
Most web browsers are supported, many of which can be attached directly to your TV.
DIRECTV STREAM offers one device that FuboTV and Hulu + Live TV don't: the DirecTV device itself, which is available for $120 or $5/mo.
Fubo and Hulu supports a number of devices that DirecTV does not:
Android TV/Google TV devices
Hisense smart TVs
LG TVs
Vizio SmartCast TV
Xbox One gaming consoles.
Hulu + Live TV also supports the Nintendo Switch and PlayStation gaming devices.
Wrapping Up
Simply put, SportsNet New York is a must-have channel for devoted fans of either the New York Mets or the Connecticut Huskies women's basketball team. And New York Jets fans will also appreciate its extensive non-game coverage of that team.
To get access, subscribe to DIRECTV STREAM ($89.99/mo), FuboTV ($69.99/mo), or Hulu + Live TV ($69.99/mo) to garner access to this channel.
Sign Up for a Free 7-Day Fubo Trial
FAQs
Can I get SportsNet New York with Sling TV?
Sling TV does not provide access to any regional sports networks (RSNs) like SportsNet New York. The same goes to other low-cost streaming services like Vidgo and Philo. You can however, easily install an antenna and have PIX11added to your Sling TV channel guide. See our Sling TV review for details.
How can I watch the Mets' divisional rivals?
Use the following articles to watch other National League East teams:
How can I watch other sports channels without cable?
These articles show you how to watch other sports channels without cable:
Ditch "Big Cable" Now – 3 Simple Steps to Cut the Cord
Pick the right streaming service
Get the content you deserve with the best VPN.
Supercharge your internet provider
That's it — you'll save money, take back control, and enjoy TV more!
Latest posts by Frank Moraes
(see all)