The Georgia Bulldogs have some of the most rabidly loyal fans in all of college football. They always offer an intense and exciting game no matter who they play. And you can catch all their cames on TV. But that doesn't mean you need cable.
In a hurry? If you just want to start streaming Georgia Bulldogs games and don't have time to dive into all your options, these streaming services make fans very happy:
FuboTV: The best streaming service for international sports also provides 130+ well-selected channels. FuboTV allows you to try out its service free for 7 days.
Sling TV: This low-cost service allows you to select just the channel lineup you want. Save a bundle with Sling TV.
DIRECTV STREAM: Get a great channel lineup with the best selection of RSNs in the industry. A 5-day free trial is now available for DIRECTV STREAM.
If you can't watch your favorite sports because of your location, get ExpressVPN to access the content you deserve.
Unfortunately, we don't know a streaming service in that covers this sport. But if you've already paid for the right service, and just can't watch because of your location, there is an easy way to get the content you deserve. You need a VPN, like one of the following.
ExpressVPN: Premium VPN provider that just works, with 3,000+ locations in 94 countries. Supports five simultaneous devices and comes with a 30-day money-back guarantee. (ExpressVPN review)
Surfshark: Connect to over 3,200 servers in 99 countries (+ tonnes of US metro areas). Try it with a 7-day free trial.
NordVPN: Connect to over 5,000 premium servers in 60+ countries. Comes with a 30-day money-back guarantee!
If you're overwhelmed and not sure where to begin, you'll find all the answers in our full VPN guide.
The SEC is full of large, passionate fan bases, and Georgia is amongst its leaders. Going by pure numbers, its hedge-lined 92,746-seat Sanford Stadium is normally full.
In fact, its average attendance in 2019 of 92,817 surpassed that figure, helped by its capacity being temporarily increased to 93,246 for a rare visit by Notre Dame. Simply put, it does not matter if the opponent is Alabama or Murray State; UGA fans will come out in numbers.
However, all of that fan support does mean that many are on the outside looking in, not just Georgia fans spread throughout the country and world but even those situated in Athens or elsewhere in the Peach State.
Sign Up for a Free 7-Day Fubo Trial
Fortunately, there is an upside to that as all of that interest also results in significant and generally easily accessible coverage of the team's games on TV. This includes a noteworthy percentage of games on over-the-air channels.
Fans who have watched the Georgia Bulldogs play over the years have been enthralled by the exploits of players such as Champ Bailey, Frank Tarkenton, Herschel Walker, and Hines Ward. UGA players have been led by an illustrious selection of head coaches, which includes Wally Butts, Vince Dooley, Mark Richt, and Pop Warner.
Kirby Smart's 2021 campaign is his sixth as the school's head coach while star players this season include Jordan Davis and Lewis Cine on the defensive side and Zamir White and Stetson Bennett scoring many of the team's points.
Georgia has been quite successful as of late, going 44-9 from 2017-20 and getting off to an undefeated start in 2021. Historically, the team won national championships in 1942 and 1980 and SEC crowns on 13 occasions, most recently in 2017.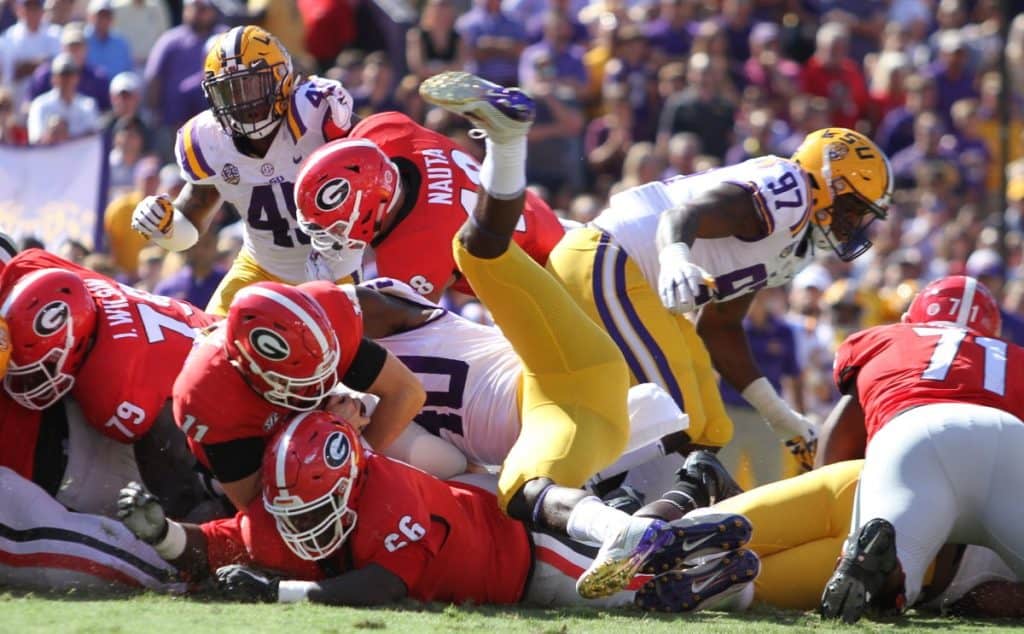 Where to Watch Georgia Bulldogs Football Games
Georgia Bulldogs football games are predominantly shown on ESPN-related channels and CBS. In fact, all of its contests dating to its Sep 9, 2017, trip to Notre Dame Stadium, which was shown on NBC, have been broadcast on CBS, ABC, ESPN, ESPN2, ESPNews, and SEC Network (SECN).
However, that is coming to an end on Nov. 20, 2021, as the team's home game versus Charleston Southern on that day will only be available online, through both ESPN+ and SECN+. But note that SECN+ is available via TV Everywhere with most streaming services that offer SECN.
Several of Georgia's SEC games are broadcast on CBS. A handful of contests are on ABC. These are usually season-opening neutral-site games or when Georgia plays its every-two-years away game versus Georgia Tech.
Match-ups that are not quite as anticipated as those but do still garner considerable interest will normally be on ESPN and ESPN2. The SEC Network generally picks up the rest of Georgia's games.
2022 Georgia Bulldogs Schedule
Sat Sep 3 : Oregon (3) vs Georgia (49) (ABC)
Sat Sep 10 : Samford (0) at Georgia (33) (SEC Network)
Sat Sep 17 : Georgia (48) at South Carolina (7) (ESPN)
Sat Sep 24 : Kent State (22) at Georgia (39) (ESPN+/SEC Network+)
Sat Oct 1 : Georgia (26) at Missouri (22)
Sat Oct 8 : Auburn (42) at Georgia (10)
Sat Oct 15 : Vanderbilt (0) at Georgia (55) (SECN)
Sat Oct 29 : Florida (20) vs Georgia (42) (CBS)
Sat Nov 5 : Tennessee (13) at Georgia (27) (CBS)
Sat Nov 12 : Georgia (45) at Mississippi State (19) (ESPN)
Sat Nov 19 : Georgia (16) at Kentucky (6) (CBS)
Sat Nov 26 TBD: Georgia Tech (14) at Georgia (37)
Unblock Your Favorite Events & Teams With a VPN
If you can't watch your favorite events or teams because of your location, a VPN will allow you to get the access you are entitled to, plus extra security and unequalled privacy. Check out our VPN Guide for everything you need to know, including our top pick ExpressVPN.

Learn how to watch March Madness!
How to Stream Georgia Bulldogs Football Games
It is relatively easy to watch all Georgia Bulldogs football games. Subscribe to a streaming service that offers the SEC Network, and you should be all set. However, do make sure to also ensure that you can stream CBS-broadcast games or have an antenna to watch those the old-fashioned way.
Keep in mind that any games that are on SECN+ are available online-only, but that access is normally provided to those who can currently watch the SEC Network.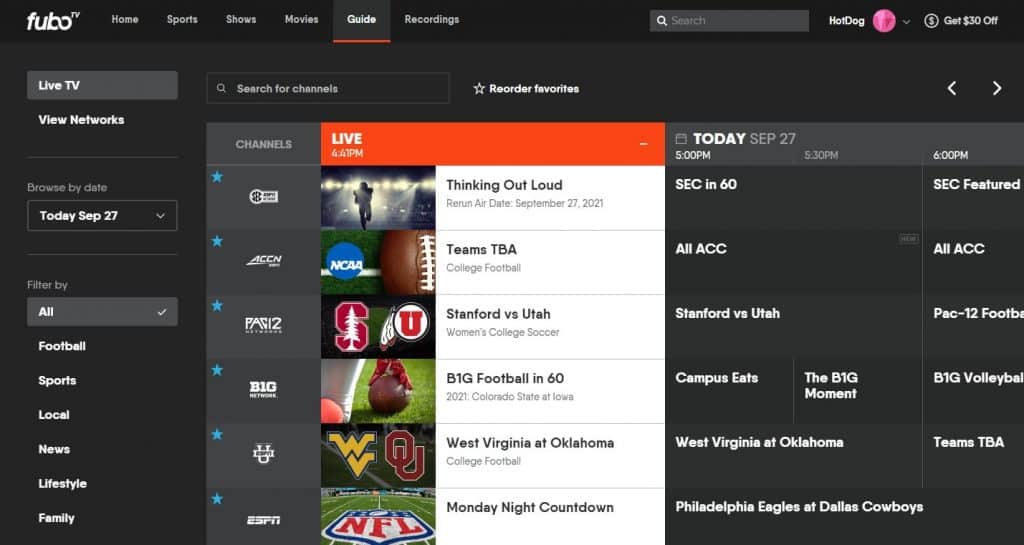 FuboTV for Georgia Bulldogs

FuboTV ($74.99/mo) offers ESPN, ESPN2, CBS, and ABC in its 120+ channel base package, so you should be able to watch almost all Georgia Bulldogs contests. The only thing missing is SEC Network, which you can get either with its Fubo Extra ($7.99/mo) or Sports Plus with NFL RedZone ($10.99/mo) add-ons.
They both come with dozens of other channels include ACC Network, Pac-12 Network, as well as pro sports league channels like MLB Network, NBA TV, and NHL Network.
All FuboTV plans come with a generous 1000 hours of cloud DVR storage and the ability to stream on up to ten devices simultaneously.
See our FuboTV review for all the details.
Sign Up for a Free 7-Day Fubo Trial
Watch Georgia Bulldogs With Sling TV

The Sling Orange plan ($40.00/mo) gives you ESPN and ESPN2. However, you do need to pay $11/mo extra for the Sports Extra add-on to also watch the SEC Network. This will also allow you to view a significant number of additional college sports events, those shown on the ACC Network, Pac-12 Network, Longhorn Network, and ESPNU.
It is, however, missing both CBS and ABC (but any ABC-broadcast games can be accessed through ESPN3, which is included with a Sling TV subscription). You can get these channels via antenna, which integrates well with Sling TV.
The plan comes with 50 hours of cloud DVR. Check out our Sling TV review for more.
Use DIRECTV STREAM to Watch Georgia Bulldogs

To get the SEC Network with DIRECTV STREAM, you need to subscribe to its Choice plan ($99.99/mo). However, if you are satisfied with access to ESPN and ESPN2 and all the network affiliates, which will allow you to watch almost all games most seasons, its Entertainment plan ($74.99/mo) will suffice.
DIRECTV STREAM comes with unlimited cloud DVR storage (as long as you sign up online) and the ability to stream on unlimited simultaneous screens — a great deal for large households.
Our DIRECTV STREAM review has more information.
Get DIRECTV STREAM Free for 5 Days
Georgia Bulldogs on Hulu + Live TV

The base Hulu + Live TV package ($69.99/mo) includes ESPN, ESPN2, SEC Network, CBS, and ABC as part of its 85+ channel lineup. It even includes SEC Network+ in its channel listing so you don't need to use the ESPN app to access it. And the plan also includes Disney+ and ESPN+.
With this plan, you also get Hulu's industry-leading on-demand library as well as a broad range of live channels, unlimited cloud DVR (9 month storage), and the ability to stream on up to two devices at once.
For more information, see our Hulu + Live TV review.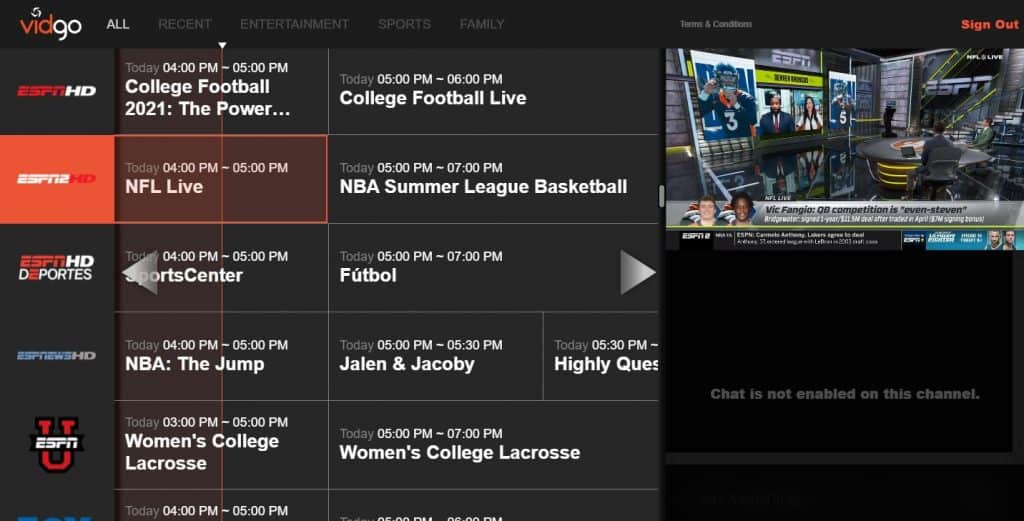 Vidgo for Georgia Bulldogs

Vidgo's English Plus package ($69.99/mo) is great for NCAA fans and provides you with ESPN, ESPN2, SEC Network, and ABC. It also includes all of the Pac-12 Network channels as well as the Big Ten Network, ACC Network, Longhorn Network, and ESPNU.
It is missing CBS but you could fill this hole with a subscription to Paramount+. The other problem with Vidgo is that it does not include a DVR. But if that isn't a problem, it is worth considering.
Find out more in our Vidgo review.
Other Ways to Watch Georgia Bulldogs
There are other ways to watch Georgia Bulldogs games. In particular, YouTube TV offers a streaming service similar to Hulu + Live TV, which is worth checking out.
Antenna

With so many Georgia Bulldogs games being shown on CBS and a smaller number on ABC, a simple digital antenna will work if you want to watch a selection of the team's bigger match-ups.
However, keep in mind that all three games of the College Football Playoff are on ESPN.
Paramount+

If you do not have an antenna and have not paid for a streaming service that offers CBS, you can watch all CBS-broadcast Georgia Bulldogs games online with a Paramount+ subscription ($4.99/mo).
If you want full access to your local CBS affiliate, you need the Premium plan for $9.99/mo.
Get Paramount+ for 7 Days Free
ESPN+

ESPN+ ($9.99/mo) will get you access to infrequent Georgia Bulldogs football games, one of those examples occurring on Nov. 20, 2021, for their game with Charleston Southern.
However, there is no need for ESPN+ if you subscribe to a streaming service that offers the SEC Network as that same game is also on SECN+.
Streaming Devices for Watching Georgia Bulldogs Football
The streaming services we've discussed above all work on most streaming devices and smart TVs in use today.
Let's start with the universally supported ones: Amazon Fire TV, Apple TV, and Roku stick devices; iOS and Android smartphones and tablets; and Chromecast (built-in to TVs and external devices) that allow iOS and Android devices and some web browsers to cast to TVs.
FuboTV, Hulu + Live TV, and Sling TV support a number of other devices. They all support Android TV-based smart TVs from Samsung, LG, and Vizio. And they all support the Xbox One gaming system.
DIRECTV STREAM also supports Samsung TVs. Vidgo supports Android TV systems.
Hulu + Live TV supports the Nintendo Switch and PlayStation gaming systems. And Oculus is supported by Sling TV.
See our streaming reviews (linked above) for complete details.
Superpower Your Streaming With a VPN
For the sake of privacy, security, and access, you should be using a VPN. They are low-cost and easy to use. We've been using them for years and our top pick is ExpressVPN. Be sure to check out our deals page on ExpressVPN, NordVPN, SurfShark and PureVPN.
Wrapping Up
If you want to watch all Georgia Bulldogs football games, ensure that you have access to CBS, ABC, ESPN, ESPN2, and SEC Network, and you should be covered.
Which streaming service works best for you depends on your exact needs. But FuboTV is our top choice. FuboTV allows you to try out its service free for 7 days.
FAQs
How can I watch the Georgia Bulldogs football game for free?
As long as you have an antenna, you can watch several Georgia Bulldogs games for free with most over-the-air broadcasts on CBS and ABC. This option does allow you to watch the SEC Championship Game but not any College Football Playoff games, which are shown on ESPN.
If you purchase two or three months of Sling TV, they will provide you with a free antenna.
Which channel is the Georgia Bulldogs game on?
It is extremely likely that the next Georgia Bulldogs game will be shown on either CBS, ABC, ESPN, ESPN2, or SEC Network. For example, during the 2019 season, the Georgia Bulldogs were broadcast on CBS five times, ABC once, ESPN six times, and ESPN2 twice.
The last time UGA was not shown on one of those channels was for an ESPNews-broadcast game on Sep 15, 2018, and that contest versus Middle Tennessee was moved from EDT to noon just two days prior for weather-related reasons.
Sign Up for a Free 7-Day Fubo Trial
Who are Georgia's rivals?
Georgia's in-state rival is Georgia Tech. Those are the biggest football programs and athletics departments in the Peach State, and those football teams close out their regular seasons with a contest versus the other on Thanksgiving weekend. Which team hosts that showdown alternates with it being played in Athens in even years.
However, that is far from Georgia's only rivalry. The team also has several heated match-ups with SEC opposition, particularly with Florida and Auburn. The former dates to 1892 — the "Deep South's Oldest Rivalry" – and the latter – the "World's Largest Outdoor Cocktail Party" – is played annually in Jacksonville, FL with each team's fans comprising half of the crowd.
What is the cheapest way to stream Georgia Bulldogs games?
If you do not have an antenna and television and need to stream every Georgia Bulldogs game, the cheapest way to do so is through Sling TV's Orange plan ($40.00/mo), the Sports Extra add-on associated with that plan ($11/mo), and Paramount+ ($4.99/mo) for a total of $50.99/mo.
If you want everything in one place, Hulu + Live TV ($69.99/mo) will have you covered.
How can I watch teams besides the Bulldogs without cable?
We have written guides that will help you watch college football and college bowl games without cable. And we have written other guides about particular teams:
We've also written a guide to help you watch college basketball and March Madness. And we also have guides on particular basketball teams:
Ditch "Big Cable" Now – 3 Simple Steps to Cut the Cord
Pick the right streaming service
Get the content you deserve with the best VPN.
Supercharge your internet provider
That's it — you'll save money, take back control, and enjoy TV more!
Latest posts by Frank Moraes
(see all)