The Super Bowl is quite popular in Canada. In fact, its television ratings usually surpass all NHL games played that year, including Stanley Cup Finals contests.
In a hurry? If it's 10 minutes before kick-off and you don't want to miss the game, just click over to DAZN. For CA$24.99/mo, you'll get the Super Bowl and a ton of other sporting events. No free trial but a great deal (CA$199.99/yr — CA$16.67/mo) on yearly subscriptions!
The last time that a hockey game had higher ratings than the Super Bowl was when the Canadian men's ice hockey national team played Sweden for the gold medal at the 2014 Winter Olympics.
How can a Canadian watch the Super Bowl? This can be done by tuning into either CTV or TSN for English-language commentary or RDS for French-language commentary. The game will also be streamed by DAZN. In fact, all NFL games throughout the season can be viewed with a DAZN subscription.
Super Bowl in Canada
The Super Bowl is so popular in Canada that the editions contested in February 2020 and February 2021 are the most-watched sports events in Canadian television history with the exception of Canadian men's hockey games at the 2010 Olympics, which were hosted by Canada in Vancouver, British Columbia.
Of the five most-watched sports events in Canadian history, two are those Super Bowl games, and three are Canadian hockey games played at the Vancouver Games.
Those facts also mean that the Super Bowl receives higher ratings than the Grey Cup, which features Canada-based CFL teams and is played north of the border.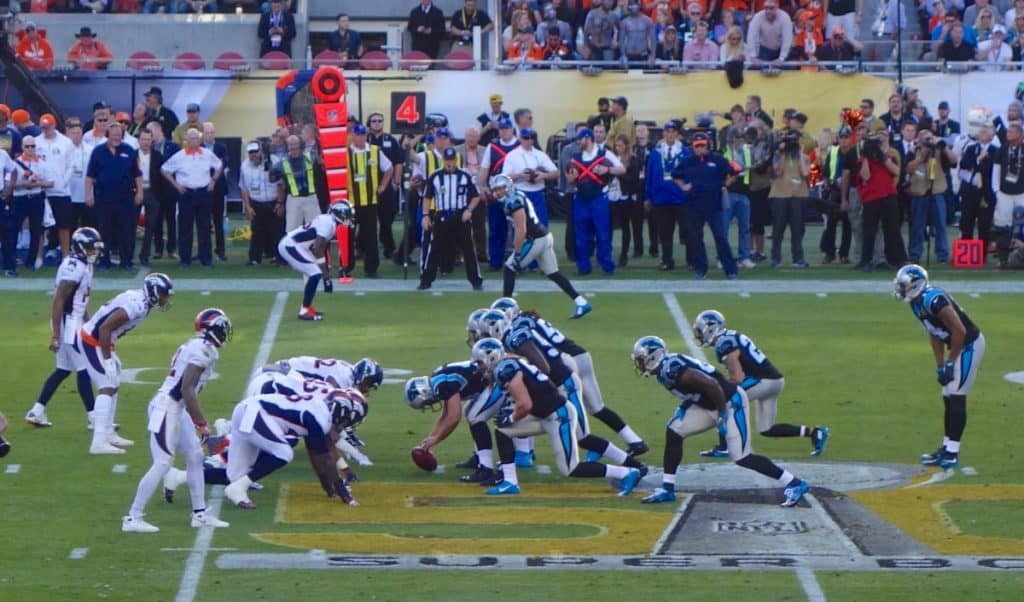 Super Bowl on Canadian Television
The Super Bowl receives significant coverage in Canada as it is simultaneously televised on both CTV and TSN as well as on RDS, the French-language channel that is aimed at those with roots in Quebec.
Note that several US-based channels that are situated near the border may be watched in Canada as well. For example, NBC is broadcasting Super Bowl LVI, meaning that any NBC affiliates that are available in Canada can be utilized to watch the game.
However, Canadian-based NFL fans should note that simultaneous substitution is expected to take place for almost all broadcasts available in Canada, resulting in Canada-focused advertisements replacing famous US-produced ones that are airing south of the border. The only exceptions expected would be when viewers use over-the-air means to watch a US-oriented broadcast.
Streaming the Super Bowl in Canada
If you are looking to enjoy cordless access to the Super Bowl, all that you need to do is subscribe to DAZN for a month, which costs CA$24.99/mo. You could also pay CA$199.99 for an annual subscription, which would allow you to not only watch the Super Bowl but every NFL game throughout the season.
Other sports events that are included in a DAZN subscription include UEFA Champions League, rugby, tennis, and darts events. Subscribers will receive access to channels such as the NFL Network and MLB Network as well.
DAZN also offers streaming access to the Super Bowl to subscribers in Austria, Germany, Switzerland, and Japan.
Live Streaming Devices to Watch the Super Bowl in Canada
DAZN supports most of the streaming devices in use today:
Mobile Devices: Amazon Fire tablet, Android OS devices, iOS devices
TVs and TV Devices: Amazon Fire TV, Android TV, Apple TV, Chromecast, Cox, LG Smart TV, Samsung Smart TV, Roku TV, Vizio TV, XFinity
Gaming Consoles: Playstation 4 and 5, Xbox One Series, Xbox X and S Series.
Wrapping Up
Simply put, if you would like to enjoy streaming, cordless access to the Super Bowl, DAZN is your lone option. It is available for CA$24.99/mo, so that would be your total cost to watch this game, and you would also get the rest of its sports offerings for the remainder of the month at no extra charge.
Also keep in mind for the next season that DAZN offers access to all NFL games, not just the Super Bowl.
Latest posts by Frank Moraes
(see all)