Watch all the remaining NFL playoff games including the Super Bowl with FuboTV. Sign up for a free 7-day trial!
There are four matchups on NFL Divisional Weekend. On Sunday, January 22nd, Joe Burrow and the Bengals take on Josh Allen and the Bills. Read on to learn your options to watch without cable.
In a hurry? The game has a kickoff at on CBS. These streaming services have it and all the channels you need to watch all the NFL Playoffs:
FuboTV: The best streaming service for international sports also provides 130+ well-selected channels. FuboTV allows you to try out its service free for 7 days.
DIRECTV STREAM: Get a great channel lineup with the best selection of RSNs in the industry. A 5-day free trial is now available for DIRECTV STREAM.
Hulu + Live TV: A great overall streaming service offering 85+ live channels along with ESPN+ and Disney+. Try one month for $69.99.
If you can't watch your favorite sports because of your location, get ExpressVPN to access the content you deserve.
Unfortunately, we don't know a streaming service in that covers this sport. But if you've already paid for the right service, and just can't watch because of your location, there is an easy way to get the content you deserve. You need a VPN, like one of the following.
ExpressVPN: Premium VPN provider that just works, with 3,000+ locations in 94 countries. Supports five simultaneous devices and comes with a 30-day money-back guarantee. (ExpressVPN review)
Surfshark: Connect to over 3,200 servers in 99 countries (+ tonnes of US metro areas). Try it with a 7-day free trial.
NordVPN: Connect to over 5,000 premium servers in 60+ countries. Comes with a 30-day money-back guarantee!
If you're overwhelmed and not sure where to begin, you'll find all the answers in our full VPN guide.
There are six teams moving on to the Divisional Round following the Wild Card Round. These teams are joined by the two conference winners that got a bye.
The winners of these 4 NFL games go on to the Conference championships. After that, it's Super Bowl LVII.
Sign Up for a Free 7-Day Fubo Trial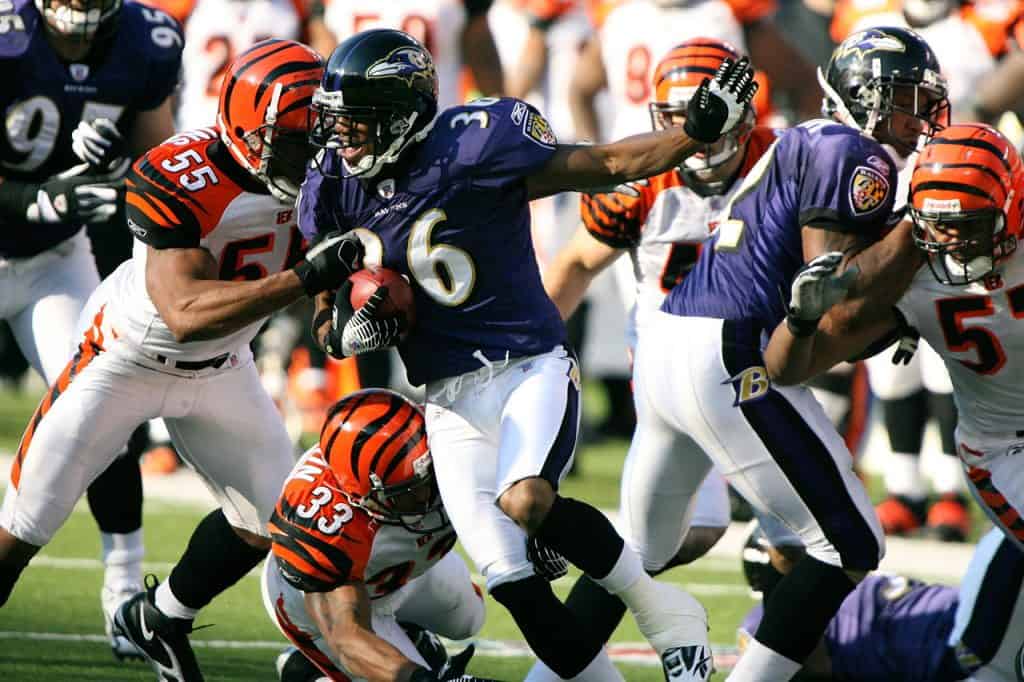 Which Channel Is the Cincinnati Bengals vs Buffalo Bills Game On?
All four divisional games will be aired live on CBS, Fox, or NBC.
Jim Nantz provides play-by-play for this game. Tony Romo helps out with analysis. Tracy Wolfson and Jay Feely provide sideline reporting.
Owing to the fact that CBS is an over-the-air station, there are local affiliates that offer it nationwide. So if you have a digital antenna, you can watch the channel for free.
Superpower Your Streaming With a VPN
For the sake of privacy, security, and access, you should be using a VPN. They are low-cost and easy to use. We've been using them for years and our top pick is ExpressVPN. Be sure to check out our Cyber Monday 2022 deals on ExpressVPN, NordVPN, SurfShark and PureVPN.
How to Watch the Bengals vs Bills Game Online Without Cable
This year's NFL Playoffs will air on the local channels: NBC, CBS, and Fox. One NFL game will also air on ESPN (ABC, ESPN2). Streaming services will give you access to these channels and more. To watch Game 3, we recommend FuboTV, Sling TV, Hulu + Live TV, and DIRECTV STREAM. Here are more details on the streaming services:
Another option is to get Paramount+. It only streams games that air on CBS, but for the playoffs, that's 3 NFL games — including half of the divisional contests. See our Paramount+ review for details. You could combine it with Sling TV to get the other channels in a low-cost alternative to watching all the playoff games.
Devices For Watching the Cincinnati-Buffalo Game Live
All the streaming services we've discussed allow you to stream with most of the devices you have at home. Android TV, Amazon Fire TV, Apple TV, Chromecast, Roku devices, mobile devices, and web browsers are universally supported.
Sling TV, FuboTV, Hulu Live, and Peacock support LG TV, Vizio, and Xbox. Hulu Live and Peacock support PlayStation, while FuboTV, YouTube TV, and Peacock support Hisense TV.
Watch Hulu Live on Nintendo Switch. DIRECTV also has its own device that you can use to stream online.
Cincinnati Bengals vs Buffalo Bills Game Analysis
It is not very often that we get to see a new National Football League rivalry born over the course of a single season, but that is exactly what has happened between the Cincinnati Bengals and the Buffalo Bills in recent weeks. If we go back to the beginning of the season, these teams were far behind the Kansas City Chiefs in terms of representing the AFC and advancing to the Super Bowl, but now they are not only true contenders but also fierce rivals.
Buffalo: Regular Season Recap
As we can all remember from the week 17 Monday Night Football game when the Bills traveled to Cincinnati to wrap up the regular season, Bills safety Damar Hamlin was playing strong defense when he tackled Tee Higgins and suddenly collapsed.
The Bengals wide receiver had caught a smooth pass from quarterback Joe Burrow. He ran at a moderate pace as he brushed off Hamlin with a regular shoulder-to-the-chest maneuver, but the 24-year-old safety spun to bring the receiver down with a clean tackle.
A moment later, Hamlin was on the field getting CPR from paramedics. He had suffered cardiac arrest and was rushed to the University of Cincinnati Medical Center, where it took him a few days to regain the ability to breathe on his own.
Thankfully, Hamlin is out of the hospital and in a condition to watch his teammates face the Bengals once again, this time in the second round of the playoffs. The Bills almost didn't make it because their old rivals the Miami Dolphins were very close to winning the wildcard round, but here they are.
Cincinnati: Last Week's Playoff Game
As for the Bengals, they squeaked by the Baltimore Ravens thanks to an amazing fumble recovery by Sam Hubbard. Bengals quarterback Josh Allen certainly did his part to win the game 24-17, but Cincinnati fans are concerned that his QB rating has been lagging since before the regular season.
NFL officials decided to not resume the game suspended by Hamlin's tragic collapse, so the Bengals and Bills actually made it to the playoffs with 16 games instead of 17. Not many football analysts believed that these teams would meet again in the playoffs, but this is clearly a new NFL rivalry because of all the extraneous circumstances.
Now is the Bengals' turn to travel to Highmark Stadium, and they know that Bills fans are going to be extremely fired up. After all, they will be rooting for a victory dedicated to Hamlin.
Game Predictions For Bengals vs Bills
If we look at the betting lines in Las Vegas, the Bills are favored by just a few points. This is a game that may be decided with a field goal, a safety, or a two-point conversion. That is how little of a margin is expected.
The opening line for the game was Buffalo by just over a field goal. But in the days since, the number is pushing closer to a touchdown. But it may all come down to the Bills' home-field advantage on a Sunday afternoon, and with the comforting knowledge that Hamlin, who happens to be one of the nicest players that football fans can hope to see on their teams, is enjoying a superb recovery.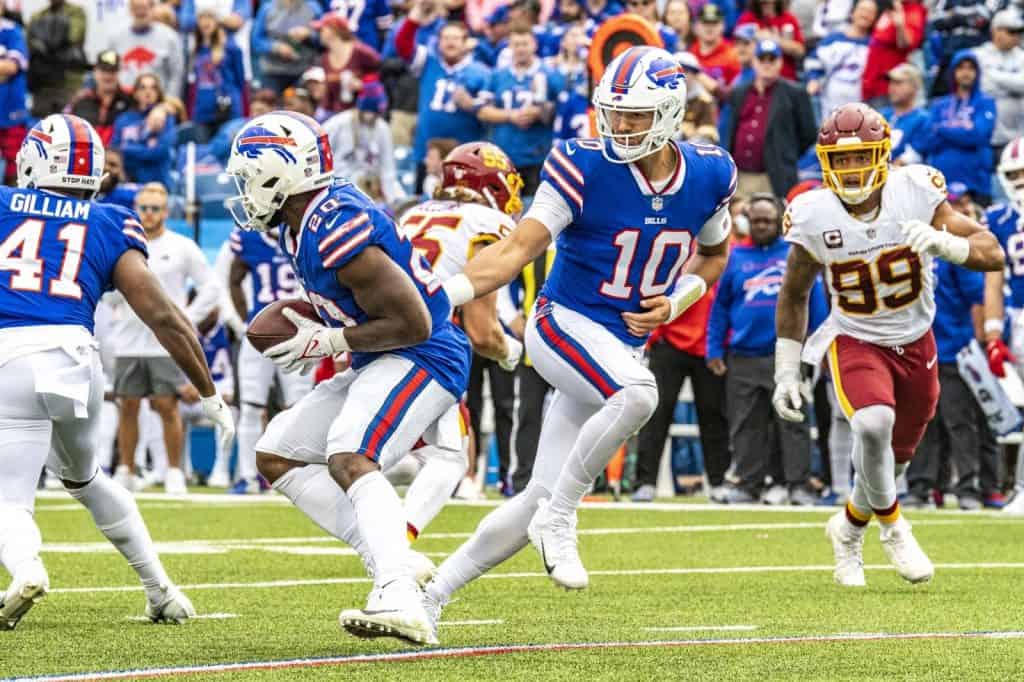 Wrapping Up
The Cincinnati Bengals vs Buffalo Bills in the second AFC divisional game can be watched via antenna or through a number of streaming services, which we discussed above. We recommend FuboTV since it allows you to watch all the playoff games as well as most other sports.
Sign Up for a Free 7-Day Fubo Trial
FAQs
How can I watch the second AFC divisional playoff game for free?
All NFL playoff games from the division round onward air on CBS, Fox, or NBC. There are local affiliates of these channels in most areas. So, all you need to do to watch the games for free is to set up a digital antenna. For the second AFC divisional playoff game, you will need an CBS affiliate near you.
Who will the winner of this game play next?
The winner of this game will go up against the winner of the other AFC Divisional Playoff game, the Kansas City Chiefs versus the Jacksonville Jaguars, in the AFC Championship game on January 29. The winner of that game will then go to the Super Bowl to face the NFC Champions. The top NFC seed is the Philadelphia Eagles, but anything could happen!
What happened at the last Bills vs Bengals game?
The Bengals and Bills were scheduled to play in Week 17 of the regular season, but the contest between the two top divisional seeds at Paycor Stadium was canceled when Bills safety Damar Hamlin collapsed on the field in cardiac arrest. Initially rushed to the hospital in Cincinnati, Ohio, Hamlin is currently recovering at home in Buffalo, and may even attend the Divisional showdown.
How do I stream all the other NFL playoff games?
These guides provide details about every game of the NFL playoffs:
See our general article How to Stream NFL Without Cable.
Latest posts by Frank Moraes
(see all)