Baltimore Ravens fans have nothing to fear from cutting the cord. There are more ways to watch than ever before. Read on to learn all your options.
In a hurry? Don't care about details like cloud DVR and simultaneous streaming? The following services will allow you to watch the Ravens all season long:
FuboTV: The best streaming service for international sports also provides 100+ well-selected channels. FuboTV allows you to try out its service free for 7 days.
DIRECTV STREAM: Get a great channel lineup with the best selection of RSNs in the industry. A 5-day free trial is now available for DIRECTV STREAM.
Hulu + Live TV: A great overall streaming service offering 85+ live channels along with ESPN+ and Disney+. Try one month for $69.99.
If you can't watch your favorite sports because of your location, get ExpressVPN to access the content you deserve.
If you can't watch your favorite movies and shows because of your location, you need a VPN. Here are our top picks from our VPN guide:
ExpressVPN: Established VPN provider in close to 100 countries. Smart DNS and unlimited bandwidth. Try it with a 30-day money-back guarantee.
Surfshark: Connect to over 3,200 servers in 99 countries. Comes with a 7-day free trial!
CyberGhost: Great low-cost service with a free 24-hour trial.
Bottom line: 16 of the 17 regular season Ravens games will air on live TV with one streaming only (on Amazon Prime Video). The services above have you covered for the regular and postseason. See the Ravens schedule below.
The Baltimore Ravens are in the 2021 NFL Playoffs, and you can watch all the action. Fans of the Ravens no longer need to hold on to cable to watch the games this season thanks to live streaming services like FuboTV (free for 7 days) and Hulu Live. We have all the details you need to watch Baltimore Ravens games online without cable.
By the end of this guide, you should know everything you need to watch Baltimore football all season long. Keep reading the sections below to learn what channels you'll need and what services offer them. You'll be set to catch the Ravens live stream in no time!
Sign Up for a Free 7-Day Fubo Trial
What Channels Offer the Baltimore Ravens Live Stream?
The NFL airs on a set number of networks. Obviously, you'll want access to as many as possible in order to get the most games possible. In order to watch the Baltimore Ravens online, you'll need access to local channels CBS, NBC, and Fox.
As for broadcast networks, you'll want ESPN and NFL Network. While you could watch the local channels without cable using an antenna, for ESPN and NFL Network you'd need a streaming service to watch either network legally, without cable.
Are you a fan outside your team's broadcast area? Learn to get complete access with our NFL Out-of-Market Game Guide.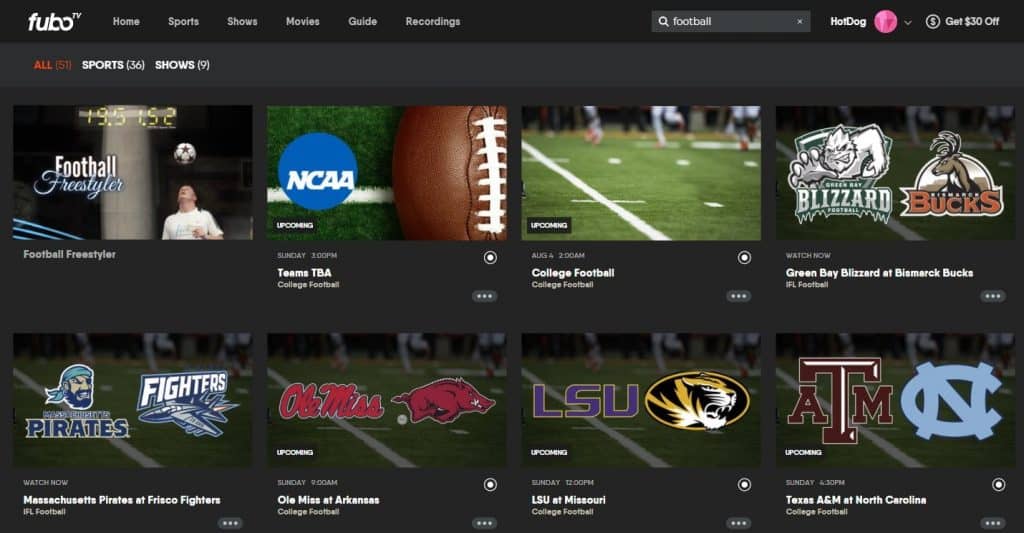 Unblock Your Favorite Events & Teams With a VPN
If you can't watch your favorite events or teams because of your location, a VPN will allow you to get the access you are entitled to, plus extra security and unequalled privacy. Check out our VPN Guide for everything you need to know, including our top pick ExpressVPN.
How to Watch the Baltimore Ravens Game without Cable TV
There are a variety of services that will give you the chance to enjoy cable channels without paying for cable. Two of these services are FuboTV and Hulu Live. Both services give you a way to watch most of the Baltimore Ravens season live stream. Like other available services, they offer a wide range of channels at an affordable price and do not require any type of contract or obligation.
Beyond that and the fact that you're not tethered to your TV, these services work a lot like cable does. You get to pick a channel and watch what you want. Of course, you'll use a streaming device (Apple TV, Roku, mobile devices, etc.) instead of a cable box. As long as you have your device and a Wi-fi or Ethernet connection, you should be able to stream from just about anywhere.
Out-of-Market Baltimore Ravens Games
If you are a fan who lives outside the greater Maryland area, you probably know that most Ravens games don't often appear on TV. This the "reverse blackout" problem with the NFL where local fans are served well but not so much fans in other areas.
We've created a guide for fans in this situation, NFL Out-of-Market Football Games. You can learn all your options there.
There is a way to get access to all out-of-market games: NFL Sunday Ticket. The problem is that this season, it is only available through DIRECTV Satellite. If that works for you, great! If not, you will have to be more creative. Or just wait until next season! (See our Sunday Ticket review for more information.)
The most common option is to use a VPN. But this can create licensing problems, so be careful. ExpressVPN explains everything you need to know.
Watch the Baltimore Ravens Live Stream without Cable on FuboTV
FuboTV is another top option for Ravens streaming. You'll have over 110 channels including local channels and sports from around the country, as well as international sports. After your free trial, there's even a discount on your first month of paid service.
Other FuboTV details:
$69.99/mo after free trial
110+ channels with a 1000 hour cloud-based DVR
More sports channels than any other service, so you can easily watch sports online
For NFL, you'll have access to CBS, NBC (needed to watch Sunday Night Football without cable), Fox, ESPN, and NFL Network
Stream on Chromecast, Apple TV, Roku, mobile devices, and more
Watch most content you missed using 3-Day Replay
Learn more with our FuboTV review.
FuboTV offers something for everyone at a price that's cheaper than cable and comes without a contract. You can stream on most devices and if FuboTV is not for you, you'll be free to cancel whenever you want.
Sign Up for a Free 7-Day Fubo Trial
Watch the Baltimore Ravens Online on Hulu + Live TV
Hulu + Live TV is a great way to watch sports, local channels, and all kinds of popular TV. Each package includes 85+ channels and Hulu on-demand, so you'll have a variety of networks to watch and the freedom to choose between live and on-demand TV. Here's what you can expect:
85+ channels and Hulu on-demand
Disney+ and ESPN+
Local channels in most areas and ESPN is included
Easy way to watch NFL games online
From $69.99/mo
Unlimited cloud DVR (9 month storage)
Watch on mobile devices, Apple TV, Roku, Amazon Fire TV, and more
You can check out our Hulu Live review for more details
Hulu Live is a great option if you want to watch sports, but also want something that gives you a more complete TV option. There are plenty of channels and you can watch live or on-demand. You'll even have your own cloud-based DVR with upgradeable space.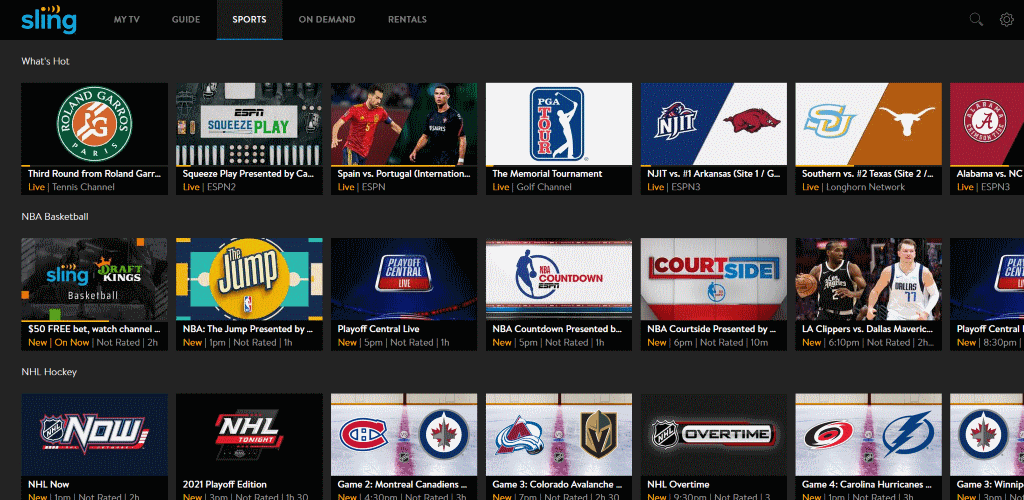 Superpower Your Streaming With a VPN
For the sake of privacy, security, and access, you should be using a VPN. They are low-cost and easy to use. We've been using them for years and our top pick is ExpressVPN.
Other Options to Watch Baltimore Ravens Game Online
While either of the options above are great, there are other streaming services that will give you access to the Baltimore Ravens live stream without cable.
These options include:
Sign Up for a Free 7-Day Fubo Trial
Looking for Info on How to Watch a Certain Team?
Need more information on how to watch the NFL without cable tailored specifically to your favorite team? Click on your team below.
Each of these services has something to offer someone. You'll find that they are cheaper, offer some great options for customizations, and will never force you into a contract.
Have questions about how to watch Baltimore Ravens online without cable? Let us know in the comments!
FAQs
Which channels do I need to watch the Baltimore Ravens?
CBS is the primary broadcaster for Sunday afternoon AFC matches, so that is where most Baltimore Ravens games can be seen. Local fans should be able to see these games on their CBS affiliate. You'll also see them on ESPN (Monday Night Football), Fox (occasional Sunday afternoon games), NBC (Sunday Night Football), and NFL Network (Thursday Night Football).
What radio stations are the Baltimore Ravens on?
The Baltimore Ravens are broadcast on WBAL 1090 AM, 97.9 FM, and 101.5 FM. For pregame and postgame coverage, turn your dial to 97.9. Since WBAL is licensed to Baltimore, Maryland, it's only available to Baltimore residents. On each station, you can expect in-depth coverage of live games.
How do I watch the Baltimore Ravens on my phone?
Baltimore Ravens games can be streamed on iOS and Android phones with every major streaming service. If you are signed up for one, you can also use the NFL app (via TV Anywhere). If you are in the Ravens' TV market, you can also use their app allows you to watch live local and primetime games on your smartphone.
How many championships has the Baltimore Ravens won?
The Baltimore Ravens have won two NFL championships and in both cases went on to win the Super Bowl. Their first victory came during the 2000 season after beating the New York Giants by 27 points. They waited another 12 years before beating the San Francisco 49ers by three points. Since the team's inception, the Ravens have made it to the playoffs 13 times.
How do I watch the Baltimore Ravens game tonight?
Tonight's Baltimore Ravens contest will most likely be broadcast on ABC, NBC, FOX, NFL Network, or ESPN. Games played on Thursday evenings will usually be shown on Fox with many games also airing on NFL Network and Amazon Prime Video (which will take over full time in 2022). Sunday Night Football is on NBC and Monday Night Football is on ESPN.
Sign Up for a Free 7-Day Fubo Trial
How do I record Baltimore Ravens live games?
Almost all streaming services come with a cloud DVR. That means it is just a matter of pushing a button to record any New England Patriots games. This is generally true for all sporting events (those on ESPN3 are a major exception). If your service doesn't provide you with a DVR, you can set up your own at home.
What is the 2022 Baltimore Ravens schedule?
Thu Aug 11 7:30 pm: Titans (10) at Ravens (23) [P]
Sun Aug 21 8:00 pm: Ravens (24) at Cardinals (17) (Fox) [P]
Sat Aug 27 7:00 pm: Commanders (15) at Ravens (17) [P]
Sun Sep 11 1:00 pm: Ravens (24) at Jets (9) (CBS)
Sun Sep 18 1:00 pm: Dolphins (42) at Ravens (38) (CBS)
Sun Sep 25 1:00 pm: Ravens (37) at Patriots (26) (Fox)
Sun Oct 2 1:00 pm: Bills (23) at Ravens (20) (CBS)
Sun Oct 9 8:20 pm: Bengals at Ravens (NBC)
Sun Oct 16 1:00 pm: Ravens at Giants (CBS)
Sun Oct 23 1:00 pm: Browns at Ravens (CBS)
Thu Oct 27 8:15 pm: Ravens at Buccaneers (Prime Video)
Mon Nov 7 8:15 pm: Ravens at Saints (ESPN)
Sun Nov 20 1:00 pm: Panthers at Ravens (Fox)
Sun Nov 27 1:00 pm: Ravens at Jaguars (CBS)
Sun Dec 4 1:00 pm: Broncos at Ravens (CBS)
Sun Dec 11 1:00 pm: Ravens at Steelers (CBS)
TBD: Ravens at Browns
Sat Dec 24 1:00 pm: Falcons at Ravens (Fox)
Sun Jan 1 1:00 pm: Steelers at Ravens (CBS)
TBD: Ravens at Bengals
Sign Up for a Free 7-Day Fubo Trial
Ditch "Big Cable" Now — 3 Simple Steps to Cutting the Cord
Pick the right streaming service
Get the content you deserve with the best VPN.
Supercharge your internet provider
That's it — you'll save money, gain control, and enjoy TV more!
Latest posts by Frank Moraes
(see all)