One of the best things about streaming services is that DVRs are normally included in the base plans. This is true of Sling TV. But the DVR included with the base plan is somewhat limited. Read on to learn about it and your options for more.
In a hurry? Get a full cable TV replacement plan with DVR for as little as $40.00/mo. Try Sling TV now!
Sling TV Plan Overview
Sling TV offers two base plans, each for $40.00/mo and they both come with 50 hours of cloud DVR storage:
Sling Blue: Includes 40+ channels including local channels Fox and NBC in select areas. It also allows you to stream on up to 3 devices at once.
Sling Orange: Includes 30+ channels including ESPN and Disney Channels. It is limited to streaming on a single device at once, so it isn't the best plan for large and varied households.
You can also get Sling Orange & Blue for $55.00/mo. It offers 50+ channels because there is a fair amount of overlap with channels like A&E, AMC, CNN, Cartoon Network, Comedy Central, Food Network, HGTV, History Channel, Lifetime, Nick Jr, TBS, and TNT.
Sling TV is best known for its customizability. You can add 7 low-cost channel collections as well as 40+ channel-specific add-ons and dozens of language-specific add-ons.
The Sling TV app runs on most streaming devices in use today including Amazon Fire TV, Android TV and mobile devices, Apple TV, Chromecast, iOS mobile devices (iPhone/iPad), Roku devices, Samsung smart TVs, web browsers, and more. It also supports the AirTV device, which allows you to integrate OTA channels from antenna into your Sling TV guide. (Note: many AirTV devices come with their own local DVRs.)
All three of these plans also include 50 hours of cloud DVR storage.
Sling TV DVR Overview
When the Sling TV DVR launched, subscribers were excited at the prospect of finally being able to record their favorite shows and events. After the DVR was out of the beta phase and fully available across devices, we decided to see how it really stacked up.
Read our full Sling TV DVR review for everything you need to know about this important feature.
Sling TV's DVR History
After being in beta on Roku for an extended period of time, the much-anticipated Sling DVR is now fully available on all devices. For complete details about Sling TV devices, see our guide.
Adding cloud DVR service for live TV for only $5 more per month, it was a great addition to their affordable streaming packages. However, now it's part of all plans.
The service allows you to store up to 50 hours of content to Sling's servers. For a long time, this was the same as with Hulu + Live TV. But now Hulu has gone unlimited with 9 months of storage but Sling TV still allows you to store recordings as long as you like.
How Sling TV DVR Works
The base cloud DVR comes with all Sling TV plans. The amount of storage is limited: 50 hours. But in our experience, this isn't bad. Most viewers end up using their DVRs like a dumping ground for shows they will never watch.
On the other hand, 50 hours is a good deal fewer hours than is reasonable. Upgrading to DVR Plus may be a good idea.
Most streaming services are now offering unlimited cloud DVR storage. This sounds great but it comes with a major downside: limited times. The maximum amount of time you can store recordings is 9 months. So if there is a particular show or game you want to watch in the coming years, forget it. This isn't a problem with Sling.
The other major limitation of Sling's DVR is that it doesn't allow you to record on all channels. In particular, you cannot record material from ESPN3, ACC Network Extra, SEC Network+, and Local Now.
Mostly, this isn't a problem. ESPN3 is an on-demand service so it isn't necessary to record anything there. ACCN Extra and SECN+ are overflow channels so this is relatively minor. Local Now is unfortunate.
Apart from this, the Sling DVR is a full-featured system that allows you to fast-forward through commercials.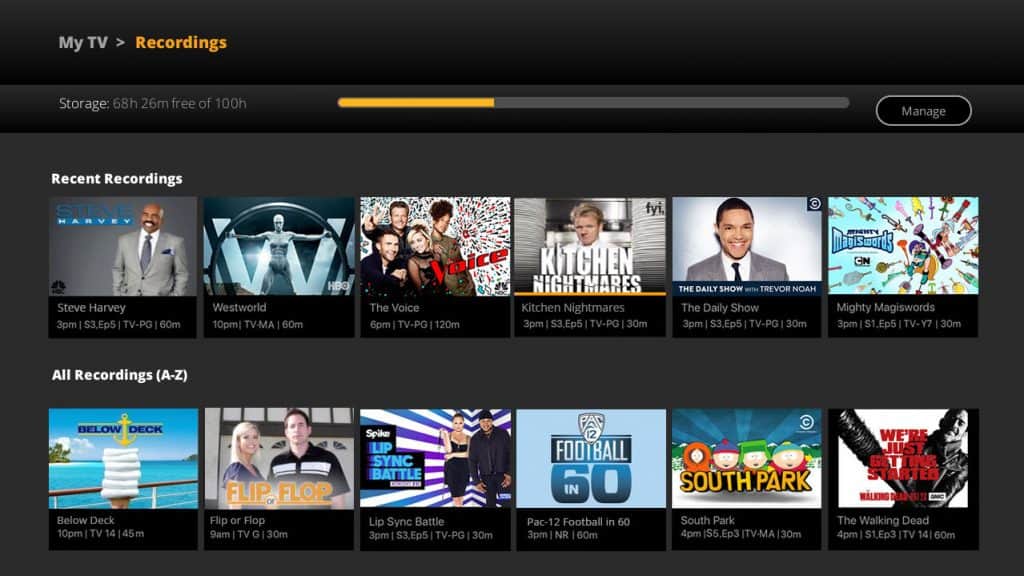 Using Sling TV DVR
So how is Sling TV's DVR in action? It's very easy.
Need to go to the bathroom or make yourself a midnight snack? Can't stand commercials? No problem. You now have the ability to freeze and fast-forward time. However, please make sure you only use this newly acquired superpower for good.
If you are watching a live channel, just navigate to the controls (down on most devices) and select the record button. It will continue to record, even if you go out to the guide and record something else.
You can also schedule recordings for later events from the guide. And you can set up to record all episodes of your favorite TV shows.
Sling TV will then record the content and store it on their cloud servers for you to watch anytime. Sling deletes the oldest movies or shows you've recorded once you reach 50 hours of content.
Using Your Recordings
You can find your recordings under My TV > Recordings. It shows how much space you have for new recordings, your recent recordings, and an alphabetical list of all your recordings.
Note also that if you pause your account, Sling will save your recordings but only up to a maximum of 30 days.
That means there isn't a clock ticking down forcing you to watch a show or lose it completely. You can watch any of these recorded shows across all your compatible devices anytime and anywhere. Sling DVR also gives you the ability to pause and rewind live TV.
DVR Plus
For $5/mo extra, Sling TV offers DVR Plus. It's quite simple: it increases your storage from 50 hours to 200 hours.
Arguably even better, DVR Plus allows you to mark your recordings to protect against accidental deletion. This means you don't have to worry about recording past your 200-hour limit and recording something important you really wanted to save.
Given that many streaming services now offer unlimited storage, this may not seem great. But there are two reasons we prefer Sling's approach:
Unlimited DVR plans are all capped at 9 months of storage. So if there is something you want to keep long-term, you are out of luck.
In our experience, 200 hours is about as much storage as you ever need. Beyond that, a DVR becomes a dumping ground of things you'll get around to watching "someday."
DVR Plus With the Sling Total TV Deal
As we noted above, one of the great things about Sling TV is its customizability. One way they provide this is with their Total TV Deal. For $21/mo, it adds all seven of Sling TV's Extra packages: Sports Extra, Kids Extra, News Extra, Lifestyle Extra, Comedy Extra, Hollywood Extra, and Heartland Extra. That provides roughly 70 more channels than the base plans provide.
Also included with the Total TV Deal is DVR Plus.
Sling DVR Alternatives
Most of the other major live TV streaming services now offer cloud DVRs. The only real exception is Vidgo, which only recently added a DVR — and only with its more expensive Premium plan for $84.99/mo.
Here are some other things to know when comparing the Sling DVR to others:
Wrapping Up
Sling TV offers a customizable service that allows you to get what you want. That includes its DVR. The base 50 hours is fine for most people. And DVR Plus is available if you want more. And if you need more than that, you can use Sling with an AirTV Unit.
See Also
FAQs
How much does Sling TV's DVR cost?
A cloud DVR is included in Sling TV's base plans. They all come with 50 hours of storage. If you want more, the DVR Plus add-on comes with 200 hours of storage for $5/mo. You can also get this as part of the Total TV Deal for $21/mo. You can also integrate a local DVR with the use of an AirTV device.
What does a DVR do?
DVR stands for "digital video recorder" and that pretty much sums up what it does: it records digital video so that you can watch it later. It's more or less the digital equivalent of the old VCRs — including the ability to schedule recordings. But, being digital, you have far more control than on the old tape machines.
Made with HD-DVR RCI88-320 KDG from Sagemcom Broadband SAS by Kabel Deutschland under CC BY 3.0.
Ditch "Big Cable" Now – 3 Simple Steps to Cut the Cord
Pick the right streaming service
Get the content you deserve with the best VPN.
Supercharge your internet provider
That's it — you'll save money, take back control, and enjoy TV more!
Page Updates
▼
▲
Added FAQ section. Added new section. Added sub-section. Additional links. Pricing updates. Image changes.

Added table of contents. Mentioned offers. Various content updates.

Added links to streaming services. More links. Formatting changes. Misc changes to content.
Latest posts by Frank Moraes
(see all)