One of the best things about streaming services is that DVRs are normally included in the base plans. This is true of Sling TV. But the DVR included with the base plan is somewhat limited. Read on to learn about it and your options for more.
In a hurry? Currently, save $10 on your first month of Sling TV. If you want to know more first, read our Sling TV review.
Sling TV DVR Overview
When the Sling TV DVR launched, subscribers were excited at the prospect of finally being able to record their favorite shows and events. After the DVR was out of the beta phase and fully available across devices, we decided to see how it really stacks up.
Read our full Sling TV DVR review for everything you need to know about this important feature.
Sling TV's DVR History
After being in beta on Roku for an extended period of time, the much-anticipated Sling DVR is now fully available on all devices. For complete details about Sling TV devices, see our guide.
Adding cloud DVR service for live TV for only $5 more per month, it was a great addition to their affordable streaming packages. However, now it's part of all plans.
The service allows you to store up to 50 hours of content to Sling's servers. For a long time, this was the same as with Hulu + Live TV. But now Hulu has gone unlimited with 9 months of storage but Sling TV still allows you to store recordings as long as you like.
How Sling TV DVR Works
The base cloud DVR comes with all Sling TV plans. The amount of storage is limited: 50 hours. But in our experience, this isn't bad. Most viewers end up using their DVRs like a dumping ground for shows they will never watch.
On the other hand, 50 hours is a good deal fewer hours than is reasonable. Upgrading to DVR Plus may be a good idea.
Most streaming services are now offering unlimited cloud DVR storage. This sounds great but it comes with a major downside: limited times. The maximum amount of time you can store recordings is 9 months. So if there is a particular show or game you want to watch in the coming years, forget it. This isn't a problem with Sling.
The other major limitation of Sling's DVR is that it doesn't allow you to record on all channels. In particular, you cannot record material from ESPN3, ACC Network Extra, SEC Network+, and Local Now.
Mostly, this isn't a problem. ESPN3 is an on-demand service so it isn't necessary to record anything there. ACCN Extra and SECN+ are overflow channels so this is relatively minor. Local Now is unfortunate.
Apart from this, the Sling DVR is a full-featured system that allows you to fast-forward through commercials.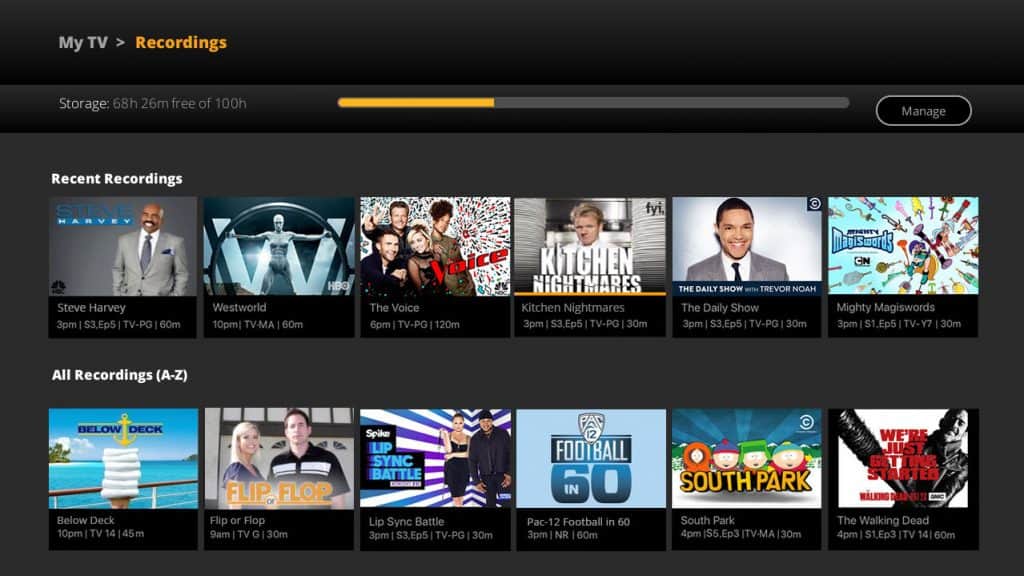 Using Sling TV DVR
So how is Sling TV's DVR in action? It's very easy.
If you are watching a live channel, just navigate to the controls (down on most devices) and select the record button. It will continue to record, even if you go out to the guide and record something else.
You can also schedule recordings for later events from the guide. You can also set up to record series.
Sling TV will then record the content and store it on their cloud servers for you to watch anytime. Sling deletes the oldest movies or shows you've recorded once you reach 50 hours of content.
Note also that if you pause your account, Sling will save your recordings but only up to a maximum of 30 days.
That means there isn't a clock ticking down forcing you to watch a show or lose it completely. You can watch any of these recorded shows across all your compatible devices anytime and anywhere. Sling DVR also gives you the ability to pause and rewind live TV.
Need to go to the bathroom or make yourself a midnight snack? Can't stand commercials? No problem. You now have the ability to freeze and fast-forward time. However, please make sure you only use this newly acquired superpower for good.
DVR Plus
For $5/mo extra, Sling TV offers DVR Plus. You can also get it as part of the $21/mo Total TV Deal. The main thing you get for this is an upgrade from 50 hours of storage to 200 hours.
Arguably even better, DVR Plus allows you to mark your recordings to protect against accidental deletion. This means you don't have to worry about recording past your 200-hour limit and recording something important you really wanted to save.
Sling DVR Alternatives
Most of the other major live TV streaming services now offer cloud DVRs. The only real exception is Vidgo, which is only now just implementing a DVR and it only comes with the more expensive Premium plan for $79.95/mo.
Here are some other things to know when comparing the Sling DVR to others:
FuboTV: A great deal for sports fans for $69.99/mo for its 100+ channel base plan. It offers 1,000 hours of cloud DVR storage, which we consider pretty much unlimited without the problems of unlimited plans. Read more in our FuboTV review.
Hulu + Live TV: Unlimited cloud DVR (9-month storage) included for free with the $69.99 per month base plan. Hulu comes with 85+ live TV channels along with ESPN+ and Disney+. Learn more in our Hulu + Live TV review.
DIRECTV STREAM: Starts at $69.99 per month with unlimited DVR (9-month storage) included as long as you sign-up online, like all other premium plans. Find out more in our DIRECTV STREAM review.
Remember, you get save $10 on Sling TV at any time and see how you like it.
Ditch "Big Cable" Now — 3 Simple Steps to Cutting the Cord
Pick the right streaming service
Get the content you deserve with the best VPN.
Supercharge your internet provider
That's it — you'll save money, gain control, and enjoy TV more!
Latest posts by Frank Moraes
(see all)