The NBA finals are here with the Miami Heat against the Denver Nuggets! Get all the details in our viewer's guide!

And you can watch it all with a 50% discount on Sling TV!
Wish you could see the Milwaukee Bucks play live? Now you have everything you need to watch the Milwaukee Bucks online without cable! There's no longer a need to watch on cable because streaming offers a cheaper method with the same content!
In a hurry? Check out these three streaming services and watch the next Milwaukee Bucks game online, completely cable-free:
Fubo: Get over 130 channels including a great selection of RSNs starting at $85.98/mo. Fubo allows you to try out its service free for 7 days.
DIRECTV STREAM: Sets you up with every regional channel in your area and 100+ others for $99.99/mo. A 5-day free trial is now available for DIRECTV STREAM.
If you can't watch your favorite sports because of your location, get ExpressVPN to access the content you deserve.
Oops! The two streaming services aren't available in . But if you've already paid for the right service, and just can't watch because of your location, there is an easy way to get the content you deserve. You need a VPN, like one of the following.
| | | |
| --- | --- | --- |
| | ExpressVPN: Known as "The VPN that just works," it combines remarkable ease of use with with state-of-the-art power, speed, security, and privacy. Get three extra free months when you sign up for a year. Unleash your streaming with this top-rated VPN. | Sign Up Now |
| | Surfshark: Surfshark: Secure and easy to use with thousands of servers around the world. Of special note is its excellent collection of servers inside the US, which is great for regional sports lie NFL, MLB, and NBA. Get it now with an incredible 82% discount on a 24-month plan. | Sign Up Now |
| | NordVPN: One of the top VPNs with extremely fast servers all over the world. Great for streaming with tested perfomance on the biggest servers and included ad-blocking. Currently offering 70% discount on 2-year plans. | Sign Up Now |
If you're overwhelmed and not sure where to begin, you'll find all the answers in our full VPN guide.
Like every NBA team, you can watch the Milwaukee Bucks games streaming without cable. As long as you know the channels you want, you can watch almost anything cable-free.
This guide covers all the channels airing Milwaukee Bucks games and how to choose a service that will get you the most games without cable. Keep reading to learn more!
Sign Up for a Free 7-Day Fubo Trial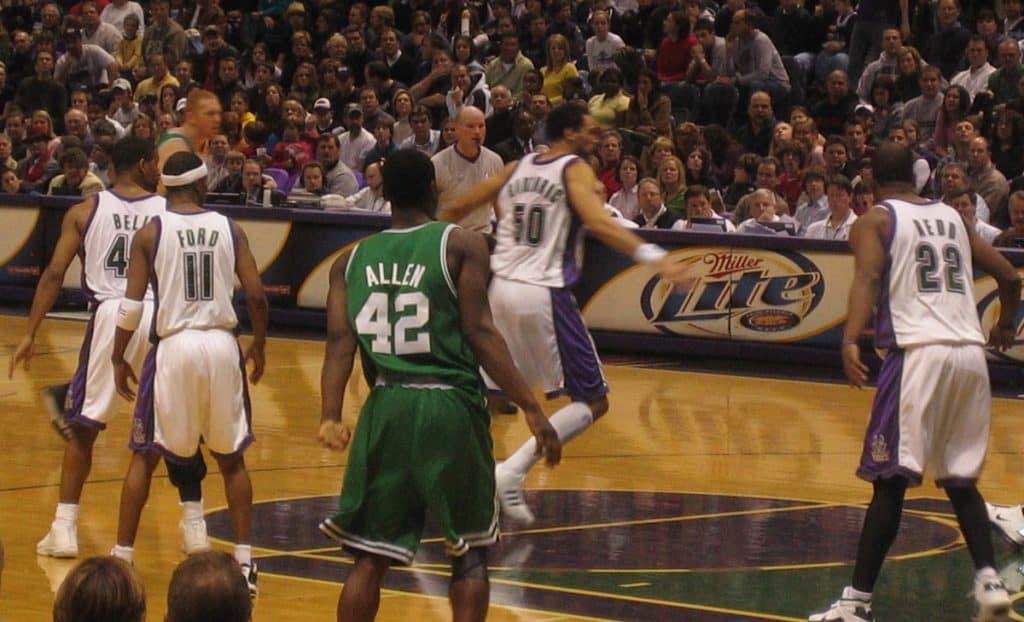 What Channels Offer the Milwaukee Bucks Games Without Cable?
The main channel you're going to want to stream the Milwaukee Bucks is Bally Sports Wisconsin. This is the channel that will provide access to most of the Bucks season. As a regional sports channel, it is only available via DIRECTV STREAM without cable. (Out-of-market fans have other options.)
That said, you will be able to stream NBA games (including some Bucks games) that air on NBA TV, ABC, TNT, and ESPN.
Unblock Your Favorite Events & Teams With a VPN
If you can't watch your favorite events or teams because of your location, a VPN will allow you to get the access you are entitled to, plus extra security and unequalled privacy. Check out our VPN Guide for everything you need to know, including our top pick ExpressVPN.
How to Watch the Milwaukee Bucks Game Online Without Cable
You don't need cable anymore to watch anything. Chances are if there's a cable channel, there's a streaming service that offers another option. This means you can watch sports all year long.
Each channel that offers the Milwaukee Bucks live stream is available without cable. Most of the games will air on Bally Sports Wisconsin, which is a regional sports channel — it's offered by DIRECTV STREAM, but we'll also look at FuboTV and Hulu.
By the end of this guide, you should be able to choose a service that will allow you to watch all kinds of sports and general entertainment. Once you've made your decision and signed up, you'll be ready to stream in no time flat.
All you need at this point would be an internet-connected streaming device. Your options will depend on the service you choose but could include Roku, mobile devices, laptops, smart TVs, Chromecast, Apple TV, and other devices.
Sign Up for a Free 7-Day Fubo Trial
Watch the Milwaukee Bucks Online via FuboTV

FuboTV ($74.99/mo) is often recommended for sports viewing because FuboTV was made to help people stream soccer without cable. They've branched out since then and now offer over 130 channels.
Over 35 of those channels are sports channels. If you want more channels, FuboTV offers a variety of add-on options. Packages start at $74.99/mo.
If you live in the Bucks' broadcast area, you will also get Bally Sports Wisconsin. It is the TV home of the Bucks and broadcasts virtually all of their games.
More FuboTV details:
No contracts are included with FuboTV
1000 hour cloud DVR
110+ channels are included
FuboTV now also includes ESPN
Watch on smart TVs, computers, iOS and Android, Roku, and more
More information can be found in our FuboTV review
FuboTV is a complete streaming package with something for everyone. This is what's considered a no-risk streaming service. If you don't like FuboTV or think you'd like another service better, you can cancel at any time and move on.
Otherwise, FuboTV makes an easy way to watch the Milwaukee Bucks online all season long!
Sign Up for a Free 7-Day Fubo Trial
Stream the Bucks With DIRECTV STREAM

DIRECTV STREAM is a full cable replacement service. Its base (Entertainment) package is $74.99/mo and gives you 75+ channels including all the networks and ESPN, ESPN2, and FS1.
DIRECTV STREAM also provides RSNs wherever you are with its Choice package for $99.99/mo. If you live in the Bucks broadcast area, you will get Bally Sports Wisconsin, which broadcasts almost all the Bucks' games.
You also get unlimited cloud DVR and simultaneous streaming devices.
See our DIRECTV STREAM review for details.
Get DIRECTV STREAM Free for 5 Days
Watch the Bucks With Sling TV

Sling TV is a great low-cost streaming service. Its plans don't include any RSNs but they will allow you to watch most nationalized televised games.
You get Fox and NBC with Sling Blue's 40+ channel lineup. And you get the ESPN channels with Sling Orange' gives you's 30+ channel lineup. Either plan costs $40.00/mo or $55.00/mo for the two together.
These plans come with 50 hours of cloud DVR.
Get more details in our Sling TV review.
Get a Milwaukee Bucks Live Stream on Hulu Live

Hulu with Live TV offers a complete cable replacement option if you've cut the cord. Over 85 channels are included in a package with Hulu on-demand. This gives you access to a near-endless amount of content for just $69.99/mo.
You can make user profiles for the family. Unlimited cloud-DVR with 9 month storage. There are also upgrades available to stream on more devices simultaneously or to add channels to your package.
Hulu Live highlights:
$69.99/mo
85+ channels and Hulu on-demand in one package
Make up to 5 user profiles
The unlimited cloud-DVR offers 9 months of storage space
Hulu Live is a contract-free service
Stream on Amazon Fire TV, Roku, Chromecast, computers, iOS/Android, and more
Our Hulu with Live TV review has full details
The best way to learn more about this service is to try it out for yourself. Try one month for $69.99. It's also a great way to watch a few Milwaukee Bucks games online for free!
More Ways to Watch the Milwaukee Bucks Online Without Cable
The channels you need to stream Bucks games are commonly found in streaming packages. This is great for you, as it means there are more packages to choose from.
This not only allows you to watch the Milwaukee Bucks online, but it gives you a chance to find other channels and shows you want to watch, too. With that in mind, your other options include:
Antenna: You can watch some Bucks games that appear on the networks with a digital antenna.
YouTube TV: – A complete way to stream the Milwaukee Bucks season! Over 85+ channels are included along with an unlimited cloud-DVR for $72.99/mo. Read our YouTube TV review here.
Once you sign up for one of these services, you'll be ready to watch sports online in minutes! If you're not sure how to watch the Milwaukee Bucks games online, you can leave your questions in the comments.
Wrapping Up
Bucks fans have a lot of options for watching games. But fans in its broadcast area should definitely pick one of the services that offer Bally Sports Wisconsin.
FuboTV is our choice for Bucks fans. Fubo allows you to try out its service free for 7 days.
Sign Up for a Free 7-Day Fubo Trial
FAQs
How can I stream Milwaukee Bucks games?
The only streaming services that provide locals with access to Bally Sports Wisconsin are FuboTV ($85.98/mo) and DIRECTV STREAM ($99.99/mo). NBA League Pass offers those same broadcasts to those who are outside of Wisconsin for $28.99/mo. For fans looking to watch the Milwaukee Bucks' nationally televised games, note that DIRECTV STREAM will also provide you with the means to watch all of those.
What channels are Milwaukee Bucks games on?
Bally Sports Wisconsin broadcasts most Milwaukee Bucks games to local viewers while the defending NBA champions will be shown to a national television audience several times as well. Five of their 2021-22 contests will be broadcast on ABC, 10 on ESPN, 10 on TNT, and 11 on NBA TV; some of those will be shown on Bally Sports Wisconsin within its viewing audience and blacked out on the respective national television outlet there.
What radio stations broadcast Milwaukee Bucks games?
Milwaukee's WTMJ Radio is the flagship radio station for the Bucks. Fans situated elsewhere in the state will likely be close to one of its affiliate stations and can listen to the games on there. If you are located elsewhere or are in Wisconsin and would like a different option, consider subscribing to NBA League Pass Audio ($9.99/yr), which provides access to all of these games.
What arenas have the Milwaukee Bucks played in?
The Milwaukee Bucks have played in three arenas in their history, all in Wisconsin's largest city: MECCA Arena (1968-88), Bradley Center (1988-2018), and Fiserv Forum (2018-present). The newest one has a capacity of 17,341 and has also been the home of the Marquette Golden Eagles college basketball team since 2018.
How have the Milwaukee Bucks done in the postseason?
The Milwaukee Bucks have had their most postseason success early in the franchise's history and recently. In just the team's third season, it went 12-2 in the playoffs en route to its first NBA championship. Three years later, the team advanced to the Finals again, this time having a challenge on its hands before falling to the Boston Celtics in seven games. That was its last long postseason run until its historic 2020-21 championship season.
How can I watch Milwaukee Bucks games on my phone?
Both those who subscribe to DIRECTV STREAM and those who subscribe to NBA League Pass can watch Milwaukee Bucks games on their phone, through DIRECTV STREAM's and the NBA's apps. Note that if you simply want to listen to the radio broadcasts of those contests, you can stream those on the NBA's app after purchasing the relevant subscription.
Ditch "Big Cable" Now – 3 Simple Steps to Cut the Cord
Pick the right streaming service
Get the content you deserve with the best VPN.
Supercharge your internet provider
That's it — you'll save money, take back control, and enjoy TV more!
Page Updates
▼
▲
Added links to streaming services.

Added buttons for streaming services. Updated some sub-sections. Updated some section headings. Added a few links.

Mentioned offers. Added some links. Various changes.

Put related links. Formatting changes.

Added buttons for streaming services. Mentioned offers. Added links. Various content updates.

Pricing updates. Image changes. Added links.
Latest posts by Frank Moraes
(see all)