The 2023 NFL football season has begun! Get all the information in our NFL Guide!

And you can follow the whole season with Fubo. Try it free!
Are you ready to witness one of the most intense and thrilling college sports events of the year? Get ready for the NCAA Hockey Tournament, where the best college teams in the nation will compete on the ice for glory and the chance to lift the coveted championship trophy.
In a hurry? The regional matchups are being held March 23-26, with the national semifinals and final (better known as the Frozen Four) on April 6 and 8. All the games are on ESPN2, ESPNU, and ESPNews. The cheapest way to get the ESPN channels is through Sling TV's Orange plan. Save 50% on Sling TV now!
First held in 1948, the NCAA Men's Hockey Tournament is both a showcase of future NHL talent and arguably as exciting as the NHL playoffs and Final. It is also a prestigious competition in its own right. Like most NCAA sports, college hockey teams vary more in skill level, both from year to year and against each other, leading to exciting upsets and surprise victors.
Watching the NCAA tournament isn't hard because the ESPN channels cover the whole thing, and the ESPNs are carried by most major TV providers. The hard part is finding a service that doesn't charge you an arm and a leg. And that's where Sling TV comes in.
Overview of Sling TV
Sling TV is a streaming TV provider that specializes in customizable channel packages.
It has two base plans, Orange and Blue. Either one is $40.00/mo, or you can get Orange + Blue for $55.00/mo. Each base plan has slightly different channel lineups.
Then you can optionally add on Extras, themed bundles of 6-12 channels that cost $6/mo ($11/mo for the Sports Extra). There's a Kids Extra, News Extra, Comedy Extra, and so forth.
Finally, you can put the cherry on top by signing up for a la carte premium services such as Showtime, AMC+, Hallmark Movies Now, and many more. Sling TV offers around 40 premium add-ons, by far the most of any streaming service. Most cost around $5/mo.
For more information on Sling TV and how it works, see our full review of Sling TV.
Overview of NCAA Division I Men's Hockey Tournament
The NCAA Men's Tournament consists of 16 teams, which qualify either by winning a postseason conference tournament or being one of the top ten rated teams in the NCAA's rankings.
The conference winners this year are:
Atlantic Hockey Association – Canisius (vs Holy Cross 3-0)
Big Ten Conference – Michigan (vs Minnesota 4-3)
CCHA – Minnesota State (vs Northern Michigan 3-2)
ECAC Hockey – Colgate (vs Harvard 3-2)
Hockey East Association – Boston University (vs Merrimack 3-2)
NCHC – St. Cloud State (vs Colorado College 3-0)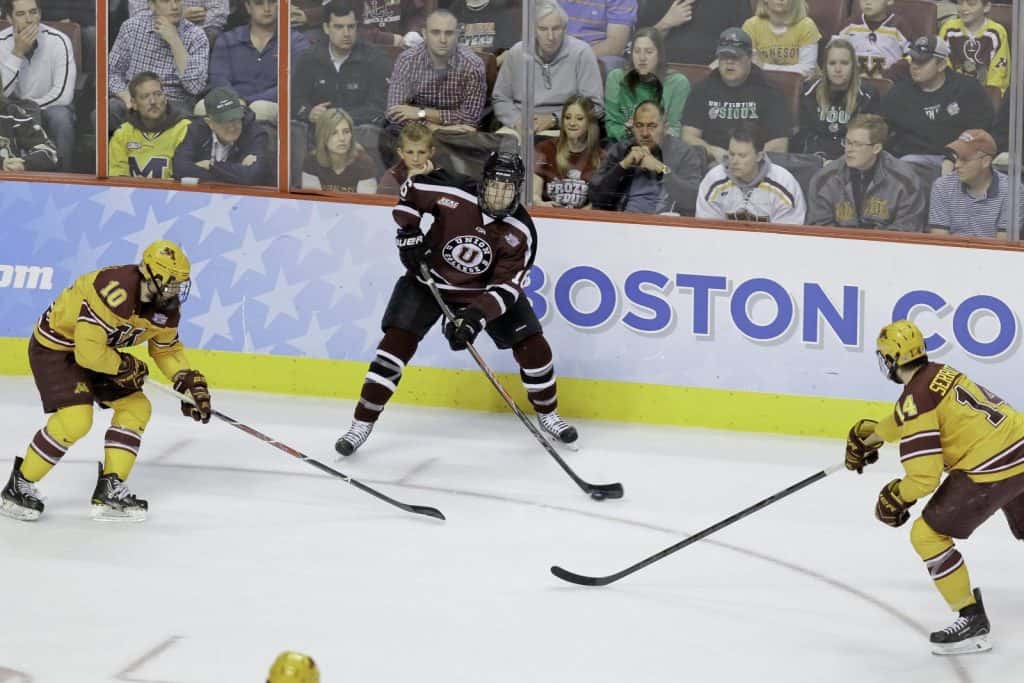 The NCAA Hockey 2023 Regions
The teams are then seeded into brackets, and each bracket assigned a regional site. The four regional tournaments this year are as follows:
Manchester Regional

Boston University
Western Michigan
Cornell
#4 Denver

Fargo Regional

St. Cloud State
Minnesota State
#1 Minnesota
Canisius

Bridgeport Regional

Harvard
Ohio State
#2 Quinnipiac
Merrimack

Allentown Regional

Penn State
Michigan Tech
#3 Michigan
Colgate
The format is single-elimination, meaning if the team loses, they're out of the tournament. The Manchester and Fargo Regionals have already had their first rounds, with the winners in bold advancing to face off in the quarterfinals.
The four winners of each region are the Men's Frozen Four, who will then compete for the National Championship game in Tampa. The Manchester and Fargo winners will battle each other, and the Bridgeport winner will take on Allentown.
How to Watch the Hockey Tournament on Sling TV
If you're down for NCAA sports in general, the ESPN family of channels are what you need, and Orange is the Sling package you need to get them. It's also the cheapest way to get the ESPN channels. Any service cheaper than Sling won't have live sports in its lineup.
Sling Orange is just $40.00/mo and it includes ESPN, ESPN2, and ESPN3 (the last one simulcasts all sports aired on ABC). If you only want to watch the Frozen Four, which is the final three games on April 6 and 8, including the big matchup for the national title, you're good to go– all three of them are on ESPN2.
Pro-tip: If you already have Sling Orange, you'll be almost all set for the Stanley Cup Playoffs starting later on in April! Sling Orange gives you all but one game on the schedule in the First Round.
If you're interested in taking in any of the regional finals, though, half of them are on ESPN2 and half are on ESPNU. And the first round of regionals is scattered across ESPN2, ESPNU, and ESPNews.
To get ESPNU and ESPNews, you'll need the Orange Sports Extra, which is $11/mo additional. You'll also get the ESPN NCAA conference channels SEC Network and ACC Network, plus Pac-12 Network and about ten more sports channels.
NCAA Hockey Tournament Schedule
The full schedule for the men's ice hockey championship is below.
Manchester Regional (March 23-25) at SNHU Arena, Manchester, New Hampshire
Thu Mar 23: Boston University Terriers (5) vs Western Michigan Broncos (1)
Thu Mar 23: Cornell Big Red (2) vs Denver Pioneers (0)
Sat Mar 25 : Boston U (2) vs Cornell (1) (ESPNU)
Fargo Regional (March 23-25) at Scheels Arena, Fargo, North Dakota
Thu Mar 23: St Cloud State Huskies (4) vs Minnesota State Mavericks(0)
Thu Mar 23: Minnesota Golden Gophers (9) vs Canisius Griffins (2)
Sat Mar 25 : Minnesota (4) vs St Cloud State (1) (ESPNU)
Bridgeport Regional (March 24-26) at Total Mortgage Arena, Bridgeport, Connecticut
Fri Mar 24 : Harvard Crimson (1) vs Ohio State Buckeyes (8) (ESPNU)
Fri Mar 24 : Quinnipiac Bobcats (5) vs Merrimack Warriors (0) (ESPNews)
Sun Mar 26 : Ohio State (1) vs Quinnipiac (4) (ESPN2)
Allentown Regional (March 24-26) at PPL Center, Allentown, Pennsylvania
Fri Mar 24 : Penn State Nittany Lions (8) vs Michigan Tech Huskies (0) (ESPNU)
Fri Mar 24 : Michigan Wolverines (11) vs Colgate Raiders (1)(ESP2)
Sun Mar 26 : Penn State (1) vs Michigan (1) (ESPN2)
Men's Frozen Four (April 6-8) at Amalie Arena, Tampa, FL
Thu Apr 6 : Minnesota vs Boston U (ESPN2)
Thu Apr 6 : Michigan vs Quinnipiac (ESPN2)
Sat Apr 8 : National Championship – TBD vs TBD (ESPN2)
Wrapping Up
With Sling TV, you won't miss a minute of this must-watch for any sports fan. So, grab your favorite team's jersey, stock up on snacks, and settle in for some heart-pumping, edge-of-your-seat ice hockey. The NCAA Men's Hockey Tournament has begun!
Page Updates
▼
▲
Added links. Misc changes to content.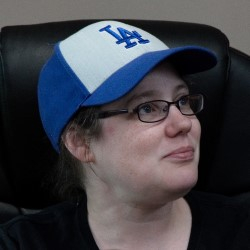 Latest posts by Alanna Baker
(see all)