Disclosure:
Your support helps keep our site running! We earn referral fees for some of the products & services we recommend.
Learn more
Softball is a popular sport — even supporting professional leagues in the US and around the world. It's also a popular sport at the Olympics and in the NCAA. Below we show you how to watch all that softball has to offer — without a cable contract!
In a hurry? Softball fans in the US can watch softball through NBCUniversal (Olympics), ESPN (NCAA), as well as Fox and CBS sports channels (Athletes Unlimited). These are our top picks for watching softball:
Hulu + Live TV: Get most of the ESPN channels, NBC, USA, FS1, FS2, and CBSSN as well as ESPN+.
FuboTV: A great sports-oriented service with all the Pac-12 Network stations available. FuboTV allows you to try out its service free for 7 days.
Sling TV: A low-cost streaming service that lets you put together exactly the channels you want. Save 50% on your first month of Sling TV.
True softball fanatic? Sign up for FloSoftball that features great coverage including prestigious tournaments.
Softball is one of the most popular sports for girls and women within the US. And it also enjoys popularity in a number of other countries, including Canada, Australia, New Zealand, Japan, China, and some European countries, such as Italy and the Netherlands.
In the US, the college version enjoys the most interest and attention while professional players participate in Women Professional Fastpitch and Athletes Unlimited Softball. Top international events include the Olympics and the Women's Softball World Cup.
Boys and men play softball as well but in much smaller numbers. And fan interest in this side of the sport is minimal, particularly within the US.
About Softball
Softball is quite similar to baseball but with some significant differences. Here are a few of the most notable ones:
Use of a larger ball (6.5 oz vs 5.0 oz)
Pitchers throwing underhanded
Bases are 60 feet apart (90 feet in baseball)
Home plate is 35-43 feet from the pitcher's rubber (60.5 feet in baseball)
Fences are 200-220 feet from home plate (300-420 in baseball).
The NCAA has sponsored softball since 1982. The first Women's College World Series was held that year and in the five years that followed in Omaha, NE. After that, it was moved to Sunnyvale, CA, for a pair of events, and then settled in Oklahoma City, where it has been ever since. There was one exception: the 1996 WCWS was played in Columbus, GA, two months before the Olympic competition was held there.
Those were the first Games with a softball competition. Further events followed in 2000, 2004, 2008, and 2020 (actually played in 2021 due to COVID-19). After the US claimed the first three gold medals, Japan won the most recent two. However, the sport will not be a part of the 2024 Games in Paris although there is genuine hope that it will return to the itinerary for the Games in LA in 2028.
The top professional league in the US had been National Pro Fastpitch, but its 2020 and 2021 seasons were not contested as a result of difficulties associated with the COVID-19 pandemic, and it appears that that stoppage will be permanent.
However, Women's Professional Fastpitch is set to have its first season in 2022. Teams are spread across the country. But the league's headquarters are in Oklahoma City, which is where the National Softball Hall of Fame & Museum is located.
Another professional competition in the US is Athletes Unlimited Softball, which started in 2020 and is focused more on players than on teams as they generally change squads every week.
2022 Softball Schedule
Like baseball, softball is generally a Spring and Summer sport. But not always.
NCAA Softball
Regular season: Web Feb 9 – Sat May 14
Playoffs: Thu Jun 2 – Fri Jun 10
Women's Professional Fastpitch
Athletes Unlimited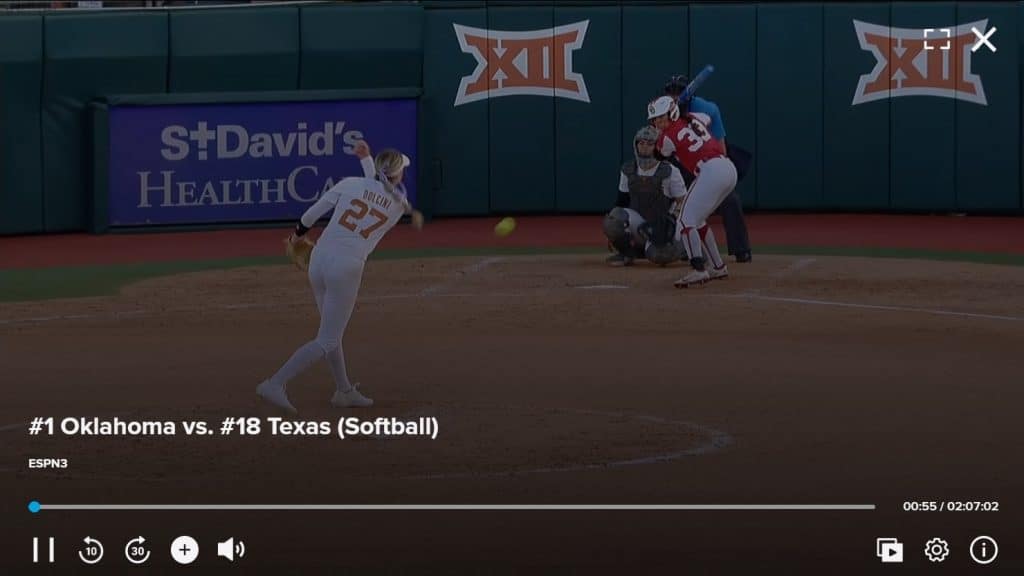 Softball on TV
Television's focus on softball in the US is mostly centered on Olympic and college games. But other events are televised as well, such as professional matchups and youth competitions such as the Little League Softball World Series, which is held in August just before the Little League World Series.
Live TV Channels
NBCUniversal owns rights to all Olympic softball games. During the 2020 Olympics, the US played four times on the now-defunct NBC Sports Network, twice on CNBC, and once on USA. The US-Japan showdown for the gold medal was shown on NBCSN.
ESPN and its family of networks are must-have channels for watching college softball. For example, at the 2021 WCWS, 14 games were shown on ESPN while five were broadcast by ESPN2.
Numerous matchups earlier in the NCAA Softball Tournament as well as throughout the regular season are shown on channels such as ESPN, ESPN2, ESPNU, SEC Network, ACC Network, and Longhorn Network. The ESPN family of networks also broadcasts Little League Softball World Series games.
A huge amount of college sports (including softball games) also air on ESPN+.
Other conference-focused channels such as the Big Ten Network and Pac-12 Network provide live access to numerous high-quality games being played throughout the season as well. BYU TV also broadcasts some softball games played by that school.
Bally Sports regional sports networks (RSNs) showcase a number of softball contests as well. Most notably, this includes some of the games played by the 2021 NCAA champions Oklahoma Sooners, which are featured on Bally Sports Oklahoma.
Other RSNs also show college softball games. These include various AT&T SportsNet RSNs (Pittsburgh, Rocky Mountains, Southwest), NBC Sports RSNs, Marquee Sports Network, NESN, and YES Network.
Fox Sports 1 (FS1), Fox Sports 2 (FS2), and CBS Sports Network (CBSSN) are other destinations for softball coverage. They broadcast college games, such as Big Ten and Big East contests, in addition to Athletes Unlimited Softball matchups.
Live TV Streaming Services
There is no way to get channels like ESPN and FS1 direction. You need to get them through a live TV streaming service. Luckily, there are many good options.
Hulu + Live TV

For $69.99/mo, Hulu + Live TV provides access to CNBC, USA, ESPN, ESPN2, ESPNU, SEC Network, ACC Network, Big Ten Network, FS1, FS2, and CBS Sports Network. It also includes ESPN+, which airs a fair amount of softball. However, it does not feature the Pac-12 Networks, and the availability of regional sports networks through it is limited to those offered by NBC Sports.
Its plan includes unlimited cloud DVR (9 month storage) and steaming on up to two devices at once. See our Hulu + Live TV review for more information.
DIRECTV STREAM

DIRECTV STREAM (formerly AT&T TV) offers CNBC, USA, ESPN, ESPN2, FS1 to its Entertainment plan ($69.99/mo) subscribers. This comes with streaming on up to 20 devices and an unlimited cloud DVR (online subscriptions).
Softball fans will most likely want to get at least its Choice plan ($89.99/mo) as that also includes ESPNU, ACC Network, Big Ten Network, SEC Network, and the regional sports networks pretty much everywhere throughout the US. Meanwhile, a bump up to its Ultimate plan ($104.99/mo) will get you FS2 and CBSSN as well. With all of that said, Pac-12 softball fans should note that it does not offer the Pac-12 Networks.
For details, see our DIRECTV STREAM review.
FuboTV

FuboTV ($69.99/mo) features CNBC, USA, ESPN, ESPN2, Big Ten Network, FS1, FS2, CBSSN, and a number of RSNs in its base plan. Note that it also offers channels such as the ACC Network and SEC Network in its base plan to those located near schools in those conferences. However, you do need to get an add-on for access to ESPNU and the Pac-12 Networks.
All plans come with 1,000 hours of cloud DVR storage and simultaneous streaming on up to 10 devices at home and 2 away. Check out our FuboTV review for complete information.
Sling TV

The Sling Orange plan ($35/mo) includes ESPN and ESPN2 while the Sports Extra add-on associated with it ($11/mo) features ESPNU, SEC Network, ACC Network, and Longhorn Network. Meanwhile, Sling Blue ($35/mo) offers FS1 and USA while that Sports Extra add-on ($11/mo) provides access to the Big Ten Network, Pac-12 Networks, and FS2.
You can also combine the two main plans ($50/mo) and get a combined Sports Extras add-on ($15/mo). Note that Sling TV does not offer CBSSN while you would need to get its News Extras add-on ($6/mo) with its Blue or Orange & Blue plan to get CNBC.
Get full details in our Sling TV review.
Vidgo
Vidgo ($59.95/mo) provides subscribers with live streams to ESPN, ESPN2, ESPNU, SEC Network, ACC Network, Longhorn Network, Big Ten Network, Pac-12 Networks, FS1, and FS2. The main softball-related channels that it does not offer include CBSSN, USA, CNBC, or regional sports networks. It has 100+ channels.
It does not currently provide a cloud DVR. You can, however, stream on up to 3 devices at ones. See our Vidgo review for more.
YouTube TV
YouTube TV ($64.99/mo) is a solid source for softball fans as they can utilize this streaming service to watch CNBC, USA, ESPN, ESPN2, ESPNU, ACC Network, SEC Network, Big Ten Network, FS1, FS2, CBSSN, and some regional sports networks. However, it does not offer the Pac-12 Network channels.
Specialty Streaming Services
The following streaming services do not provide live TV channels but they do offer live sports:
FloSoftball: This FloSports channel is a spectacular source for many of the prestigious early-season tournaments that regularly feature top-10 teams. It also offers access to numerous games during the conference season, including several matchups played by James Madison, a 2021 Women's College World Series participant. It costs $29.99/mo. (FloSports review)
ESPN+: A great resource for enjoying college softball action throughout the season. Some conferences that it covers include the Big 12, Big West, and Sun Belt. It costs $6.99/mo but you can also get it with the Hulu Bundle. And it comes with Hulu + Live TV. (ESPN+ review)
Conference/School Streams: Several conferences and schools also provide free streams of college softball games. Those links are generally posted on the schools' and conferences' schedule pages.
Peacock Premium: Provides access to numerous Olympic softball games. It costs $4.99/mo. (Peacock review)
Watch Softball With FloSoftball
Devices to Live Stream Softball
All the major streaming services support the most popular streaming devices. Hulu + Live TV, for example, supports the following devices:
Amazon Fire TV
Android mobile
Android TV
Apple TV
Chromecast
iOS (iPhone, iPad)
Oculus

PlayStation 4

Roku
Samsung smart TVs
Xbox One
Web browsers.
FloSports supports all of those except for the gaming systems. The same is true of FuboTV, although it also supports the Xbox. For complete details, see the streaming reviews we linked to above.
Wrapping Up
Softball is a sport that is widely televised in the US, particularly the college version. Most of that action is focused on the ESPN family of networks, and all NCAA Tournament games are on its channels or online through ESPN3.
With that said, college and other softball games can be found on numerous other networks as well, and several streaming services provide access to those channels.
Which streaming service you should get depends on who your favorite team is and other factors that are important to you. Our top choices are Hulu + Live TV and FloSoftball.
FAQs
What happened to NPF?
National Pro Fastpitch had been the primary destination for softball players looking to play at the professional level in the US. It had operated since 2004, but the COVID-19 pandemic caused its 2020 and 2021 seasons to be canceled, and it appears that it will not return. However, Women's Professional Fastpitch (WPF) will serve as its de facto replacement, starting with its inaugural 2022 season.
Will there be softball at the 2024 Olympics?
Softball had been played at every Olympics from 1996-2008 before being removed from the itinerary. With baseball and softball both wildly popular in Japan, the host of the 2020 Games, those sports were returned for that edition. However, neither will be part of the 2024 Games in Paris, but softball fans hope for another return in 2028 in LA given the popularity of softball and baseball in the US.
Which is the best NCAA softball team?
Without question, the best NCAA softball team as of April 2022 is Oklahoma. The Sooners powered through a 56-4 campaign in 2021, claiming their fifth national championship. In doing so, the team hit at a .405 clip and smashed 161 home runs, both marks the best in NCAA Division I history. OU then started its 2022 campaign with dozens of consecutive wins.
Featured image: Callie Grant UCSD Tritons Softball 02-02-13 by Dirk DBQ under CC BY 2.0.
Latest posts by Frank Moraes
(see all)