When it comes to watching live TV, there are two perennial strong draws: news and sports. And one of the most current, relevant sources of both of them is your friendly neighborhood affiliate station. Not only do these stations report the news for your city, region, and state, they also carry home sports match-ups for the NFL and other leagues.
Try one month for $20.
Vidgo has a solid national sports channel lineup (both pro and college), and at least a half-dozen 24-hour news networks — but can it deliver the local goods? Let's find out.
Network Affiliates
First off, Vidgo only offers ABC and Fox, plus Spanish-language networks owned by TelevisaUnivision. It also has Fox's rerun repository myNetworkTV, a minor network/programming service found in many media markets. You can't watch NBC or CBS with Vidgo, but there are ways around this, which we'll get into further down.
The thing about networks is that they are made up of individual stations that are locally operated. That's what makes them appealing to folks interested in what's happening in their communities.
But it also means that establishing an agreement with any particular network affiliate station means an agreement with any other affiliate station of that network. In other words, if Vidgo makes an agreement to carry KXVA, a Fox affiliate in Abilene, Texas, does not mean it will necessarily also carry Fox KECY in El Centro, California.
Vidgo's current coverage is fair. We estimate it covers about half the country. As of last year (the most recent data we could locate), it has agreements in 77 cities for ABC, 74 for Fox, and 10 for myNetworkTV. Here's a breakdown for the top ten media markets across the US:
| | | | |
| --- | --- | --- | --- |
| | ABC | Fox | myNetworkTV |
| New York | ✅ | ✅ | ❌ |
| Los Angeles | ✅ | ✅ | ✅ |
| Chicago | ✅ | ✅ | ✅ |
| Philadelphia | ✅ | ✅ | ❌ |
| Dallas | ❌ | ✅ | ✅ |
| San Francisco | ✅ | ✅ | ✅ |
| Atlanta | ✅ | ✅ | ❌ |
| Houston | ✅ | ✅ | ✅ |
| Washington | ❌ | ✅ | ✅ |
| Boston | ✅ | ✅ | ❌ |
Vidgo recently started offering TelevisaUnivision channels, as well, which include the Spanish-language networks Univision and UniMás. But it's unclear in which locations these networks are available.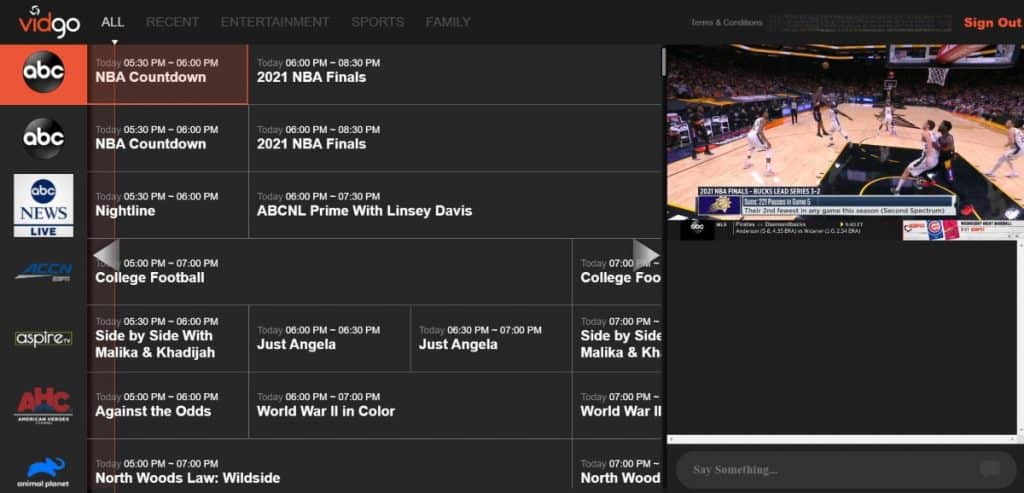 Workarounds for Vidgo's Local Channel Holes
So what about NBC and CBS? Does this mean you'll just have to miss the new season of Survivor or the revival of Quantum Leap? And what if Vidgo doesn't carry your local Fox or ABC station? Don't worry — you have options!
Network-Based Streaming Services
One option is to layer on some more subscriptions. Just about every network is popping out a streaming service, and NBC and CBS are no exception:
Paramount+: Formerly known as "CBS All-Access," Paramount+ starts at just $4.99/mo for on-demand content from the entire Paramount Global universe, from CBS to Nick, MTV to Star Trek, Comedy Central to BET. You also get a huge collection of live sports. But the best part is that if you upgrade to their Premium service at $9.99/mo, you not only remove ads from on-demand programs but you get a live stream of your local CBS affiliate. (Paramount+ review)
Peacock: NBC does not offer the same live channel access as CBS, but it does have the next best thing: same or next-day availability of new episodes. So you can watch them right after they air. Peacock is free if you just want to watch older stuff. But if you want the brand new, hot off the air content, you'll need to fork over $4.99/mo, and if you want to watch it without ads, $9.99/mo. (Peacock review)
Antenna
What's that? You don't want to pay $20/mo extra on top of $60/mo for Vidgo, because if you're going to shell out that much you may as well just subscribe to a full cable-replacement service like FuboTV or DIRECTV STREAM? Understandable. But before you do, consider the tried-and-true antenna.
Yeah, I know, they're a little last-quarter-of-the-twentieth-century, but you can't argue with low-priced efficacy. And actually, they are not 20th century at all. OTA TV only went digital in 2009. And it is not your father's broadcast TV! It's high-definition with no static at all.
It's not like you have to wrestle a giant piece of wire onto your rooftop anymore, either. Most modern antennas are flat, flexible plastic squares about a foot square that you tack to your wall and plug into your TV. Boom, you've got every local channel within 50 miles (or more on a clear day), for less than $50 total.
An antenna is a great way to put the "free" back in "free-to-air" broadcast channels. Taking the local networks out of the equation adds a lot more value to the lower-priced services like Vidgo that have iffy network coverage.
For more information, see our complete antenna guide.
TV Everywhere
Vidgo pitches TV Everywhere on their site as "a free added service for Vidgo subscribers" — like they invented it or it's a Vidgo exclusive or something. TV Everywhere is available to almost everyone who has an active account with a live multi-channel TV provider. In other words, a cable, satellite, or live streaming service.
TVE allows you to log in to a site or app with your TV provider username and password to watch content you're already paying for. Some providers are better supported than others.
Vidgo's selection is solid — better than Sling TV but worse than FuboTV. It offers over thirty channel providers. Networks included are ABC, Discovery, Disney, ESPN, NFL Network, TLC, and VH1.
Alternatives
Wrapping Up
What it comes down to is, how much are you willing to pay for local stations that are nominally free? One of the ways lower-priced services like Vidgo (and Sling and Philo) keep their prices down is by not trying to be everything to everyone all of the time.
There will always be trade-offs — but trading off local channels you can get with an antenna doesn't seem like a great deal. Ultimately, it's up to you, and depends on your budget and ideal channel line-up.
Try one month for $20.
FAQs
Does Vidgo have regional sports networks?
One thing not touched on above is Regional Sports Networks (RSNs), and that's because Vidgo doesn't carry any. If you want RSNs, Hulu + Live TV and YouTube TV have some, FuboTV has a few more, and DIRECTV STREAM has almost all, including the Bally sports networks, which are the only way in many parts of the country to watch home baseball or basketball games.
Does FuboTV have better local coverage than Vidgo?
FuboTV has far better coverage of local channels than Vidgo. And that includes the two network affiliates Vidgo offers as well: ABC and Fox. The same can be said for DIRECTV STREAM, Hulu + Live TV, and YouTube TV. Of course, Vidgo doesn't intend to be a full cable replacement service and its coverage is good enough for many.
Does Sling TV have better local coverage than Vidgo?
Vidgo provides broader coverage of the networks it offers (ABC and Fox) than Sling TV does (NBC and Fox). But Sling TV has the advantage of offering ESPN3, which simulcasts all the sports that air on ABC. And Sling TV offers a better interface for integrating an antenna.
Ditch "Big Cable" Now – 3 Simple Steps to Cut the Cord
Pick the right streaming service
Get the content you deserve with the best VPN.
Supercharge your internet provider
That's it — you'll save money, take back control, and enjoy TV more!
Page Updates
▼
▲
Added useful links. Pricing updates. Mentioned offers.

Added new section. Added sub-section. Mentioned channel info. Updates to a section. Updated some sub-sections. Added links. Removed section. Deleted unneeded sub-section.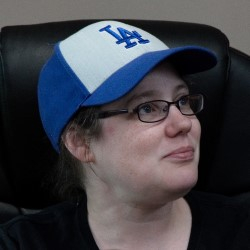 Latest posts by Alanna Baker
(see all)