Hopes of a 2023 Triple Crown winner were dashed when National Treasure and Blazing Sevens left Kentucky Derby-winner Mage third place at the Preakness Stakes. But that's just increased the speculation and debate around who will wear the carnations at the Belmont Stakes on Saturday, June 10, 2023. You can watch live and see for yourself with Sling TV.
In a hurry? The 155th running of the Belmont Stakes (presented by NYRA Bets) will be Saturday, June 10 with a post time of (according to the race card). The race itself will be on Fox, which is included with Sling Blue in many media markets.
The oldest of the three Triple Crown races, the Belmont Stakes has been run for over a century and a half. For 112 of those years, it's been held at Belmont Park in Elmont, New York. The racecourse and the Stakes are named for August Belmont, a noted New York financier and equestrian.
The race, like the Kentucky Derby at Churchill Downs, is for three-year-old thoroughbreds. It's also known as "The Test of the Champion" or "The Test of Champions" due to its grueling 1 1/2 mile length, by far the longest of the Triple Crown courses. By comparison, the Derby is only 1 1/4 miles long and the Preakness Stakes at Pimlico is a scant 1 3/16 miles.
Last year, Mo Donegal, trained by Todd Pletcher and ridden by jockey Irad Ortiz, was the first to cross the finish line. Nest (a filly also trained by Pletcher) placed second and Skippylongstocking came in third.
This year is the 50th anniversary of horse racing legend Secretariat's record-breaking Belmont Stakes 1973 victory, which also won him the Triple Crown.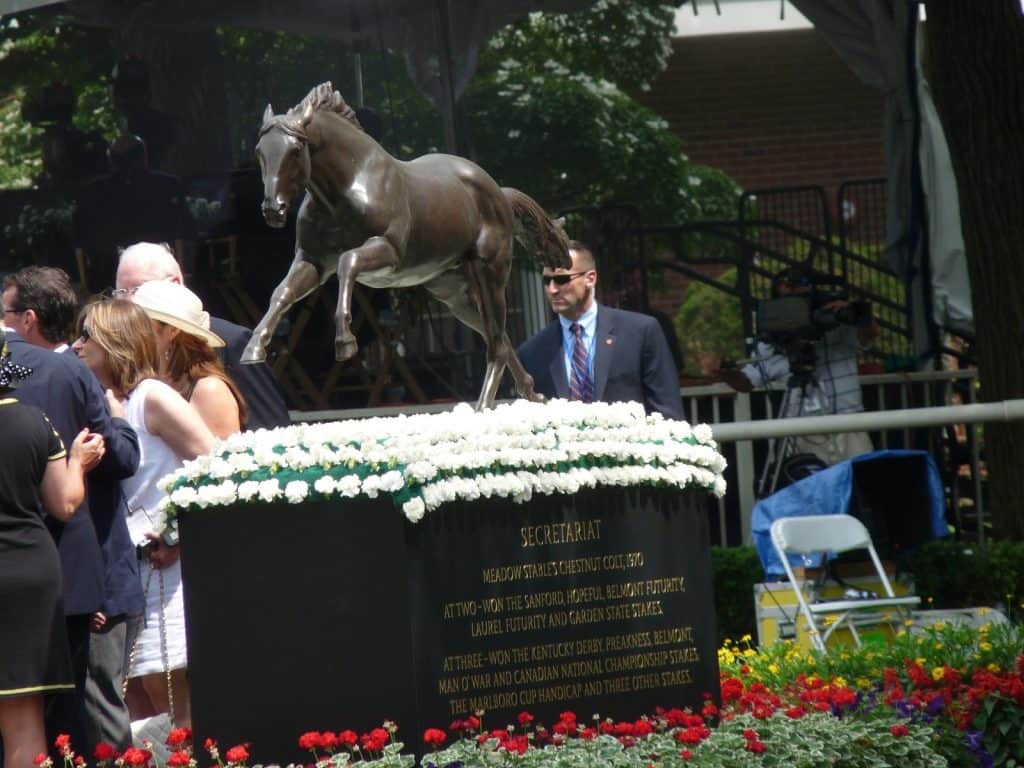 The first Triple Crown winner was Sir Barton in 1919, before the Triple Crown was even a thing. James McLaughlin and Eddie Arcaro are tied for winningest jockey, with six Belmont victories each.
Watch the Belmont Stakes with Sling TV
Pre- and post-race coverage will be on FS1 and FS2, while the race itself, with a post-time of , will be on Fox. Sling TV carries all three of these, for most people.
Watching the Belmont Stakes with Sling TV is simple if you happen to live in one of the many areas where Fox is included with Sling Blue. These are:
Atlanta (WAGA)
Austin (KTBC)
Chicago (WFLD)
Dallas (KDFW)
Detroit (WJBK)
Gainesville (WOGX)
Houston (KRIV)
Los Angeles (KTTV)
Milwaukee (WITI)
Minneapolis (KMSP)
New York (WNYW)
Orlando (WOFL)
Philadelphia (WTXF)
Phoenix (KSAZ)
San Francisco (KTVU)
Seattle (KCPQ)
Tampa (WTVT)
Washington (WTTG)
If that's you, then you're all set for the race for just $40.00/mo. FS1 is also included in the Sling Blue base plan. If you want post-race analysis, you'll need the Sports Extra add-on, which has FS2 plus about 13 other sports networks, including NFL RedZone and more, for $11/mo.
Here's the coverage breakdown for June 10:
– : FS1
– (including the running of the 155th Belmont Stakes): Fox
– : FS2
Remember, you can always cancel or change your plan — you're never committed for more than a month.
If your city isn't in the above list, you can still take advantage of Sling TV's free antenna deal to get all your local stations, including Fox, totally free. Sling also has deals on devices that can integrate your antenna channels into your Sling interface, and even DVR off of the local networks.
2023 Belmont Stakes Field of Contenders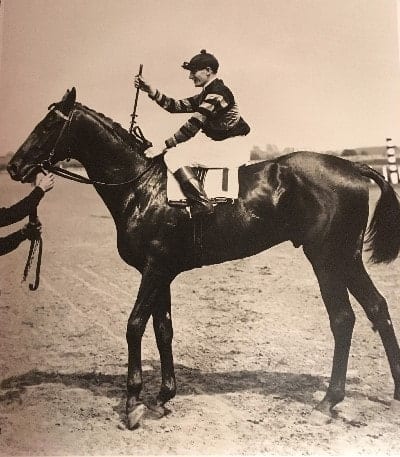 The final post-position draw won't be until the Wednesday before the race (June 7), but the New York Racing Association (NYRA), who runs the race, has released a list of 10 "possible starters" on May 21.
Betting favorite Forte missed out on the Derby and the Preakness due to an injury, but he's tentatively good to go for the Belmont, pending the all clear from a vet. With the Triple Crown out of play, Derby winner Mage is taking some time off after having his thunder stolen by National Treasure at the Preakness.
Here's the list as released by NYRA, with trainer in parentheses.
Forte (Todd Pletcher)
Tapit Trice (Todd Pletcher)
Angel of Empire (Brad Cox)
National Treasure (Bob Baffert)
Arabian Lion (Bob Baffert)
Arcangelo (Jena Antonucci)
Hit Show (Brad Cox)
Red Route One (Steven Asmussen)
Kingsbarns (Todd Pletcher) (Scratched)
Reincarnate (Bob Baffert)
Raise Cain (Ben Colebrook)
Sun Thunder (Kenneth McPeek)
Prove Worthy (Todd Pletcher)
Wrapping Up
Don't miss the 2023 Belmont Stakes — sign up for Sling TV to watch on the cheap! Save 50% on your first month of Sling TV.
FAQ
Have fillies (female horses) ever won the Belmont Stakes?
Yes! 24 fillies have participated in the Belmont over the years, and three of them have won, including the very first Belmont Stakes race in 1867:
Ruthless (1867)
Tanya (1907)
Rags to Riches (2007)
Fillies win at a similar rate to geldings (castrated male horses), and 95% of the Triple Crown races have been won by colts.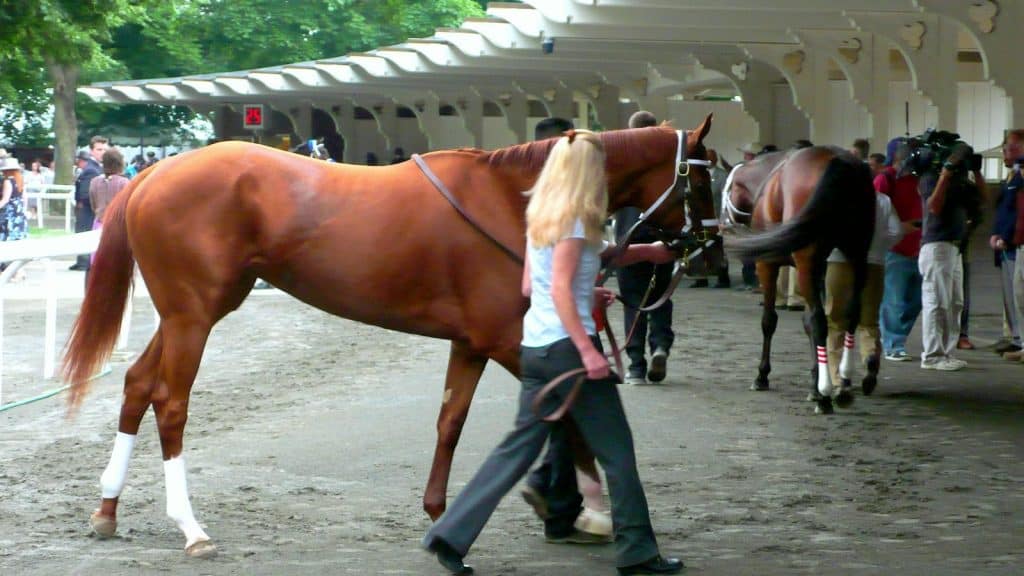 Featured photo: American Pharoah wins the 147th Belmont Stakes to become the first Triple Crown winner since Affirmed in 1978 (June 6, 2015) / photo by Mike Lizzi under CC BY-SA 2.0 via Wikimedia Commons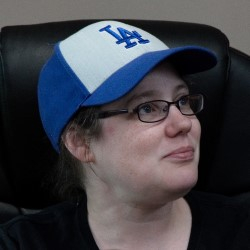 Latest posts by Alanna Baker
(see all)