Sling TV allows you to watch NASCAR without cable — pretty much the whole 2023 season.
In a hurry? Watch the 2023 NASCAR racing season for just $40.00/mo with Sling Blue. Save 50% on Sling TV now!
Forget the Busch Light Clash at the Los Angeles Memorial Coliseum. That's a preseason event. The NASCAR season actually starts with a Whelen Modified Tour race on Saturday, February 11th. But for most fans, the real start is with the two Bluegreen Vacations Duels.
NASCAR Series on Sling TV
There are 18 NASCAR races in the first two months and Sling TV allows you to watch 14 of them. What NASCAR Series does Sling TV support?
Xfinity Series
Truck Series
ARCA Menards (many races).
It doesn't allow you to watch Whelen Modified Tour and Pinty's Series races. These are not available from any live TV streaming service. They are only available through the specialty service FloRacing.
Most Mexico Series races are simply not broadcast in the United States. In the past, some races have appeared on NBC Universo. And it is available from Sling TV. But at this time, there are no scheduled races on any USA-based TV stations.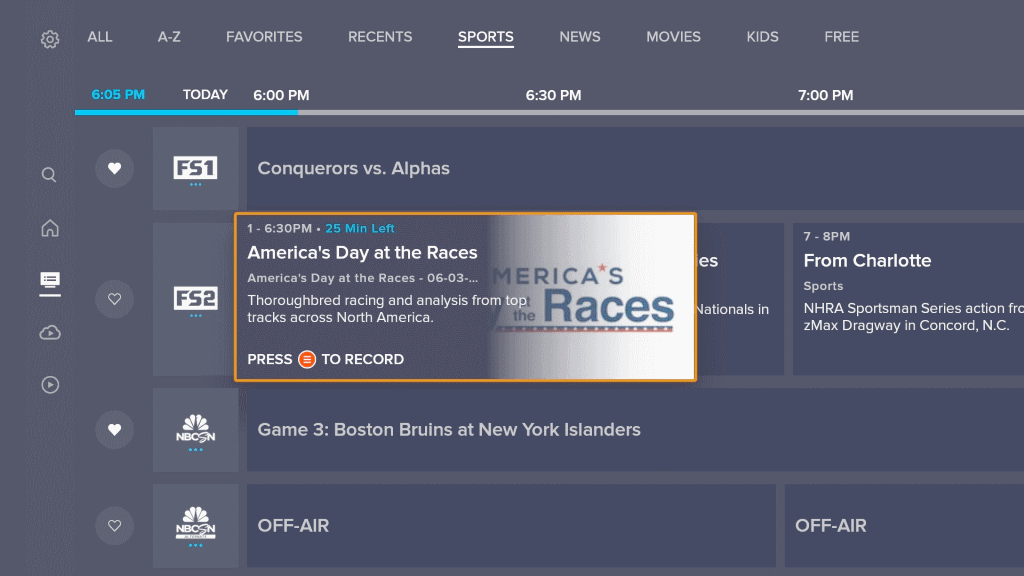 Necessary TV Channels for NASCAR
The TV channels and providers airing NASCAR races from February through March are as follows:
FloRacing (3 races)
Fox (6 races)
FS1 (7 races)
FS2 (1 race)
NA (1 race)
NBC and USA both allow you to watch NASCAR Cup Series races and qualifying events during the second half of the season.
Sling TV for NASCAR
The Sling Blue plan includes FS1 (Fox Sports 1) for all subscribers for $40.00/mo. Fox is a local channel. It is included in the Blue plan, but only in select areas (see below). It also features NBC (select areas) and USA Network.
FS2 comes with the Sports Extra add-on for $11/mo. That's a lot to pay for this one channel, but you also get a bunch of others that are well worth the price: MLB Network, NFL RedZone, Big Ten Network, NBA TV, MLB Strike Zone, beIN Sports, Golf Channel, NHL Network, Tennis Channel, and Pac 12 Network.
To get NBC Universo, you will need to add the Latino Extra for $5/mo. It includes a total of 19 channels.
Other Sports on Sling TV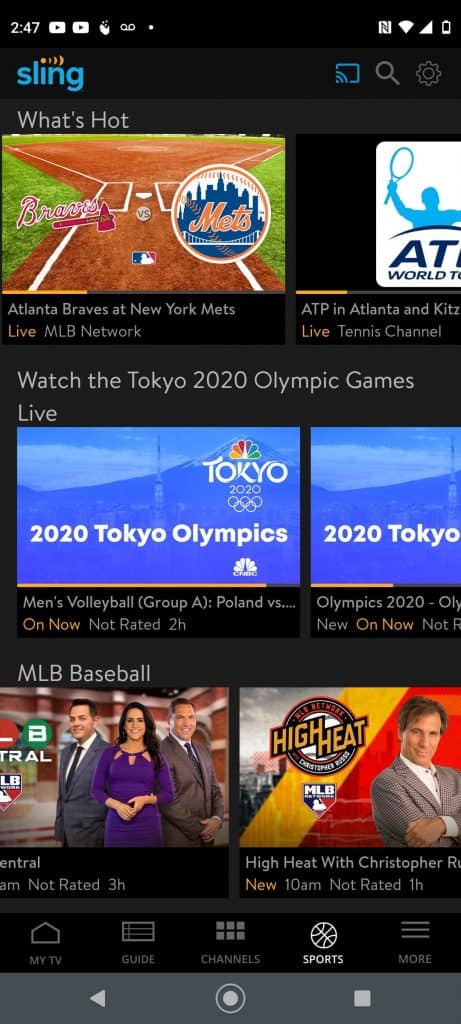 Obviously, the Sports Extra add-on provides a lot of sports beyond NASCAR. But that's also true of the base Sling Blue plan. It includes TBS, TNT, and truTV — all big, especially for the upcoming March Madness. And it includes NFL Network.
But if you want even more sports, you can get the Sling Orange & Blue plan for $55.00/mo. This adds MotortTrend, which offers a lot of content that racing fans will like. But most important, it includes ESPN, ESPN2, and ESPN3.
Sling TV Features
Sling Blue comes with 50 hours of cloud DVR storage so you can record any races you like. It also provides the ability to watch on up to 3 screens at once. This is great if you share a household with people who aren't racing fans. They can watch other TV shows while you stream NASCAR.
Sling TV also provides a large selection of on-demand content — so there's always plenty to watch even when there's nothing live going on.
You can watch Sling TV on pretty much any streaming device you can think of. See our complete list for details. But it supports all of these: Amazon Fire TV, Android Mobile, Android TV, Apple TV, Chromecast, iOS (iPhone), LG TVs, Roku, Samsung TVs, Vizio TVs, and Xbox gaming systems.
If you happen to be in an area where Sling doesn't offer Fox or NBC, you can still get it in most areas over the air (OTA) by setting up an antenna. Sling TV is the only service that allows you to integrate your antenna channels right in its app.
Finally, there is no risk. Sling TV offers month-to-month service. Cancel any time!
2023 NASCAR Schedule — All Series
Sat Feb 11 : New Smyrna Beach Visitors Bureau 200 — Whelen Modified (FloRacing)
Sat Feb 18 : Lucas Oil 200 — ARCA (FS1)
Thu Feb 16 : Bluegreen Vacations Duel 1 at Daytona – Cup Series (FS1)
Thu Feb 16 : Bluegreen Vacations Duel 2 at Daytona – Cup Series (FS1)
Fri Feb 17 : NextEra Energy 250 — Truck Series (FS1)
Sun Feb 19 : Daytona 500 – Cup Series (Fox)
Sun Feb 26 : NASCAR Cup Series Race at Auto Club – Cup Series (Fox)
Fri Mar 3 : Victoria's Voice Foundation 200 — Truck Series (FS1)
Sun Mar 5 : Pennzoil 400 presented by Jiffy Lube – Cup Series (Fox)
Fri Mar 10 : General Tire 150 — ARCA (FS2)
Sun Mar 12 : Ruoff Mortgage 500 – Cup Series (Fox)
Sat Mar 18 : Fr8 208 — Truck Series (FS1)
Sun Mar 19 : Ambetter Health 400 – Cup Series (Fox)
Sat Mar 25 : Pensacola 200 — ARCA (FloRacing)
Sat-Sun Mar 25-26: Súper Óvalo Chiapas — Mexico Series
Sat Mar 25 : XPEL 225 — Truck Series (FS1)
Sun Mar 26 : EchoPark Automotive Grand Prix – Cup Series (Fox)
Fri Mar 31 TBD: Unnamed Race at Richmond Raceway — Whelen Modified (FloRacing)
Wrapping Up
Sling TV is the cheapest way to watch the entire NASCAR season — every Cup, Xfinity, and Truck series race — as well as many ARCA Menards races. Get it all for just $40.00/mo with Sling TV. Save 50% With Sling TV.
FAQs
Can I watch Fox on Sling TV in my area?
As a TV network, Fox has many affiliated local channels across the nation. For complete information on their availability through Sling TV, see our Sling TV Local Channels guide. But these are the markets where it is available:
Atlanta (WAGA)
Austin (KTBC)
Chicago (WFLD)
Dallas (KDFW)
Detroit (WJBK)
Gainesville (WOGX)
Houston (KRIV)
Los Angeles (KTTV)
Milwaukee (WITI)
Minneapolis (KMSP)
New York (WNYW)
Orlando (WOFL)
Philadelphia (WTXF)
Phoenix (KSAZ)
San Francisco (KTVU)
Seattle (KCPQ)
Tampa (WTVT)
Washington (WTTG)
Can I watch NBC on Sling TV in my area?
Like Fox, NBC has affiliates all over the nation. Sling TV provides access to many of the largest media markets but its coverage is not as good as it is for Fox:
Boston (WBTS)
Chicago (WMAQ)
Dallas (KXAS)
Hartford (WVIT)
Los Angeles (KNBC)
Miami (WTVJ)
New York (WNBC)
Philadelphia (WCAU)
San Diego (KNSD)
San Francisco (KNTV)
Washington (WRC)
Are there any alternatives to Sling TV for watching NASCAR?
FuboTV, DIRECTV STREAM, Hulu + Live TV, and YouTube TV all allow you to stream the 2023 NASCAR season. But they are also substantially more expensive. The cheapest of them is YouTube TV for $72.99/mo compared to only $40.00/mo. They do all offer more channels but they are not necessarily channels you want. Sling TV provides better customization than any other streaming service.
One streaming service that serious racing fans might want to combine with Sling TV is FloRacing. Outside of the top tiers of NASCAR racing, FloRacing is the only game in town — literally for Whelen Modified Tour and Pinty's Series races.
Image created with NASCAR Pinty's Series – 2021 Canadian Tire Motorsport Park by TorontoGuy79 under CC BY-SA 4.0.
Latest posts by Frank Moraes
(see all)