If you've finally decided to make the jump from cable to streaming, you might be overwhelmed by the options that are now available to you. This guide is a comparison of two of the biggest streaming services — Sling TV and DIRECTV STREAM (formerly AT&T TV, AT&T TV NOW, and DirecTV Now). Read on to learn which is the best for you.
In a hurry? You can jump straight to Sling TV or DIRECTV STREAM to try their services yourself. Save 50% on your first month of Sling TV. New customers get 5-day free trial with DIRECTV STREAM.
Sling TV and DIRECTV STREAM are both the streaming descendants of satellite TV services, but that's about where the similarity ends.
Right from its debut in 2015, Sling featured lower costs along with smaller bundles to create flexibility and affordability. DIRECTV STREAM has a convoluted history (to say the least), but in its current incarnation more resembles traditional cable packages in both size and price. What else is different?
Overview
Sling TV is owned by Dish Network, and, at least partially by virtue of being the first live TV streaming service, is the top three streaming services in the US — just below giants Hulu + Live TV and YouTube TV.
Sling's model encourages customers to create their own bundles, generally at lower prices than cable or satellite companies. It offers two base plans, Blue and Orange, a number of bundled add-ons called Extras, and a whole slew of a la carte premium channels.
DIRECTV STREAM is owned by AT&T, and they seem to be going for the people who want to ditch their cable companies with as little fuss as possible. DIRECTV STREAM customers may not get as deep a discount as other cord-cutters, but there are compensations.
It has the best lineup of regional sports networks of any streaming service — representing every area except for Philadelphia. It also has a comprehensive array of cable TV channels, benefiting from its parent company's deep pockets and pre-existing agreements with media companies.
DIRECTV STREAM's plans are arranged in four progressive price tiers, each with more channels and more/better features (and a higher price) than the one before. Let's get into details.
| | | |
| --- | --- | --- |
| | Channels | Price |
| Sling TV | | |
| Orange | 30+ | $40.00/mo |
| Blue | 40+ | $40.00/mo |
| Orange + Blue | 50+ | $55.00/mo |
| DIRECTV STREAM | | |
| Entertainment | 75+ | $74.99/mo |
| Choice | 100+ | $99.99/mo |
| Ultimate | 130+ | $109.99/mo |
| Premier | 140+ | $154.99/mo |
Detailed Comparison
There are a lot of things to consider when looking at a streaming service.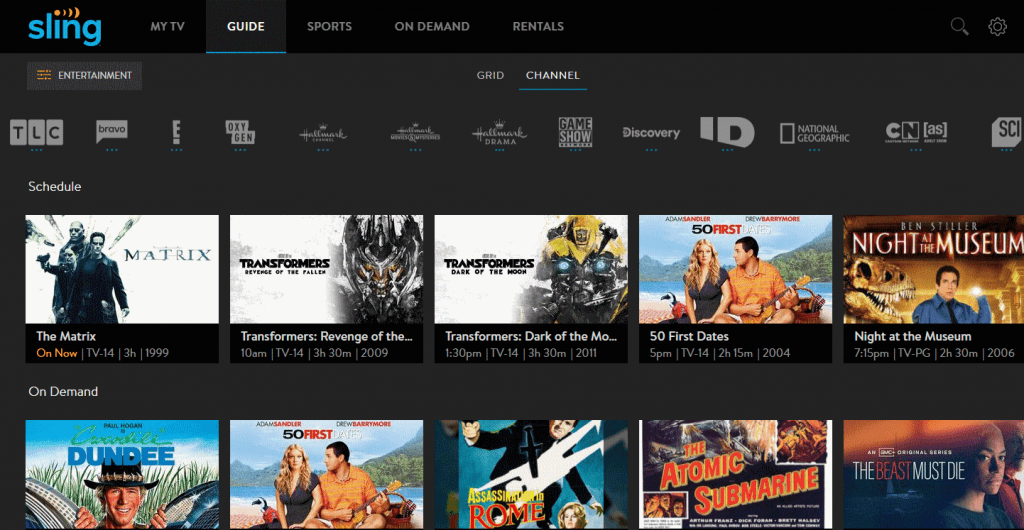 Price
Sling TV starts at $40.00/mo for either of its base packages, Sling Blue and Sling Orange. Or you can get the combined Sling Orange & Blue for $55.00/mo. Extras are usually $6/mo additional. The exceptions are AMC+ ($7/mo) and Sports ($11/mo).
Sling typically offers deals if you want multiple Extras — currently, you can get Kids, News, Lifestyle, and Comedy for $13/mo, or you could go for the "Total TV Deal" which gives you all the Extras plus a DVR upgrade for $21/mo ($27 for Orange + Blue).
The premium channel add-ons start at $3/mo and go up to $10/mo. Latino plans have their own separate structure, which lets you choose a Spanish base plan and additional package for $10/mo, or you can combine them with Blue or Orange.
DIRECTV STREAM is a whole other story. First up is the basic Entertainment package at $74.99/mo. Next is the "most popular" Choice for $99.99/mo. You have to subscribe to at least this level to get access to the coveted regional sports networks.
Then comes the $109.99/mo Ultimate. And the Premier plan for $154.99/mo comes with a ton of premium channels. Speaking of premiums, DIRECTV STREAM has about a half-dozen from $5 to $14.99/mo, with most in the $10-15 range. You can also order a $10/mo cloud DVR upgrade.
Get DIRECTV STREAM Free for 5 Days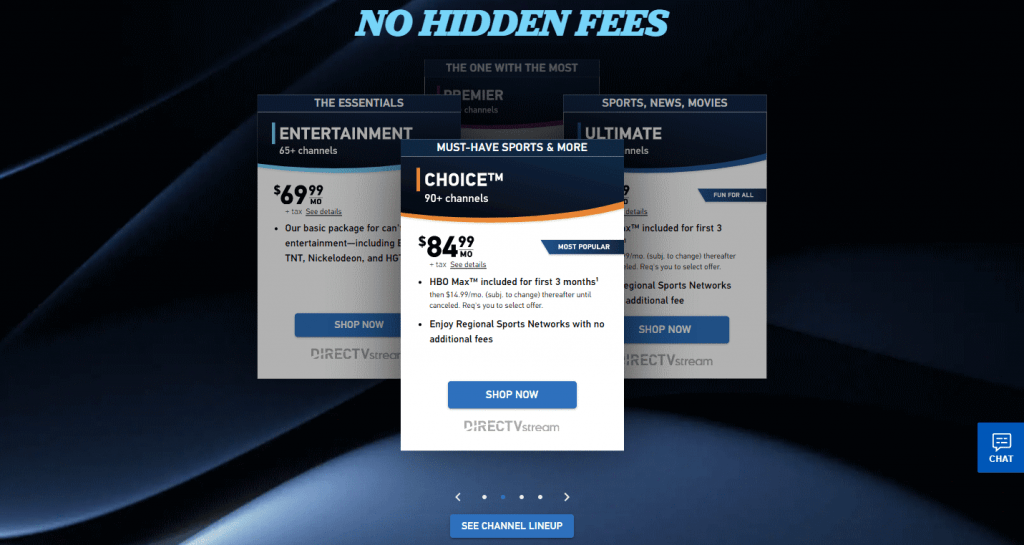 Channels
Both DIRECTV STREAM and Sling TV have a wide range of channels that include a little bit of everything. Both the base DIRECTV STREAM and Sling TV (Blue) plans share the following 31 standard cable TVchannels:
A&E
BBC America
Bloomberg
Cartoon Network
Cheddar News
CNN
DIRECTV STREAM has a little bit more of everything, at least in its base package, while Sling has well over 100 cable TV channels available throughout its extras and premiums.
As usual, Sling's advantage is its flexibility. DIRECTV STREAM will get you over 75 channels in the Entertainment package, but it'll also charge you $74.99/mo for them. Sling Orange has over 30 channels and Sling Blue over 40, but it's half the price.
Local
The two services also approach local TV channels very differently. DIRECTV STREAM, because it (and parent company AT&T) were established TV providers, provides exceptional nationwide network coverage. In general, if you have a local affiliate, DIRECTV STREAM will provide it for ABC, CBS, Fox, NBC, Telemundo, Univision, and The CW. You may be able to receive other minor networks or independent stations, as well.
Sling TV, in order to keep costs down, only carries NBC and Fox. And its coverage of these two is far smaller than DIRECTV STREAM's. It provides Fox in less than half of all locations and its NBC coverage is even worse. But if you live in a large metropolitan area, chances are you will get access.
However, Sling provides a deal going where you can prepay for two months upfront and get a free HD antenna. Or even better, pay for three months and get a deeply discounted antenna and AirTV, which will allow you to watch your local OTA channels right inside the Sling TV app with your streaming channels. If you live in a good location for picking up TV signal towers, this is an awesome way to go!
Sports
Sling TV is fine for the average sports fan, especially one who likes to watch a little bit of everything. But Sling divides its coverage. The Blue plan provides Fox, NBC, FS1, and NFL Network. The Orange plan gives you ESPN1, ESPN2, and ESPN3. The inclusion of ESPN3 is interesting. Other streaming services offer it via TV Everywhere; only Sling TV provides ESPN3 in its app.
You can upgrade to the Sports Extra add on but it's complicated. If you have either Sling Blue or Sling Orange, it costs $11/mo extra. The add-on always includes beIN Sports, MLB Network, MLB StrikeZone, NBA TV, NHL Network, Pac-12 Network, and Tennis Channel.
The rest of the channels depend on your plan. Orange provides ACCN, ACCNX, ESPNews, ESPNU, Longhorn Network, SEC Network, and SEC Network+. Blue provides Big Ten Network, FS2, Golf Channel, NFL RedZone, and Olympic Channel. If you have the Orange & Blue plan, you get all these channels but the add-on is $15/mo.
The main hole in Sling TV's sports coverage its lack of CBS and CBS Sports Network. Among other things, you will miss a fair part of the NFL regular season and playoffs. But an antenna or Paramount+ subscription will cover you.
DIRECTV STREAM has even fewer live sports channels in its base package: ESPN1, ESPN2, and FS1. Subscribers who opt for the Choice package will find much more including ESPNU, MLB Network, NBA TV, Tennis Channel, ACCN, Big Ten Network, and SEC Networks Pro football fans should note that DIRECTV STREAM doesn't carry the NFL Network or NFL Redzone at all but you don't need them to see all the games.
DIRECTV STREAM's biggest draw is its regional sports networks (RSNs), and boy, does it know it. There are a lot of these — over 40 total across the country offered by DIRECTV STREAM. They are where local fans go to watch almost all games by their local MLB, NBA, WNBA, NHL, and MLS teams.
Get DIRECTV STREAM Free for 5 Days
There are several networks that cover various sections of the US. For instance, AT&T SportsNet covers Pittsburgh, Rocky Mountain, Rocky Mountain West, and Southwest. Other networks include Bally Sports (formerly Fox Sports), NBC Sports, and Spectrum SportsNet/SportsNet LA. There are also one-off channels that cover a particular area, like Madison Square Garden (MSG) and YES Network in New York.
Note that DIRECTV STREAM does have one hole in its RSN line up: NBC Sports Philadelphia. So if you are a fan of the Phillies, 76ers, Flyers, or Union, you will need to turn to Hulu + Live TV or FuboTV.
Premium Channels
Its a la carte premium channels are where Sling TV really shines in terms of variety. It features over 40 services and channels, live and on-demand, with everything from Spanish, to Indian, to music, Christian programming, kids, documentaries, home improvement, dogs, movies, British TV, Comic-Con, horror — and most of it is under $10/mo each, a lot under $5. Sling TV does not, however, offer HBO.
DIRECTV STREAM is limited to more of the traditional HBO, Cinemax, Showtime, and Starz fare. They do usually have promotions going where you get a few months of one to three premium channels free before they go up to their average $11/mo.
| | | |
| --- | --- | --- |
| | How To Get On Sling | How To Get On DirecTV |
| Starz* | $9/mo add-on | included for $109.99/mo |
| Showtime* | $10/mo add-on | included for $154.99/mo |
| MGM+* | $5/mo add-on | $4.99/mo add-on |
| HBO* | n/a | included for $154.99/mo |
All also available as add-ons with DIRECTV STREAM
User Interface
This is probably the area where, for better or worse, DIRECTV STREAM most replicates the cable experience. On first firing up the app, by default, it will take you to the last channel you were watching.
Press "up," and you'll get a menu of recent channels across the bottom of your screen. Click "down" for the main navigation menu. The main nav screen consists of "Guide" (your channel guide), "Watch Now" (shows and movies currently on, arranged by categories), "My Library" (DVR recordings), and "On Demand."
One of DIRECTV STREAM's more handy interface tricks is the ability to press right or left arrows to change channels.
Sling TV released a major overhaul on its interface this past summer, and whoa, did it generate mixed reviews. Mostly it modernized its look, replacing the horizontal menu bar at the top of the screen with an icon bar on the left side (similar to Netflix or Disney+).
The biggest complaint from previous Sling users was the removal of the "mini-guide," the ability to pull up a selection of live programming across the bottom of the screen. People liked the ability to see what's on other channels while still being able to watch your current program.
Sling listened and restored the mini-guide within a couple of months. It now has one of the better interfaces in the industry. But recent cable users will doubtless be more comfortable with the DIRECTV STREAM interface.
DVR
Sling TV comes with 50 hours of DVR storage included, with the ability to upgrade to 200 hours for $5/mo (DVR Plus). Recordings are kept indefinitely on active subscriptions, and 30 days if you take a pause.
If you hit your storage limit, your recordings are deleted oldest first. DVR Plus subscribers can mark recordings "protected" to prevent them from being automatically deleted.
You can record from any channel except digital networks Local Now, ESPN3, ACC Network Extra, and SEC Network+. You can also fast-forward past commercials on recorded programs.
With DIRECTV STREAM's price, you get a generous DVR allotment with unlimited DVR as long as you sign-up online.
Simultaneous Screens
DIRECTV STREAM allows for unlimited simultaneous streams, provided you're on your home network and outside your home as well. This is great for large families with lots of devices.
Sling TV gets a bit more complicated, so try to stay with us here. Sling Blue allows you to stream up to 3 devices at a time. Sling Orange only allows one device at a time.
If you get Orange & Blue, the one-at-a-time only applies to the Orange-exclusive channels, which are Disney Channel, the 3 ESPNs, Freeform, and MotorTrend. With Orange & Blue, you can watch up to 4 streams, as long as 3 are blue and 1 is orange.
Streaming Device Support
Both DIRECTV STREAM and Sling TV provide apps for the most popular streaming apps:
Amazon Fire TV

Android Mobile

Apple TV

Chromecast

iOS (iPhone, iPad)

Samsung Smart TVs
Web Browsers.
But Sling supports a lot of other devices:
AirTV Players
Amazon Fire Tablet

Android TV

Azulle

LG TVs
Oculus Go

Portal TV

TiVo Stream

Xbox

Xfinity Flex
There is one device that Sling TV does not support: the DIRECTV STREAM device. You can buy it from DIRECTV STREAM for $120 or $5/mo for 24 months. It's one way that DIRECTV STREAM makes the transition from cable easier.
Sling TV vs DIRECTV STREAM
So which is better, Sling TV or DIRECTV STREAM? Will you be surprised if we say both? Neither? It really depends upon your viewing habits — what works best for you. That's why this article is longer than a single sentence!
Sling TV certainly starts out cheaper. But if you want a lot of channels, Sling's inexpensive Extras and premiums can add up fast. to where you're paying as much or even more than even DIRECTV STREAM. For instance, if you get Orange + Blue (50+ channels, $55.00/mo) plus the Total TV Deal ($27/mo) for all the extras, 55+ additional channels, you're looking at 105+ channels for $77.
Sling, realizing their maze of Extras can be a bit convoluted, has a Service Optimizer Tool that lets you select your must-have channels and tells you which TV packages you need to put it together and how much it would cost. But overall, whether you're a casual TV, movie, or sports fan, Sling TV would probably work well for you.
DIRECTV STREAM is a beast, no way around it. But if over 140 channels including your local stations, regional sports networks, and top premium services is what you want, DIRECTV STREAM does have the best deal around. And if you want regional sports networks, their Choice (or higher) plan is the only game in town in most areas. However, the basic Entertainment plan, frankly, doesn't have a whole lot going for it, unless you really liked everything about cable except the commitment, the monopoly, and the contracts.
Do you like a lot of eclectic niche services and prefer them all together in the same app and bill? Do you consistently watch only a dozen or so channels, and wonder why you're paying for more than that? Are you a casual sports fan who likes to watch the occasional game but isn't obsessed with a particular team? Then Sling TV is the way to go.
Or do you live for surfing, the more channels the better? Are you the bigger-is-better type, because you never know what you'll be in the mood for today? Are you all about your home teams, and don't want to miss a single game? Have you been using cable your whole life and really aren't into learning a whole new system, even if it might be better than the old one? Then you should take a look at DIRECTV STREAM.
Alternatives
So how do Sling TV and DIRECTV STREAM stack up against the other services?
FuboTV

FuboTV is aimed at sports fans, and it does have some regional sports networks, though not as many as DIRECTV STREAM. It is much better on international sports, if you're into soccer (or football, as they call it everywhere outside the US), cricket, curling, rugby, or any of the other many sports that the US doesn't take very seriously.
Plans start at $74.99/mo after a free trial. See our FuboTV Review for more information.
Hulu + Live TV

Hulu + Live TV is a good all-around cable replacement, plus lots of on-demand content. If you don't want to pay DIRECTV STREAM prices but want a good, varied channel lineup, Hulu Live TV could be just what you're looking for.
Plans start at $69.99/mo. For details, see our Hulu + Live TV review.
Vidgo

Vidgo offers more channels than the base plans of both DIRECTV STREAM and Sling. But it has limited local channels (ABC, Fox) and no RSNs. It's especially strong on NCAA sports, family programming, and conservative news.
Plans start at $69.99/mo. See our Vidgo review for more.
Others
YouTube TV: Similar to Hulu, in that they have roughly the same number of channels and are the same price ($72.99/mo). See our YouTube TV review.
Philo: A great choice if price is the most important factor and you don't care about sports and local news — only $25/mo. For all the details, see our Philo review.
Wrapping Up
Whether or not Sling TV's flexibility gives it an edge over its higher-starting-price rivals, including DIRECTV STREAM, depends entirely on what you watch and how you watch it.
New customers get 5-day free trial with DIRECTV STREAM. Take a look and see for yourself!
FAQs
What is the best streaming service to replace DirecTV?
The best streaming service to replace DirecTV depends a good deal on why you are leaving. If it's just the price, then the answer is, any of them, because they're all cheaper than DirecTV to start. The cheapest services are Philo (65+ channels for $25/mo), Sling TV (detailed above, but starts at $40.00/mo), and Vidgo (85+ for $69.99/mo).
If you're looking for a more flexible service, that's Sling TV. If you would like more family-friendly programming, Vidgo is a good choice. Do you want to be able to watch a diverse library of recent on-demand TV shows? Hulu's on-demand service might work. And if it just doesn't carry enough matches on the pitch, your best bet is FuboTV.
Is Sling TV better than DIRECTV STREAM?
Sling TV is different from DIRECTV STREAM. They're competitors, yes, but they offer very different models, and one will likely be a better value for you than the other depending on how many channels you watch and which channels you consider must-haves. A better question, "Is Sling TV better for me than DIRECTV STREAM?"And only you can answer that (with the help of the information above.)
Ditch "Big Cable" Now – 3 Simple Steps to Cut the Cord
Pick the right streaming service
Get the content you deserve with the best VPN.
Supercharge your internet provider
That's it — you'll save money, take back control, and enjoy TV more!
Page Updates
▼
▲
Added buttons for streaming services. Updated some sub-sections. Updated some section headings. Additional links.

Image changes. Pricing updates. Added a few links.

Added table of contents. Added buttons for streaming services. Pricing updates. Put related links. Reworded some things.

Image changes. Linking. Various changes to content.

Added some links. Image changes. Pricing updates.

Pricing updates. Added some links. Changed a few bits of content.

Added FAQ section. Added new section. Added links to streaming services. Updated some sections. Reworked one section. Changed some content in main section. Removed section. Cleaned up list.

Added new section. Added links to streaming services. Added sub-section. Updated one section. Reworked one section. Updated some of the sections. Removed section. Cleaned up list.

Added useful links. Small layout changes.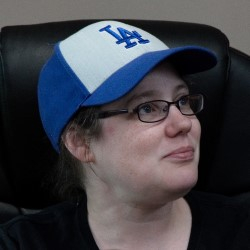 Latest posts by Alanna Baker
(see all)