The 2022 Super Bowl was a hard-fought game that came down to the final minute with the Los Angeles Rams besting the Cincinnati Bengals 23-20. Be sure to come back in 2023 for all the details on watching Super Bowl LVII, which will air on Fox.
In a hurry? All you need to watch the big game is an antenna or a streaming service that offers Fox. These are our top choices:
FuboTV: The best streaming service for international sports also provides 100+ well-selected channels. FuboTV allows you to try out its service free for 7 days.
DIRECTV STREAM: Get a great channel lineup with the best selection of RSNs in the industry. A 5-day free trial is now available for DIRECTV STREAM.
Sling TV: This low-cost service allows you to select just the channel lineup you want. Save 50% on your first month of Sling TV.
The Super Bowl pits the champion of the American Football Conference (AFC) against the champion of the National Football Conference (NFC). Whichever team emerges victorious will receive the Lombardi Trophy and be recognized as the league champion for the season.
In 1966, the leaders of the American Football League (AFL) and National Football League agreed that the two entities should merge into a single league. Although the two leagues wouldn't officially join forces until the 1969 season, the first game to determine a true world champion would take place in January 1967.
Interestingly, that game was also played in Los Angeles and was won by the Green Bay Packers. That first Super Bowl was also the only one that was broadcast by two networks. This occurred because NBC had the rights to show games featuring AFL teams while CBS had the rights to show games featuring NFL teams. Today, broadcast rights are awarded to networks several years before a given game takes place.
Super Bowl Channels
The 2022 Super Bowl was broadcast on NBC and NBC Universo. You could also watch the game live on Peacock. And you still can if you haven't seen it! You will need to pony up $4.99 for premium access to NBC's streaming platform.
The 2023 Super Bowl will be broadcast on Fox and Fox Deportes in Spanish.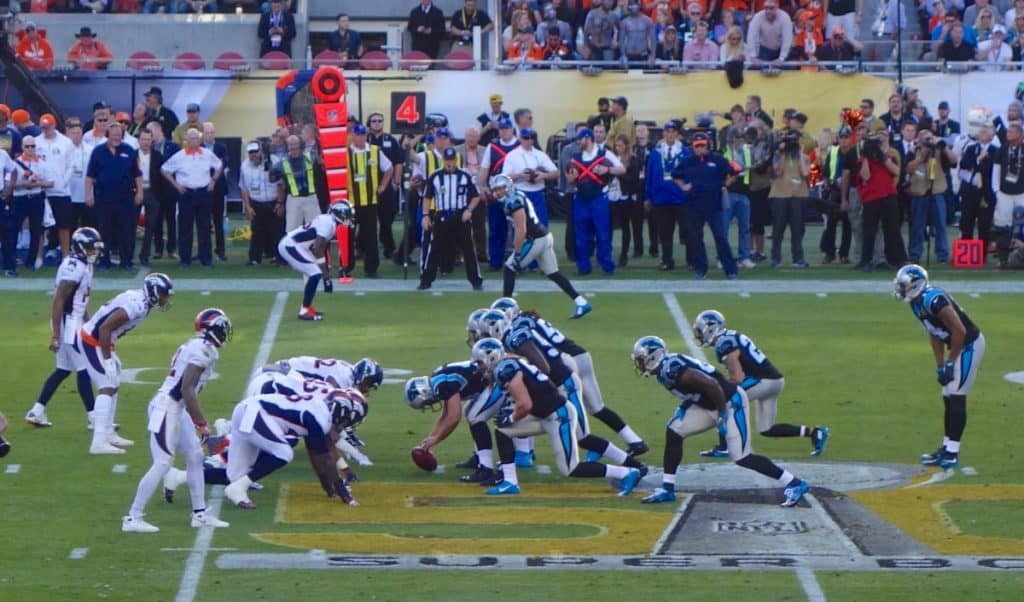 Do You Need a VPN?
If you find you can't watch particular events because of your location, a VPN should allow you to get the access you are entitled to. It also provides extra security and unequalled privacy. See our complete VPN Guide for all you need to know.
How to Watch the Super Bowl
Times are good for cord-cutters. And that's especially true when it comes to major events like the Super Bowl.
Antenna
Fox has affiliates all over the nation that will be broadcasting the game over the air (OTA). So assuming you are reasonably near a tower (and almost everyone in the US is), you can watch the Super Bowl for free!
If a vision appeared in your mind of a low-resolution, static-fill screen, we understand! But that is not how things work anymore. Since TV went digital, you can pick up crystal-clear high definition signals that will look great on your big screen TV.
If you want to go with an antenna, we recommend signing up with Sling TV. If you pay for 3 months of service, they will give you an indoor HD antenna and AirTV 2 for just $49.99 (normally $149.99). With it, you will be able to get all your ORA channels in the same guide you have your streaming channels. It's really the way to go!
Live TV Streaming Services
If you don't want to deal with an antenna, you can watch the game using a variety of streaming services.
FuboTV

The FuboTV base service package starts at $69.99 and offers well over 100 channels including local (ABC, CBS, Fox, NBC, and others) as well as a decent selection of regional sports networks. This is in addition to its national sports channels like CBS Sports Network, ESPN, ESPN2, FS1, FS2, and a couple dozen beIN sports and TUDN channels.
All plans come with 750 hours of cloud DVR and the ability to stream on up to 10 devices at once. You can find all the details in our FuboTV review.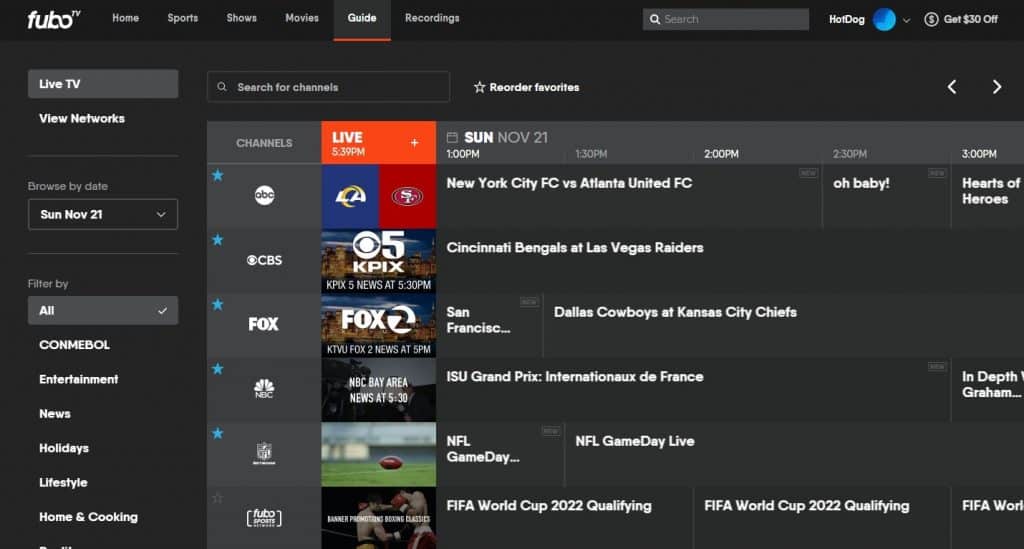 Hulu

Hulu + Live TV allows you to watch live sporting events that air on channels such as NBC and NBC Universo. The live TV package costs $69.99 for 85+ live TV channels. The channel selection mirrors very much what you expect from a cable subscription.
You get unlimited cloud DVR with 9 months of storage and simultaneous streaming on two devices. Our Hulu + Live TV Super Bowl Guide has more information.
DIRECTV STREAM

The DIRECTV STREAM Entertainment package starts at $69.99, which represents a full-cable replacement service with roughly 80 channels. For $89.99, you can upgrade to the DIRECTV STREAM Choice package, which offers access to a variety of additional national and the best selection of regional sports networks in the industry.
You get unlimited cloud DVR storage with DIRECTV STREAM, as long as you sign up online. It does, however, provide you with streaming on up to 20 devices. See our DIRECTV STREAM review for all the details.
Other Streaming Services
There are other options for streaming the Super Bowl:
Sling TV: If you live in a metropolitan area, Sling most likely provides Fox. So you can watch it even without an antenna. Our Sling TV review has more.
Peacock: For $4.99 a month, you can get access to a variety of shows, movies and live events that air on NBCUniversal channels. It will not air Super Bowl LVII, however. You can get an ad-free version for $9.99 per month. However, you may still see commercials during the Super Bowl and all other live events. For more details, see our Peacock review.
YouTube TV: Offers a very similar service to Hulu + Live TV. See our YouTube TV review for more.
Streaming Devices and TVs for the Super Bowl
No need for you and your friends to huddle around a web browser to watch the Super Bowl. (Of course, if you want to, you can!) All the streaming services we highlighted support: Amazon Fire TV, Android mobile, Apple TV, Chromecast, iOS, Roku, Samsung smart TVs, and, of course, web browsers.
You can use smart TVs by LG, Vizio, and devices based on Android TV with FuboTV and Hulu. And they support the Xbox One. The PlayStation is supported by Hulu.
See our streaming reviews for a complete list of supported devices.
Wrapping Up
The Super Bowl is one of the most anticipated events of the year for sports fans as well as casual observers (who may just show up for the halftime show). If you don't have a cable subscription, you can watch the Super Bowl with an antenna or by subscribing to a streaming service.
Superpower Your Streaming With a VPN
For the sake of privacy, security, and access, you should be using a VPN. They are low-cost and easy to use. We've been using them for years and our top pick is ExpressVPN.
FAQs
What teams have won the most Super Bowls?
As of January 2022, the Pittsburgh Steelers and New England Patriots have won six Super Bowl championships, which is the most in the league. The Dallas Cowboys and San Francisco 49ers are tied for the second-most championships in NFL history with five titles each. Green Bay and the New York Giants are next on the list of most successful franchises with four titles in the Super Bowl era.
However, New England has appeared in 11 championship games, which is the most in league history. They are followed by the Steelers, Cowboys, and Broncos with 8 each.
Tom Brady leads all players with 10 title game appearances and seven titles. Bill Belichick has appeared as coach in 12 Super Bowl games as a coach. And Gale Gilbert has the record for the most consecutive appearances with 5 despite only playing 8 seasons total. He was on the losing team each time.
On the other end of the spectrum, the Cleveland Browns, Detroit Lions, Jacksonville Jaguars, and Houston Texans have never advanced to the Super Bowl. But these last two teams have not been in the league all that long.
When was the first Super Bowl?
The first Super Bowl was played on Jan 15, 1967, and it featured the AFL champion Kansas City Chiefs taking on the NFL champion Green Bay Packers. Green Bay would win the game by a score of 35-10, and Packers quarterback Bart Starr was named the game's most valuable player.
This game would feature a total of 21 players, coaches, and administrators who would eventually be enshrined at the NFL Hall of Fame in Canton.
You can learn more about sports streaming in our guide – how to watch sports online. This guide and others will give you the details you need to get rid of cable and still enjoy your favorite shows at a price you can afford. Oh, and just in case – don't miss the Puppy Bowl either!
Where did the Super Bowl get its name?
The term Super Bowl was first used by Lamar Hunt in the 1960s, and there are several theories as to why that name was chosen for this game. However, the leading theory is that Hunt saw his child playing with a toy called Super Ball and it inspired him to say Super Bowl.
At the time, it was widely expected that the game would receive a new name once a better one could be found. However, the popularity of the game meant that changing the name would have caused a significant amount of damage to its brand.
When does the Super Bowl halftime show start?
But even if the game is a dud, there's also halftime show, which people will talk about for months. This year, it features a number of stars: Dr Dre, Snoop Dogg, Eminem, Mary J Blige, and Kendrick Lamar. Expect it to air sometime after 8:00 pm (EST).
For most people, the Super Bowl is a good excuse for a party regardless of the game. And again, we are expecting a good one. So make sure you are all set. And enjoy the game!
Latest posts by Frank Moraes
(see all)