Monday Night Football is back with the start of the 2021 season! But unlike years past, it is not necessary to be tied to a cable contract to enjoy every game. Read on to learn all your options.
In a hurry? If you don't care to dive into details like cloud DVR storage and device choices, these three streaming services will allow you to enjoy not just Monday Night Football but the whole NFL season and more:
FuboTV: With over 100 channels, you get everything you need to follow the whole season. FuboTV allows you to try out its service free for 7 days.
Hulu + Live TV: It's 85+ live TV channels now includes NFL Network as well as ESPN and all the local channels.
DIRECTV STREAM: Get a full-featured and easy-to-transition service especially at the Choice level. A 5-day free trial is now available for DIRECTV STREAM.
When Monday Night Football started on ABC back in 1970, it was a very big deal. NFL games that were at night on a weekday — revolutionary! Now with Thursday Night Football and Sunday Night Football, it isn't as unusual. But it's still an important event for football fans.
In 2006, Monday Night Football moved to ESPN. Because of its long association with cable, some fans might be concerned about ditching cable. But ESPN is well supported by streaming services.
You can watch Monday Night Football without cable with FuboTV ( free 7-day trial ) and Hulu + Live TV. Check out our guide for how to watch Monday Night Football online below!
Monday Night Football Schedule
Before we talk about how to watch Monday Night Football without cable, let's look ahead at this year's great schedule. All these games air on ESPN. The first game also airs on ABC. If you want to know what teams to watch and when, here's the lineup for 2021:
Week P2, Aug 23: Jaguars at Saints (preseason)
Week 1, Sep 13: Ravens at Raiders
Week 2. Sep 20: Lions at Packers
Week 3, Sep 27: Eagles at Cowboys
Week 4, Oct 4: Raiders at Chargers
Week 5, Oct 11: Colts at Ravens
Week 6, Oct 18: Bills at Titans
Week 7, Oct 25: Saints at Seahawks
Week 8, Nov 1: Giants at Chiefs
Week 9, Nov 8: Bears at Steelers
Week 10, Nov 15: Rams at 49ers
Week 11, Nov 22: Giants at Buccaneers
Week 12, Nov 29: Seahawks at Washington
Week 13, Dec 6: Patriots at Bills
Week 14, Dec 13: Rams at Cardinals
Week 15, Dec 20: Vikings at Bears
Week 16, Dec 27: Dolphins at Saints
Week 17, Jan 3: Browns at Steelers
How to Watch Monday Night Football Without Cable TV
The first game of the 2021 NFL season on Monday Night Football will air on ABC as well as ESPN. So this game can be viewed if you have an antenna. But after that, ESPN is the only option (see below for the major exception).
If you don't have cable, your two best bets to watch Monday Night Football are fuboTV and Hulu Live. Both options have access to ESPN live streaming all season long. And they both have trial offers that let you try out the service for a week.
Because these are streaming-only services, you don't need cable, just a good internet connection. Once they're set up, you can watch Monday Night Football and a number of your other favorites. And, they work with the most popular streaming devices and TVs, some of which you might already have.
FuboTV
One of the best ways to stream Monday Night Football is FuboTV (free 7-day trial). It's an affordable alternative to cable TV. And it is great for sports fans. Of its over 100 channels, over 35 are sports-focused. And that's not even considering add-ons.
For $69.99/mo, Fubo offers all the channels you need to watch the NFL: CBS, ESPN, Fox, NBC, and NFL Network. For an extra $10.99/mo, you can get the Sports Plus add-on. This provides you with NFL RedZone as well as 25 other sports channels including MLB Network, NBA TV, 4 Stadium channels, 7 Pac-12 channels, and more.
Find out more in our FuboTV articles: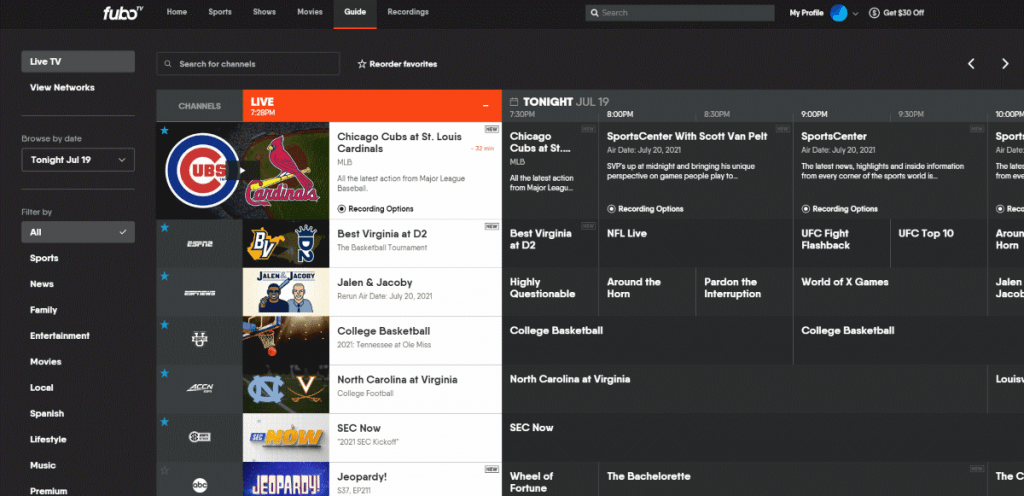 Hulu + Live TV
Everyone knows Hulu because of its industry-leading on-demand streaming service. Hulu + Live TV offers this along with 85+ live TV channels for $69.99/mo. And like FuboTV, they offer all the NFL channels even though their service isn't as focused on sports.
Hulu + Live TV also allows you to get NFL RedZone. It is only $9.99/mo extra but comes with an underwhelming selection of 5 other channels: MAVTV, Sportsman Channel, Outdoor Channel, TVG, and TVG2.
There's lots more to know about Hulu + Live TV; check out the following:
Vidgo
Vidgo offers a good selection of channels for just $59.95/mo. And it is filled with good channels for sports. It offers 5 ESPN channels including ESPN2 and ESPNU. They also provide a bunch of college-oriented channels: ACC Network, BYU TV, Pac-12 Network, SEC Network, and more.
Best of all, Vidgo comes with NFL RedZone, which is a great deal. The downside of Vidgo is that it does not offer access to CBS and NBC. But having RedZone may make up for that.
If you want more information about Vidgo, check out our articles: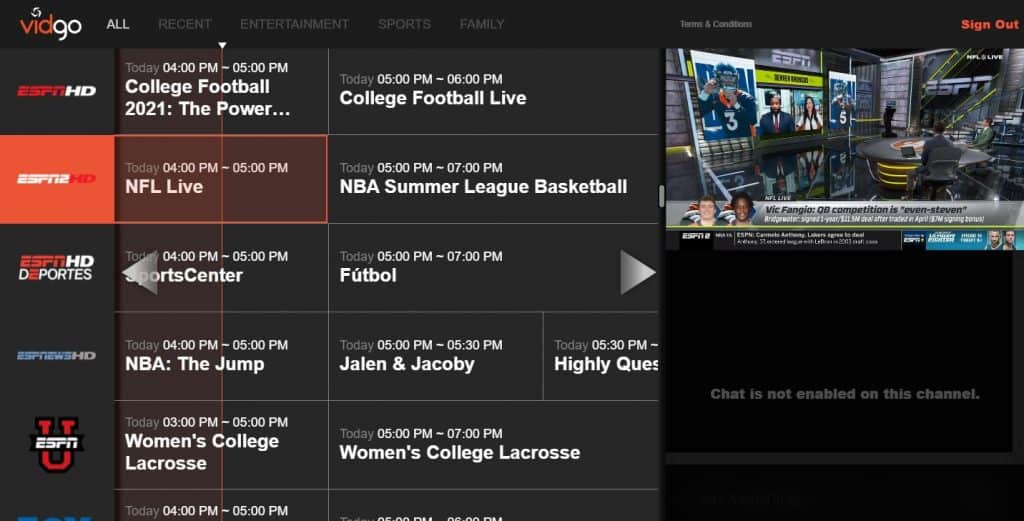 Sling TV
Sling TV is a great option if you are on a budget. They offer two plans for $35/mo each. Sling Orange offers ESPN, ESPN2, and ESPN3. Sling Blue offers Fox, NBC, and NFL Network. You can get the two together for $50/mo for a total of 50+ channels.
The hole in its NFL coverage is CBS. You can get around this, however, by integrating your Sling TV interface either with an antenna or Locast. But even without this, Sling TV represents one of the best deals in the industry.
Find out more about Sling TV in the following article:
DIRECTV STREAM
DIRECTV STREAM (formerly ATT&T TV, AT&T NOW, and DirecTV NOW) is a little more expensive than the other streaming services at $69.99/mo for 65+ channels. And they don't currently offer NFL Network. However, they do offer all the others including excellent coverage of local channels.
DIRECTV STREAM might be a good service to use if you are interested in more than just football. For baseball, basketball, hockey, and soccer fans, it offers the best availability of regional sports networks in the industry.
To get access, you need to upgrade to their Choice plan for $89.99/mo (100+ channels). But in many areas, it is the only option.
To learn more about DIRECTV STREAM, check out the following:
Other Options to Watch Monday Night Football Without Cable
While these are our top recommendations for streaming Monday Night Football live, there are other options of varying levels of acceptability:
NFL App: Watch all Monday Night Football games live with this app! There's one major limitation: you can only watch on mobile devices (phones, tablets). Your 4K TV? Forget it!
Yahoo! Sports App: This is the same deal as the NFL app.
NFL Game Pass: Get the whole season of games for less than $100 per year. The catch? You can't watch live. But if you don't mind watching after the game is over, this is a great option.
Antenna: In most areas, you can get ABC in high definition over the air (OTA). This will only allow you to watch the first Monday Night Football (see below) but it's a good option for watching a lot of other games.
ESPN App: This is a great way to catch Monday Night Football on the go. However, you will need to have a streaming service account to login via TV Everywhere.
YouTube TV: A full cable-replacement streaming service very similar to Hulu + Live TV.
There are other ways to watch the NFL outside of Monday Night Football. You should consider Paramount+, for example, to watch the games on your local CBS affiliate.
Devices and TVs to Watch Monday Night Football
Over the past couple of years, the streaming industry has gotten very serious about supporting the hardware that is in use. You can watch Monday Night Football on most streaming devices.
TVs and Devices for TVs
The most direct way to using a streaming service is to run it directly with your TV. Other than Vidgo, all the services support recent Samsung smart TVs. FuboTV, Hulu, and Sling also support LG TVs. Hulu supports the VIZIO SmartCast TVs. And FuboTV supports Hisense TVs.
All the streaming services except DIRECTV STREAM support units that run the Android TV operating system.
But if you are like most people, you probably have a little TV "stick" that you connect to your TV. All the streaming services support these:
Amazon Fire TV
Apple TV
Roku.
Mobile Devices
If you want to watch Monday Night Football on your phone, you can do that too. Everyone supports the major models:
Android Phones
iOS devices (iPhones, iPads).
All the major web browsers are universally supported: Chrome, Firefox, Edge, and Safari. If you want, you can use a labtop to stream and then send it to your TV — either by connecting an HDMI cable or by casting.
Similarly, all the services support Chromecast, which allows your TV to accept video casting from your phone.
Gaming Consules
If you want to use your gaming console to watch Monday Night Football, that's not a problem. FuboTV, Hulu, and Sling all support the Xbox. Hulu also supports the PlayStation and Echo Show. And Sling TV supports the Oculus.
Summing Up
If you want to watch Monday Night Football, you need ESPN. Thankfully, ESPN is available in the base plans of most streaming services. And they normally come with the other channels you need to enjoy the whole NFL season and more.
If you have any questions, ask us in the comments. Otherwise: what are you waiting for? Cut the cord today!
FAQs
What networks carry Monday Night Football?
ESPN airs all Monday Night Football games. Sometimes, ABC will also air it. You can also watch Monday Night Football on your phone or tablet by using either the NFL or Yahoo! Sports apps. But generally, if you want to enjoy Monday Night Football in all its glory, you should get a streaming service that offers ESPN like FuboTV or Hulu + Live TV.
How can I watch Monday Night Football on my smart TV?
The major streaming services allow you to stream Monday Night Football on your smart TV. The two best services for support are FuboTV and Hulu. But even services without great support allow you to cast from your phone to your smart TV. And this is incredibly easy to do — basically just the click of a button.
Can I watch ESPN without cable?
You can definitely watch ESPN without cable. It doesn't seem like it though. ESPN is, after all, a "cable channel." But that term doesn't mean much anymore. Most "cable channels" are available from streaming services like Sling TV. And ESPN is widely available. Every major live TV streaming service offers it.
How do I watch live football on Amazon Prime?
Amazon Prime will be streaming a handful of games in the 2021 season including most of the Thursday Night Football games in the second half of the season. But starting next season, they will be streaming all of the Thursday Night games. Amazon looks to be an increasingly important NFL channel in the years ahead.
Can I watch Monday Night Football with an antenna?
You can watch Monday Night Football via antenna when it airs on ABC. However, it rarely does. In the 2021 season, it will only air the first game of the regular season. However, local market games will air on ABC in those markets. So if you live in Tampa Bay and the Buccaneers are on Monday Night Football, it should air on your local ABC affiliate and should be available OTA via antenna.
How can I watch my favorite NFL team without cable?
We've created articles for every NFL team with all you need to know to watch without cable: