Disclosure:
Your support helps keep our site running! We earn referral fees for some of the products & services we recommend.
Learn more
There has never been a better time for cord-cutters. NFL fans can watch Thursday Night Football on a number of platforms even while they save money. Read on to learn all your options!
In a hurry? If you want to cut to the chase, these streaming services will give you all the channels you need to enjoy the whole NFL season live:
Hulu + Live TV: Its 85+ channels provide everything you need to enjoy the season.
FuboTV: The fan's dream with over 35+ sports-oriented channels in its 100+ channel line up. FuboTV allows you to try out its service free for 7 days.
Sling TV: The number one low-cost streaming service even allows you to integrate an antenna for seamless season viewing. Save 50% on your first month of Sling TV.
For cord-cutters, the NFL Thursday Night Football games may seem a little more complicated than their Sunday and Monday night counterparts. The NFL Network will air all 17 games, but some will also air on FOX and even Amazon Prime simultaneously.
Making sense of how to watch the games might seem a little overwhelming, but the good news is it's actually pretty easy to watch Thursday Night Football without cable thanks to streaming options like FuboTV (free 7-day trial), among others.
So, what are your best bets to watch Thursday Night Football online or over the air?
Thursday Night Football Schedule
Thursday Night Football started back up on September 16, 2021. Every game airs on NFL Network. Starting Oct 7th, most games will also air on Fox and Amazon Prime, giving you a few ways to watch. All games start at 8:20 pm ET.
Here is the Thursday Night Football TV schedule left for 2021.
Week 2, Sep 16th: Giants @ Washington
Week 3, Sep 23rd: Panthers @ Texans
Week 4, Sep 30th: Jaguars @ Bengals
Week 5, Oct 7th: Rams @ Seahawks
Week 5, Oct 10th: Jets @ Falcons (Sun 9:30 pm EDT)
Week 6, Oct 14th: Buccaneers @ Eagles
Week 7, Oct 21st: Broncos @ Browns
Week 8, Oct 28th: Packers @ Cardinals
Week 9, Nov 4th: Jets @ Colts
Week 10, Nov 11th: Ravens @ Dolphins
Week 11, Nov 18th: Patriots @ Falcons
Week 13, Dec 2nd: Cowboys @ Saints
Week 14, Dec 9th: Steelers @ Vikings
Week 15, Dec 16th: Chiefs @ Chargers
Week 16, Dec 23rd: 49ers @ Titans
Week 16, Dec 25th: Browns @ Packers (Sat 4:30 pm EST)
Week 16, Dec 25th: Colts @ Cardinals (Sat 8:15 pm EST)
As of week 5, games begin to air on Fox and Amazon Prime, as well as NFL Network. The only exceptions are Oct 10th, Dec 23rd, and the second game on Dec 25th.
You can see more info about the TNF schedule on the NFL's official website.
Note: Thanksgiving football is a bit different, as there are multiple games aired across a number of stations that Thursday. For more info, see our guide on how to watch Thanksgiving football without cable.
How to Watch Thursday Night Football Without Cable TV
Since all of the Thursday Night Football games will air on NFL Network, we're going to focus there for the most part. For that reason, our top recommendations are FuboTV and Sling TV both of which offer the NFL Network live streaming.
You won't need a cable subscription to watch either of these services, just the ability to connect to the internet and stream live. With them, you can watch Thursday Night Football online without cable along with many of your other favorite shows on a lot of networks. You can also stream both services on several devices like Roku or your smartphones or tablets.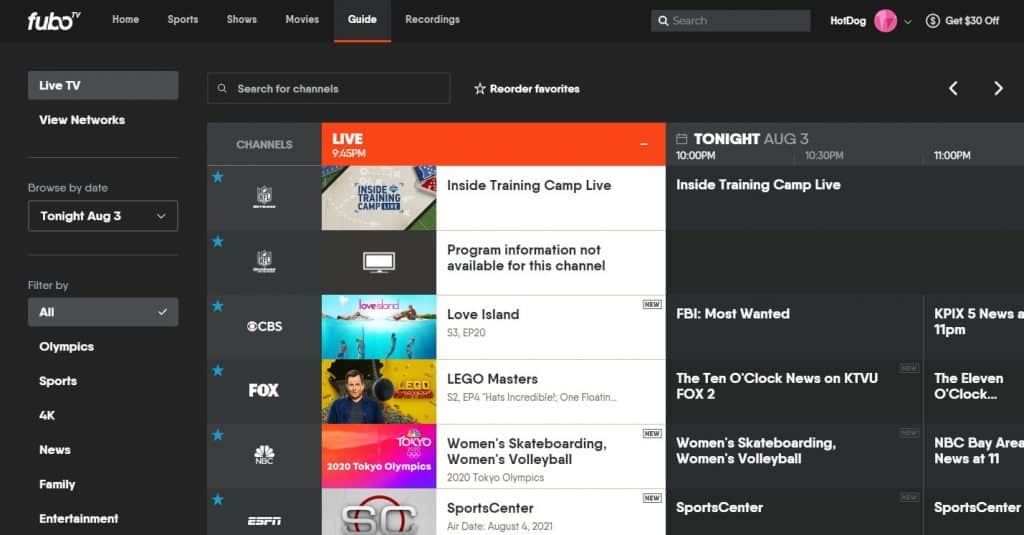 Watch Thursday Night Football Online on with FuboTV
Also on our list to watch Thursday Night Football without cable is FuboTV, the sports-first streaming service that offers over 100 channels, including the local channels you need for football.
More details on how to watch NFL on FuboTV include:
Start with a free 7-day trial to watch the Thursday Night Football live streams.
Can I Watch Thursday Night Football on Sling TV?
Sling TV includes NFL Network in its Sling Blue lineup. What does that mean for you? Well, it means you can watch Thursday Night Football online with Sling TV for cheap. Here are the details:
You can also read more about Sling adding NFL Network in this post.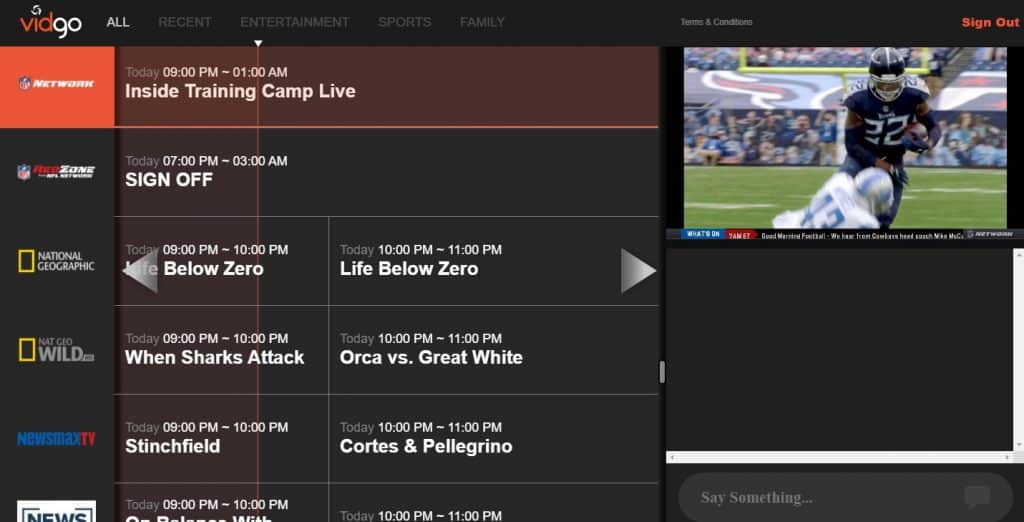 Watch Thursday Night Football Online Without Cable on Vidgo
Another cheap choice for the Thursday Night Football live stream is Vidgo. Additionally, it provides a large collection of sports channels — especially for college sports.
Just $59.95 per month
No contract so you can cancel any time
Works with the most popular streaming devices
Read our Vidgo review for more info
With NFL Network, you can watch Thursday Night Football without cable on Sling TV. And at the price point, it can't be beaten.
Watch Thursday Night Football without Cable on Amazon Prime
Most TNF games will also simulcast on Amazon Prime. If you're an Amazon Prime member, you'll be able to stream the games live through your account. New to Amazon? You can sign up for the 30-day trial.
Here are some more details on Amazon Prime:
Amazon Prime membership includes Prime Music and Prime Video access, free 2-day shipping, and more
All Prime members will have access to TNF live streams airing on Amazon
Amazon Prime offers a free 30-day trial
Stream on Amazon Fire TV, Apple TV, Roku, and more
Prime memberships can be purchased monthly or annually – annual membership costs under $10 per month
New Amazon Prime subscribers can get a 30-day free trial membership to watch Thursday Night Football online free for a month.
Our Amazon Prime review has more info.
Other Options to Watch Thursday Night Football Without Cable
Along with FuboTV and Sling TV, there are other options available if you want to watch on FOX.
Have any questions about how to watch Thursday Night Football without cable? Comment below and let us know.
How to Watch Your Favorite Team
Latest posts by Frank Moraes
(see all)