Disney XD is a wonderful channel for your tweens. Most of the live TV streaming services offer it one way or another. Read on to learn all your options.
In a hurry? These are our top choices for Disney XD streaming:
Fubo: With 150+ channels, it offers something for everyone. Fubo allows you to try out its service with a free trial.
DIRECTV STREAM: Provides everything you expect from cable with many options. A 5-day free trial is now available for DIRECTV STREAM.
Sling TV: Probably the best streaming service in terms of customization with a super low price and a 50% discount on your first month!
If you can't watch your favorite sports, TV and movies because of your location, try ExpressVPN to get access to the content you deserve. Signup now.
Unfortunately, we don't know a streaming service in that offers this TV channel. But if you've already paid for the right service, and just can't watch because of your location, there is an easy way to get the sports, movies, and TV you deserve. You need a VPN, like one of the following.
| | | |
| --- | --- | --- |
| | ExpressVPN: Known as "The VPN that just works," it combines remarkable ease of use with with state-of-the-art power, speed, security, and privacy. Get three extra free months when you sign up for a year. Unleash your streaming with this top-rated VPN. | Sign Up Now |
| | Hotspot Shield: Connect to servers in 80+ different countries and 25+ US cities. HotSpot Shield features extremely fast servers and connections and is specially tuned for use with streaming services. And you can try it risk-free with a 7-day free trial and a 45-day money-back guarantee! | Sign Up Now |
| | CyberGhost: Great low-cost service with ultra-fast servers in 90+ countries for smooth live sports streaming. It also provides great security and privacy. See if it's right for you with a free 24-hour trial and test it out with a 45-day money-back guarantee. | Sign Up Now |
If you're overwhelmed and not sure where to begin, you'll find all the answers in our full VPN guide.
Disney XD is Disney's attempt at a channel targeting older children (roughly 6 to 14). So if you have a fan of Gravity Falls (it's kind of like an animated tween X-Files) living under your roof, here's how they can watch it while spending you less.
What Is Disney XD
Disney rebranded Toon Disney/Jetix as Disney XD in 2009. Because Disney Channel tended to skew towards a female audience, Disney geared XD toward boys, with original series Aaron Stone, Kid vs. Kat, and Jimmy Two-Shoes.
In 2018, Disney began moving XD's original series back to the main Disney Channel. These days, the channel airs mostly reruns, with only a handful of original series.
Disney XD Programming
Disney XD's current original series are:
GOAT: A live-action talking goat hosts a search for the best viral videos.
Eye Wonder: Now you see it, now you don't! Dive into mystifying magic, illusion, and special effects.
Roman to the Rescue: From YouTube distributor The Dodo, 10-year-old Roman McConn partners with various social media influencers to help shelter dogs get adopted.
Other popular series, old and new:
Gravity Falls: Tween twins Dipper and Mabel go to stay with their great uncle in Gravity Falls for the summer and discover the town is a hotbed of paranormal activity.
Big City Greens: Animated fish-out-of-water comedy about a family that moves from a big farm in the country to a small farm in Big City (no, really, that's what the city's called).
Howie Mandel's Animals Doing Things: Clips of animals doing cute and/or funny stuff, hosted by Howie Mandel.
Phineas & Ferb: Precocious stepbrothers and best friends Phineas and Ferb take summer shenanigans to the next level with their outrageous endeavors, while their older sister Candace is consistently foiled in her efforts to bust them. Also, their secret-agent pet platypus is the only one standing between a local mad scientist and his efforts to take over the Tri-State Area.
Related Channels
In addition to the classic characters and stories, Disney has also assimilated Pixar, ABC, Marvel, Star Wars, the 20th Century half of Fox, half of National Geographic, ESPN, and A+E (which in turn owns A&E, History, Lifetime, and Vice). This means that a lot of TV channels are owned partially or completely by the Mouse House.
Obviously, there's Disney XD's direct sister channels: The Disney Channel, and Disney Junior. But there's also the ABC-owned Freeform (formerly The Family Channel), FX (and FXM and FXX), National Geographic, and National Geographic Wild.
There's also non-Disney entertainment for kids on Nickelodeon and its spin-offs (including TeenNick for older kids), Discovery Family, PBS Kids, Universal Kids, Cartoon Network, Boomerang, and the more obscure Kartoon Channel, Kids Street, PlayKids, pocket.watch, and Ryan & Friends.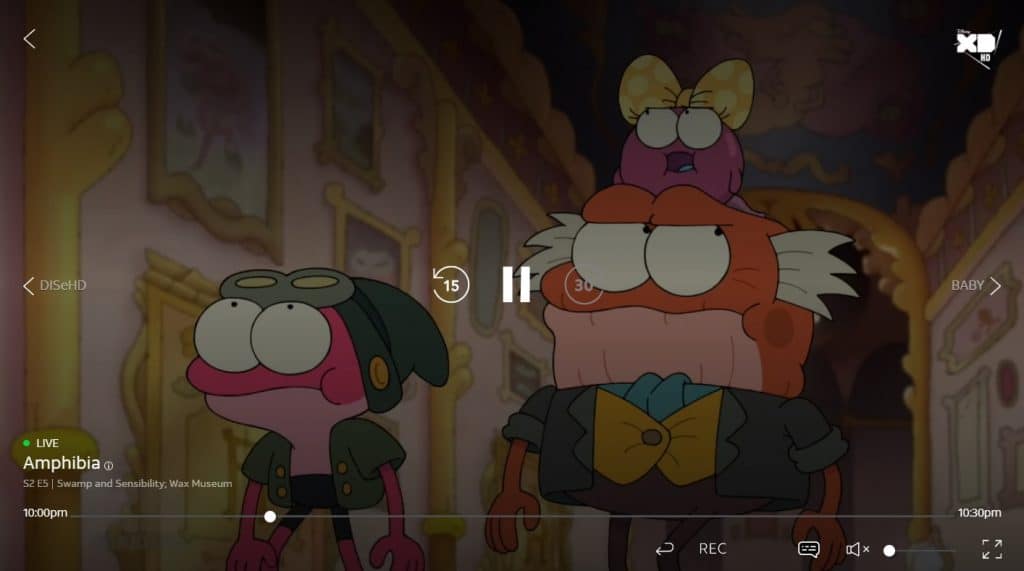 Unblock Your Favorite Movies and Shows With a VPN
If you can't watch your favorite movies and shows because of your location, a VPN will allow you to get the access you are entitled to, plus extra security and unequalled privacy. Check out our VPN Guide for everything you need to know, including our top pick ExpressVPN.
Other brands worth checking out include Hotspot Shield and CyberGhost.
Stream Disney XD
The only live TV streaming service that does not offer Disney XD is Philo. But it does offer a lot of other kids channels. Otherwise, you have lots of choices:
On-Demand
Disney Now: Using the Disney Now app or website is another way to watch shows and movies from Disney XD, The Disney Channel, and Disney Junior on a different platform, like your computer or phone. It requires a TV provider login, however.
Hulu: Disney saves the best stuff for Disney+, so poor Hulu gets left with just a handful: Roman to the Rescue (the only current series), Gravity Falls, Kick Buttowski, Wander Over Yonder, Pickle and Peanut, Future-Worm, and Zeke and Luthor. (Hulu review)
Purchase: There's always the option to just straight up buy TV shows and episodes. Digital purchases don't even take up room on your shelf or your hard drive. Disney titles are available at Vudu, YouTube, Google Play Movies, the Apple iTunes Store, Amazon Prime Video, and other online media stores.
Streaming Devices to Watch Disney XD Live
All the streaming services discussed above provide apps for the most devices in use today:
Amazon Fire TV
Android mobile
Apple TV
Chromecast
iOS (iPhone,iPad)

Roku

Web browsers

.
Android TV-powered devices are near-universally supported (exception: DIRECTV STREAM). The same goes for Samsung smart TVs (exception: Vidgo).
DIRECTV STREAM offers its own device that you can purchase directly. Other than Vidgo and DIRECTV STREAM, all the services support Xbox gaming consoles. PlayStation units are supported by Hulu and YouTube. And the Nintendo Switch can be used with Hulu.
These are only the most popular devices supported. See our streaming reviews for more.
Superpower Your Live TV Streaming With a VPN
You can't beat a VPN for privacy, security, and access. We have used them for years as an important part of our streaming toolkit and we recommend ExpressVPN. Other brands worth checking out include Hotspot Shield and CyberGhost.
Wrapping Up
So even if you have a fan of Amphibia, who is, like, going to totally die if she can't see how it all ends this year, you don't have to give it up to your cable company. Just sign up for one of the services discussed above and you'll be streaming Kick Buttowski in no time.
We recommend Hulu + Live TV for those looking for Disney XD.
FAQs
What does the XD in Disney XD stand for?
In a 2009 interview, then-head of Disney Channels Worldwide Gary Marsh said, "It [XD] doesn't stand for anything." He noted that the letter X has various "cool" associations for kids, like marking treasure on a map or representing the unknown. He encouraged audiences to create their own interpretations. Some have also observed that XD is an emoticon for laughter, with the "X" as eyes squinted or closed and the "D" an open, laughing mouth.
How can I watch family and kids channels besides Disney XD?
See the list below for watching related channels:
Ditch "Big Cable" Now – 3 Simple Steps to Cut the Cord
Pick the right streaming service
Get the content you deserve with the best VPN.
Supercharge your internet provider
That's it — you'll save money, take back control, and enjoy TV more!
Page Updates
▼
▲
Updated some sub-sections. Updated some section headings. Pricing updates.

Image changes. Misc content updates. Formatting changes.

Pricing updates. Added links. Formatting.

Added buttons for streaming services. Image changes. Pricing updates. Put related links.

Added VPN info. Added a few links. Image changes. Various content updates.

Pricing updates. Changed a few bits of content.

Updated some sub-sections. Added some more links. Pricing updates.

Added links to streaming services. Mentioned offers. Added links. Reformatting.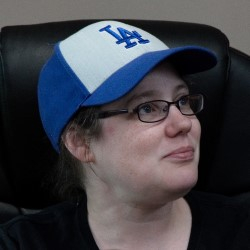 Latest posts by Alanna Baker
(see all)