Disclosure:
Your support helps keep our site running! We earn referral fees for some of the products & services we recommend.
Learn more
Are you thinking of getting rid of your cable contract? If so, you may be wondering if you will still have access to major events like the Olympics.
One way around this is to get an OTA antenna. Some events, like the Super Bowl, will run on local affiliate channels. But that can be a hassle. Besides, an increasing number of events only run on cable. What to do?
Your best bet is to go with one of the top live TV streaming services. They allow you to stream a wide range of events. If it is going to be on cable, it will be streaming.
Stream Your Favorite Event
Here are our explainers for watching particular events. If you are looking for something else, see the individual streaming services for more information.
Sporting Events
Baseball
Basketball
Football
Golf
Hockey
Soccer
Tennis
Other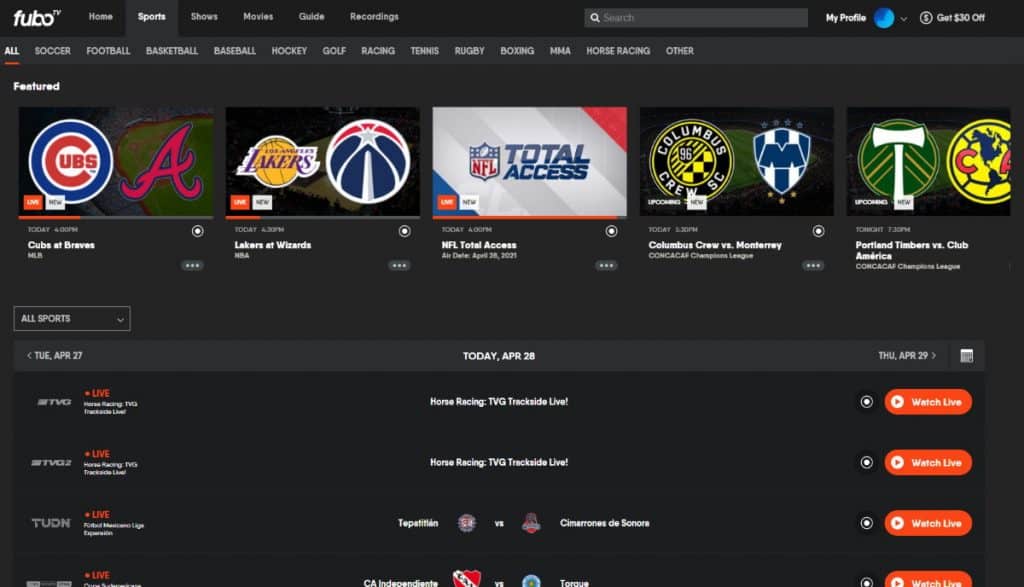 Non-Sporting Events
Top Event Streaming Services
There are dozens of streaming services that focus on the needs of different audiences. Here are the top services for streaming events:
FAQs
How can I get sports channels without cable?
All of the streaming services we discussed above (FuboTV, Hulu Live TV, Sling TV, and DIRECTV STREAM) offer a good selection of sports channels in their basic plans. For example, they all include ESPN, ESPN2, Fox Sports 1 (FS1), and Fox Sports 2 (FS2). You can also check out Sling TV for a low-cost option. For sport- and league-specific channels, you should look at YouTube TV and FuboTV.
How can I watch MLB games without cable?
MLB games are broadcast on a lot of channels — especially Fox, FS1, and ESPN. All the major streaming services offer these. MLB Network is available from Fubo, Sling, and DIRECTV. However, most MLB games air on regional sports networks (RSNs). DIRECTV STREAM has the best selection of these but FuboTV and Hulu + Live TV offer them in select areas.
Latest posts by Frank Moraes
(see all)