Disclosure:
Your support helps keep our site running! We earn referral fees for some of the products & services we recommend.
Learn more
Before you go ahead and subscribe to Sling TV, you may want to find out whether you have the necessary devices to be able to stream live.
This guide explains the supported devices you can watch Sling TV on, along with some details about how Sling's DVR recording functionality and storage works.
In a hurry? You can skip ahead and give the discounted first month a try at Sling TV for $10. Alternatively, you can read our full review of Sling TV as a streaming service later on, where we explain the ins and outs of all you need to know.
What Devices Does Sling TV Support?
If you have a mobile phone, tablet, laptop, PC, or any sort of device you're using to read this page, you likely already have the device you need to watch Sling TV.
The most important part of determining whether your device is supported or not is to check the model on Sling's website.
However, in this section, we'll break explain exactly what brands and models are supported at the time of writing. Here we go:
TV Players

Apple TV — 4th generation or later (with tvOS 11 or later software).
Roku — Sling TV doesn't define exactly which Roku devices it supports. It simply says both 'old' and 'new'. If you have a Roku of some kind, you best get in touch to check if it works.
Amazon Fire TV — all Fire TV devices are supported.
Chromecast — all Chromecast players are supported.
AirTV — Sling also provides these with pre-paid subscriptions.
Google Nest — Hub and Hub Max supported.
TiVo Stream 4k — described as 'most recent version' supported.

Phones and Tablets

Apple — iOS 11 or later
Android — OS 5 or later
Fire Tablets — Amazon Fire Tablets from 2013 onwards

Computers and Laptops

Windows — 10 and onwards
Mac — OS 11 and onwards
Chromebook — models unspecified by Sling TV.
Browsers — Google Chrome, Microsoft Edge, and Safari

Smart TVs

LG Smart TV — WebOS 3.0+ and onwards
Samsung TV — models between 2013 and 2019
Portal TV — version 6.11.967 or later
Xfinity Flex — described as the 'most recent version' supported.

Gaming Consoles

Xbox — series X, S, and Xbox One
Oculus — Go 3.54 or newer
Some major device brands are missing, like Sony. Neither Sony TVs or Playstations are supported by Sling TV. If any of your devices are not supported, you can check out these alternatives to Sling TV with broader device compatibility.
Sling TV DVR Overview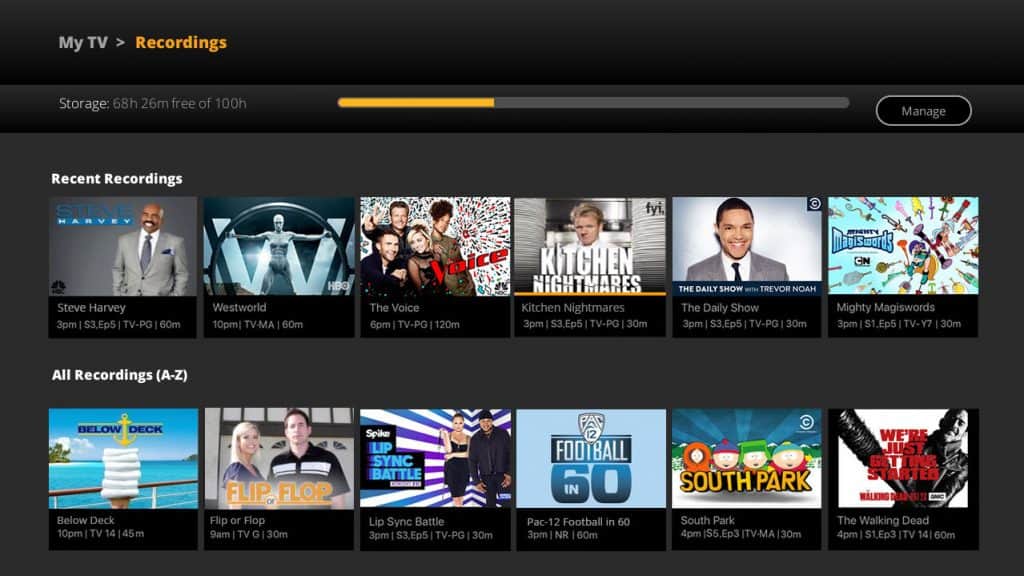 When the Sling TV DVR launched, subscribers were excited at the prospect of finally being able to record their favorite shows and events. Now that the DVR is out of the beta phase and fully available across devices, it's time to see how it really stacks up.
Read our full Sling TV DVR review for everything you need to know about this important feature.
Sling TV's DVR History
After being in beta on Roku for an extended period of time, the much-anticipated Sling DVR is now fully available on all devices except the Xfinity X1 platform, including Roku, Android devices, Amazon Fire TV and Fire Stick.
Adding cloud DVR service for live TV for only $5 more per month, it's a great addition to their affordable streaming packages. However, now it's part of all plans.
The service allows you to store up to 50 hours of content to Sling's servers, comparable to Hulu's DVR service and a step up from Sony Vue which only allows you to save content for 28 days.
How Sling TV DVR Works
Sling DVR is available as an add-on for both their Orange and Blue service but, as with other DVR services, not every channel is included. Sling TV DVR channels include all live content with the following exclusions: on-demand only channels (such as Local Now or FXX) and all Disney and ESPN channels which also includes ABC.
If those aren't deal-breakers for you there is still plenty of content for you to record on Sling TV (try it free for 7 days).
So how is Sling TV's DVR in action?
Choose from On Now, Guide or Sports tabs, and Sling will show you a list of shows, movies, or games you're able to record. For series, you can choose to record just new episodes or choose "all" to record shows every time they air.
Sling TV will then record the content and store it on their cloud servers for you to watch anytime. The great thing about Sling is they only delete the oldest movies or shows you've recorded once you reach 50 hours of content.
That means there isn't a clock ticking down forcing you to watch a show or lose it completely.


You can watch any of these recorded shows across all your compatible devices anytime and anywhere. Sling DVR also gives you the ability to pause and rewind live TV.
Need to go to the bathroom or make yourself a midnight snack? Can't stand commercials? No problem. You now have the ability to freeze and fast-forward time. However, please make sure you only use this newly acquired superpower for good.
Sling TV Hardware Overview
Sling TV is sticking with what they know, offering an affordable alternative to pricey competitors by not giving you every channel under the sun.
It's a strategy that has worked well for them with their streaming TV services and should continue to succeed with Sling DVR. It's a new service and Sling has always been sensitive to customer input so expect some tweaking and perhaps a few surprises down the road.
There are a lot of options for DVR services these days so do your homework and choose the one that's right for you. Whether it's the new Sling DVR or another great service enjoy the new power you have to watch, record and manipulate live TV.
Sling DVR Alternatives
Sling TV starts at just $35 per month, so if that's not enough of an incentive for you and want more DVR space, or if your device is not supported, you can check out the following streaming services:
Adding just $5 per month for DVR service it's still the cheapest to date, which is what Sling once offered. Now it's included in all plans!
One cool Sling TV DVR hack to note is that you can save recordings for a month after you cancel service. At this time, no other streaming service lets you access recordings after cancellation.
Here are some other things to know when comparing the Sling DVR to others:
FuboTV — a huge deal for sports fans with the broadest device support and increasing DVR space as you move up to more expensive plans. This means you may not need to spend $5 or $10 on just storage space, but you get extra channels with the additional money you pay. Read more in our FuboTV review.
Hulu + Live TV — 50 hours of DVR included for free with the $64.99 per month base plan. Hulu also supports devices like Android TV, Echo Show, Playstations, and Vizio. Learn more in our Hulu + Live TV review.
DIRECTV STREAM — starts at $69.99 per month with 20 hours of free DVR included, like all other premium plans. However, the $10 per month DVR upgrade gets you unlimited recording storage. If you have a Samsung TV, DIRECTV STREAM is also a good choice since they support the most recent models too. Find out more in our DIRECTV STREAM review.
Remember, you can try Sling TV free for 7 days at any time and see how you like it.
Other Sling TV Guides
Still not sure? No problem. Here are a handful of additional articles we wrote about Sling TV. We want you to be as informed as possible before making a decision.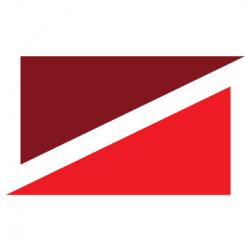 Latest posts by Helen Back
(see all)